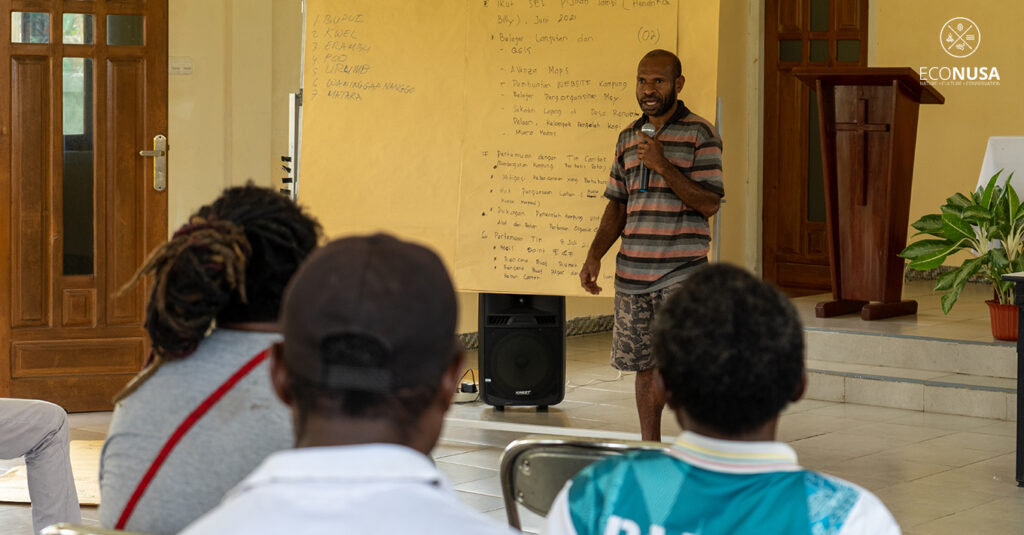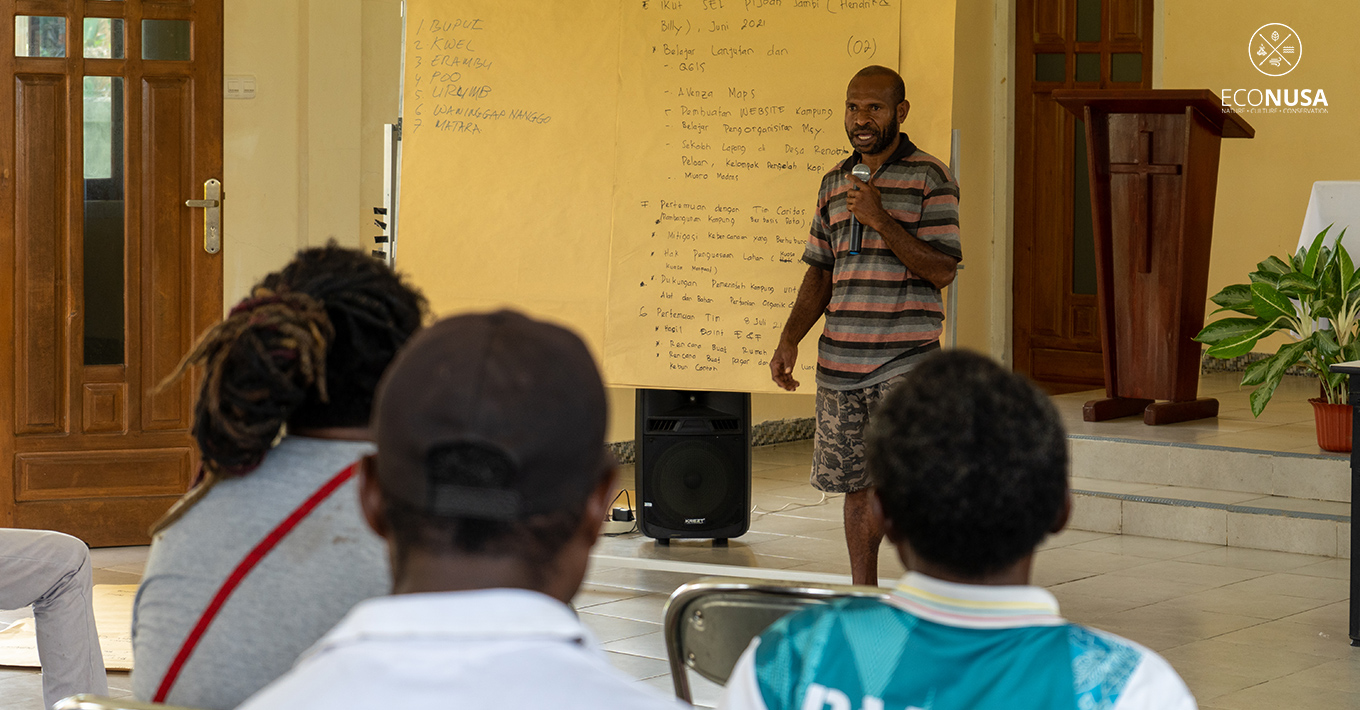 Living in the fertile Cenderawasih land does not necessarily make the indigenous people in Merauke Regency, Papua Province, has food resilience. Household spending for food is relatively high. On the other hand, agriculture productivity is low. Besides, living side by side with palm oil estate also makes the locals vulnerable.
"Medicine and all stuffs we need from forest have gone. There is no more materials for cultural attributes because they are taken from tree skins. Sago for our meal no longer exist here," said Pasificus Anggojai, the resident of Bupul Village, Elikobel District, Merauke Regency, to EcoNusa.
Bupul Village located in the border area of Papua New Guinea is surrounded by palm oil concession. They have lost sources of livelihood from forest as the surrounding forests have been converted into plantation. To get protein from animals, they should walk along the forest on the eastern of Maro River far from their village.
Read Also: Charlie Heatubun: Forest is Irreplaceable
In November 2020, Pasificus still acted as the Bupul Village Head. He took part in the workshop of village head held by EcoNusa in cooperation with INSIST and Caritas Merauke. In addition, there are also other nine village heads in Merauke. The workshop agreed the commitment made by each village head to delegate young people to participate in Samb Kai Village School in Waninggap Nanggo Village.
Data Center
Village School is divided into two classes, namely organic agriculture and data center. Ahmad Mahmudi, the Samb Kai Village School teacher, said that the class division refers to the previous assessment before workshop. The study found that food resilience and village development remains in pipeline dream.
This is obvious when rice has shifted sago as the staple food and thus the domestic consumption for food is relatively high. On the other side, the local administration does not have any data on social, economy, and demography such as population of Bupul, family, and economy potential.
"This will make the village administration difficult to design village development properly. For the reason, we decided that it needs study on agriculture and data center," said Mahmudi.
Read Also: Mai Mai Peoples Building Food Security from Home
Samb Kai Village School lasts for 15 days from 4-18 November 2020. In data center class, the participants studied on the use of hardware for data collection such as drone, Global Positioning System (GPS), and data processing software. Then, in organic farming class, the participants study on land cultivation, utilization of organic materials surrounding the village to create organic fertilizer and pesticide up through to analysis of sustainable farming.
Bupul Village was represented by Wensislaus Agji, Rafael Mekiuw, Hendrik J. Tanjai, and Billy Matemko. Billy and Hendrik joint data center class, while Wensislaus and Rafael in organic farming class. After taking village school, four delegates from Bupul should share their knowledge to the other villagers.
Billy said the absence of village data makes village development does not match the need. As to him, the development has so far been based on estimation. Consequently, local development missed the target and is prone to side only with certain group. "Village development can be designed well so as to mee the community need. From what I observe, the use of village fund has not been fully in line because it is not based on the need but desire," said Billy.
Read Also: Protecting Customary Land from Palm Oil Investment
Data center team in Bupul has 16 members including Wensislaus and Rafael. Similarly, organic farming team also has 16 members including Billy and Hendrik. The involvement of village school participants of each group helps them ease to catch up with progress and dynamics of village.
Organic farming
Cristofora Kwerkujai from Erambu Village, Sota District, gets the benefit of organic farming. Before taking the village school, Cristofora could only get small amount of crop which could simply suffice their daily food for three days. She spread the seeds on the dissemination plot and ignored the space, period of dissemination, and land nutrition. "The crop grows but not well due to the limited space. There was no air to breathe as I spread them carelessly," said Cristofora.
After taking village school, Cristofora planted mustard, chili, spinach, water spinach, and long bean. She got better crop. In one harvest period, she earned Rp500,000 from selling vegetables to the residents. "I sold the crop which cost Rp5,000 each bunch. I save the money. Now there are 7 peoples planting vegetables on their domestic yard," she added.
EcoNusa's School of Eco Involvement Coordinator Carmelita Mamonto expected that the participants of Samb Kai Village School could serve as the agent of change in their village. When food vulnerability is solved, the next target is improvement of local administrative. "It does not only impact the participants. If food issue is resolved, we hope other issues would find their ways out. There are change of local governance and forest management, for instance," said Carmelita.
Editor: Leo Wahyudi