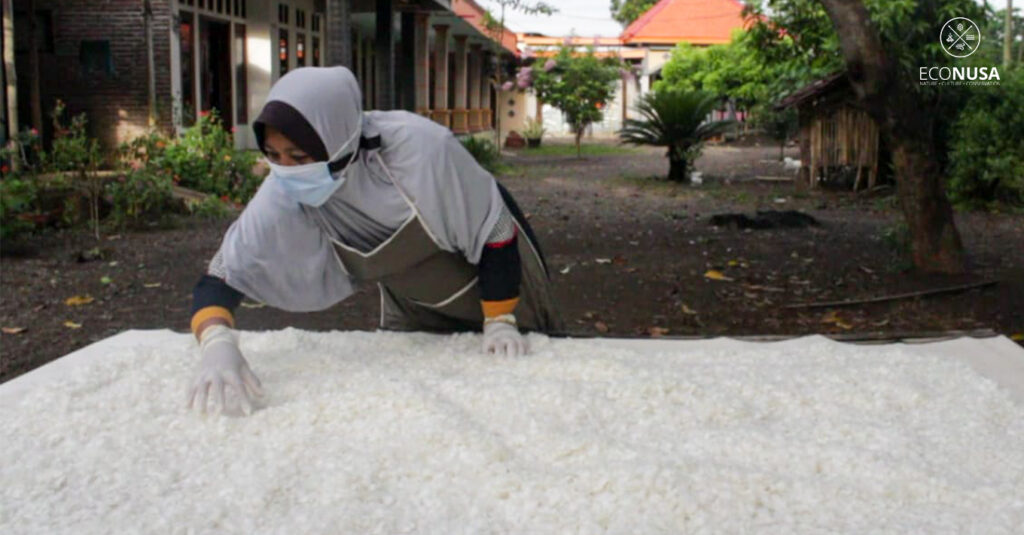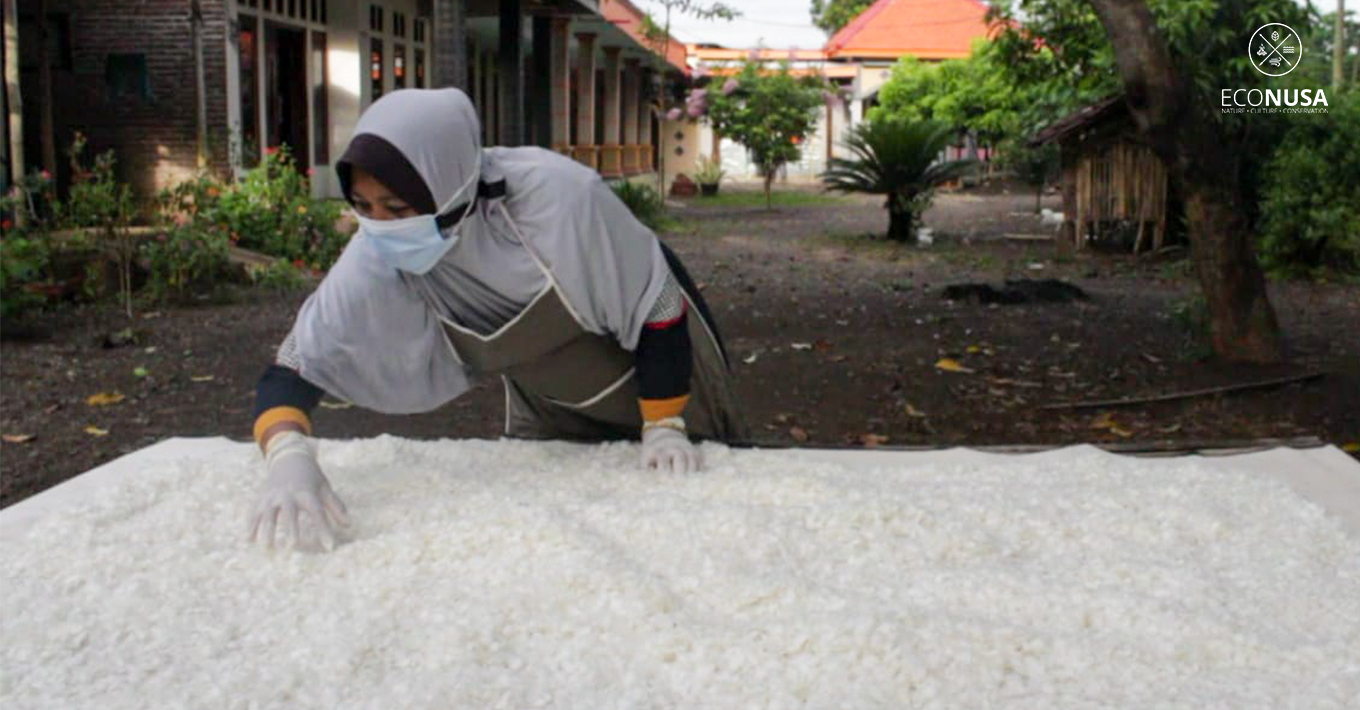 Upon looking the large amount of fish scale waste at the dump site at Probolinggo, East Java, Siti Nur Seha was keen to do something. There are six fishery industries in her hometown with 1 ton of fish fillet production per day. As from the figure, around 20 percent is fish scale waste. It implies that 200 kilograms of fish scale waste here contributes to 65 tons of daily garbage at the dump site.
Siti brought the fact to her alma mater at Airlangga University and presented it as her final research in 2017. At the time, Siti was a student of Physics Department majoring on Material Physics. The study found that fish scale could be reused due to its collagen and calcium content. "I began my research. There were many unprocessed materials every day," said Siti to EcoNusa.
Collagen is fibrous protein that serves as the major foundation for bone, skin, tendon, and connective tissue. Collagen is also found in blood vessel, eye cornea, and tooth. It has very crucial function. Not only connecting the entire body, but collagen also recovers the wounded body tissue, strengthens bone, and loosens up tendon and skin. 
Read Also: Econovation Giving Award to 15 Sustainable Business Innovators
In beauty industry, collagen has long been known as the prominent product which could create forever young look. As to Siti, there is high demand for health drink with collagen. Fortunately, the material and ready product are still imported from Japan, Australia, and Thailand. "I had the idea of creating collagen-based beverage. If compared to food, collagen beverage is more market friendly," said Siti.
Collagen-based drink produced by Siti does not focus only on beauty but also health. Shaany Collagen Drink, Siti's trademark, serves as the medication for the most frequently happened osteoarthritis and arthritis. Public usually calls the ailment as calcifications of joints. It is caused by the broken cartilage that triggers pain and stiffness on the joints.
Various tests were also undergone by the National Nuclear Energy Agency (Batan) and Nano Center Indonesia in such a way that in 2019, Shaany Collagen Drink was, based on laboratory test, declared to be fit for human consumption. Each Shaany Collagen Drink pack has 5 grams of collagen substance. Meanwhile, the other collagen drink product uses synthetic taster, dye, and preservative, Siti uses fruit extract to get optimum efficacy of collagen. 
Read Also: Boosting Nutmeg Productivity in Kaimana
Based on literatures of her study, Siti said that joint recovery would take 4 weeks for osteoarthritis of 40 years old and above patient. A quicker effect will be more effective for young age patient. Patients with osteoarthritis will commonly take 20-24 weeks to get recovered. "We focus on health. Beauty benefit is just a bonus," Siti added.
To reduce fish scale waste and ensure continuity of materials, Shaany Collagen Drink got fish scale supply from fishery industry that mostly processes snapper. Supply also comes from fishers. For production process, Siti employs 7 housewives from Bimo Village in Pakuniran Sub-district, Probolinggo, to clean, soak, dry fish scale and make it into collagen. She also employs 3 university fresh graduates to administer the business.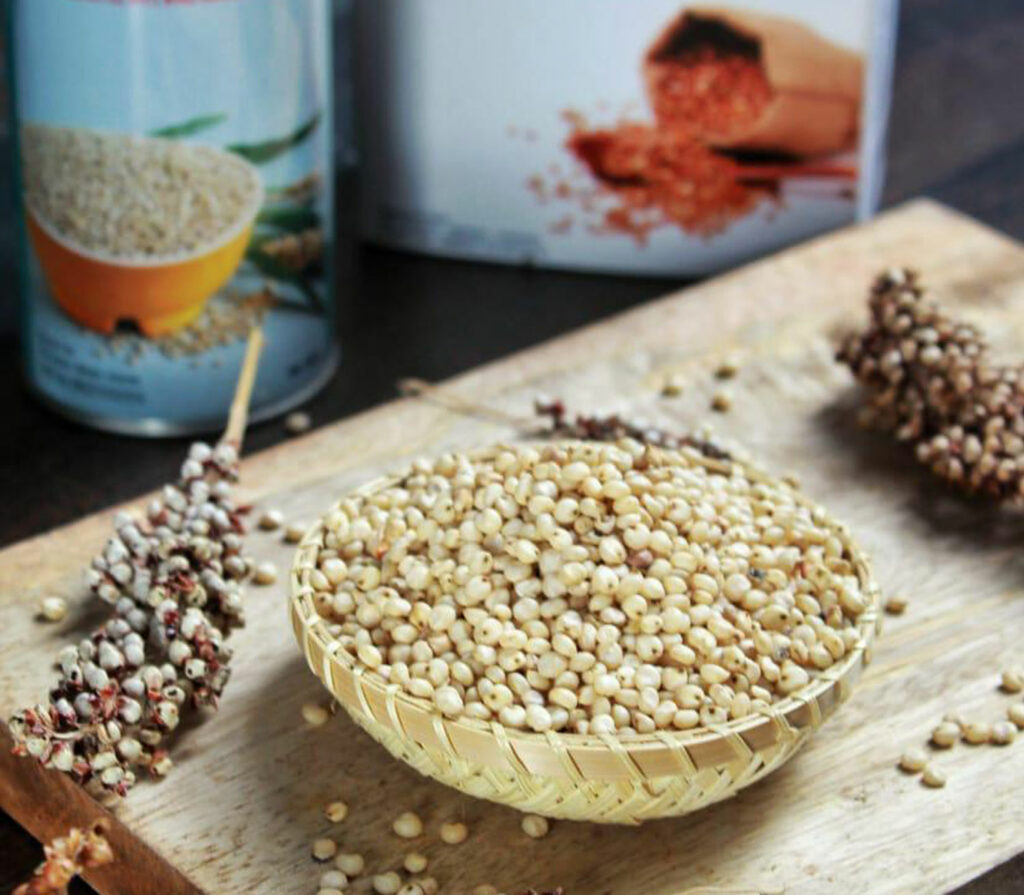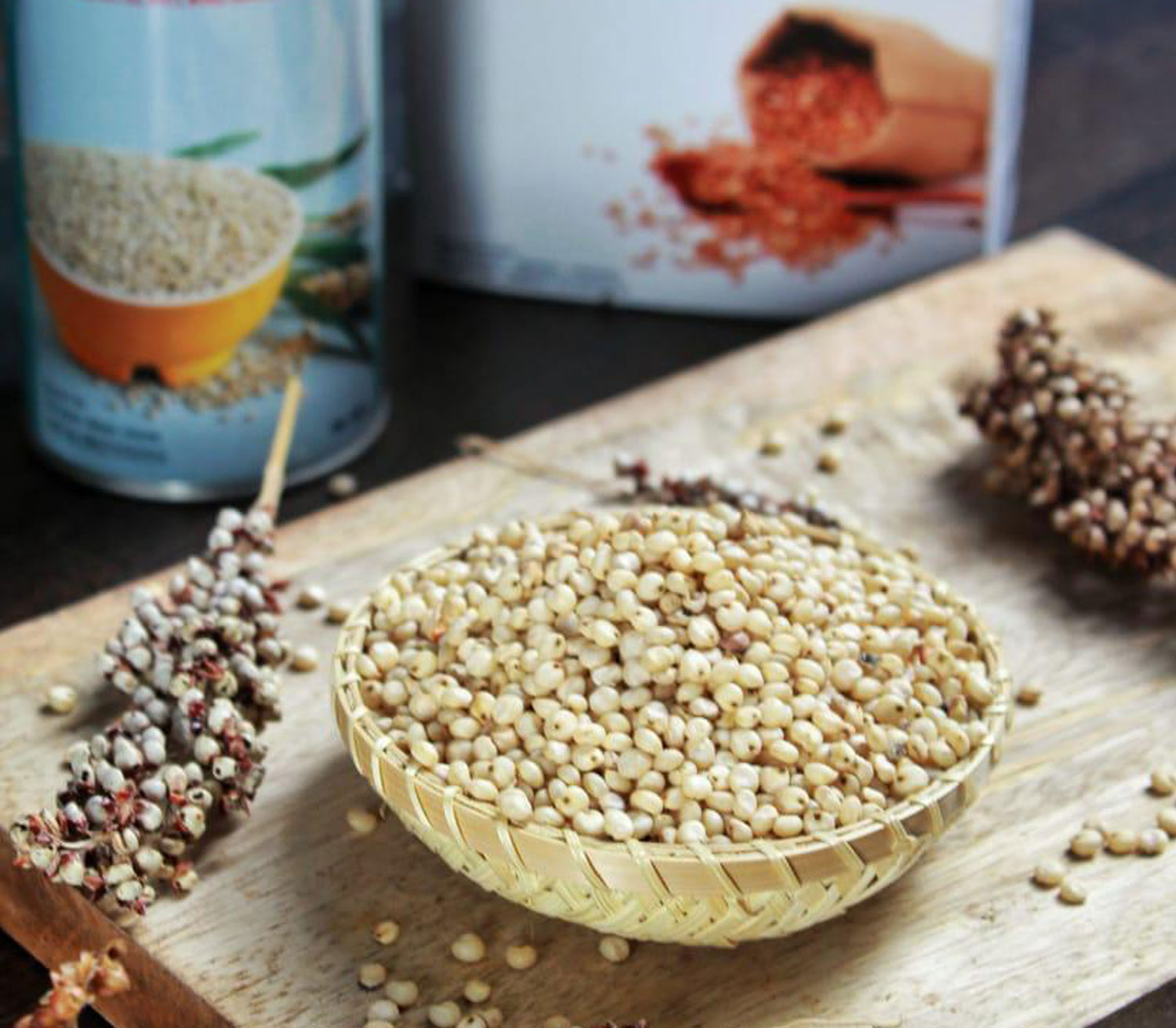 Shaany Collagen Drink is one of the best 3 nominees on the Econovation competition initiated by EcoNusa Foundation jointly with RM Inkubasi as the technical executor. The competition awarded 3 best business innovators that potentially help recover economy in Indonesia during pandemic. There are 3 categories on the competition, namely food security, education solution, and community-based health. The other 2 best innovators are Edubox and Yant Sorghum. They got business support worth Rp50 million, current account, trophy, professional website, and business incubation.
"We want to get certification from BPOM (Food and Drug Monitoring Agency) and halal label from Indonesian Ulema Council (MUI). Both is needed to build trust to customer. Demand also comes from Jakarta, Bandung, Central Java, Kalimantan, and Sulawesi," said Siti.
Discrepancy of reality that goes improperly has triggered creative idea to Nur Rahmi Yanti, the owner of Yant Sorghum trademark. Yanti came up with sorghum as an alternative food in Mataram City, West Nusa Tenggara, to a higher level so as not to end up as the livestock feed. 
Read Also: Managing Kaimana's Source of Livelihood in West Papua
Yanti knows sorghum at one of a local food expos after finishing her study at Mataram University's School of Agriculture majoring in Agriculture Cultivation. At the time, corn and cassava were two prominent commodities. Meanwhile, sorghum was only like an accessory for the expo booth. "Sorghum always exists in each exhibition. Among farmers, sorghum is only for feeding chicken and cows. Farmers also eat sorghum with salt and coconut," Yanti said.
Upon studying from literatures, Yanti concluded that sorghum is far more beneficial. The African origin plant here has more fiber content than rice. It makes sorghum hard to digest which in turn will be hard to be processed into glucose. In other words, sorghum is safe for diabetes patient and help control blood sugar levels.
Sorghum does not contain gluten and thus it becomes a good source of carbohydrate to celiac patient. The ailment that attacks digestive system here will lead the immune system to interpret gluten as threat. In the long run, celiac ailment will damage intestines and disrupt the absorption of critical nutrient to body. 
Read Also: Digging Ideas in Five Steps for Business Innovation
Yant Sorghum does not simply process sorghum seeds, but also its trunk and roots. Sorghum seeds could be processed into grain, flour, cookies, noodle, crackers, tempeh, milk, and cheese. Sorghum trunk is processed into sugar and the roots are used for making table accessories or tissue box.
Yanti started her Yant Sorghum business in collaboration with 10 farmers. She applies corporation system. Yant Sorghum provides seeds to farmers and production facilities such as fertilizer and pesticide for free. Yant Sorghum also paid workers to cultivate and maintain land. After crop, the farmers sell their products to Yant Sorghum.
"Business analysis unveils that every hectare could cost Rp 2.5 – 3 million comprising seeds, production facility and workers. They sold the yields to us. Farmers could earn Rp 25 million per hectare each harvest. There are 3 – 4 harvests every year," she said.
Now, there are 500 farmers from 25 villages in West Nusa Tenggara collaborating with Yant Sorghum. Every village has product specialization and different standard operating procedure. Yanti expected the allocation for local food consumption will be growing in Indonesia. She hopes there will be many more people consuming sorghum and other food alternative. 
Editor: Leo Wahyudi & Nur Alfiyah