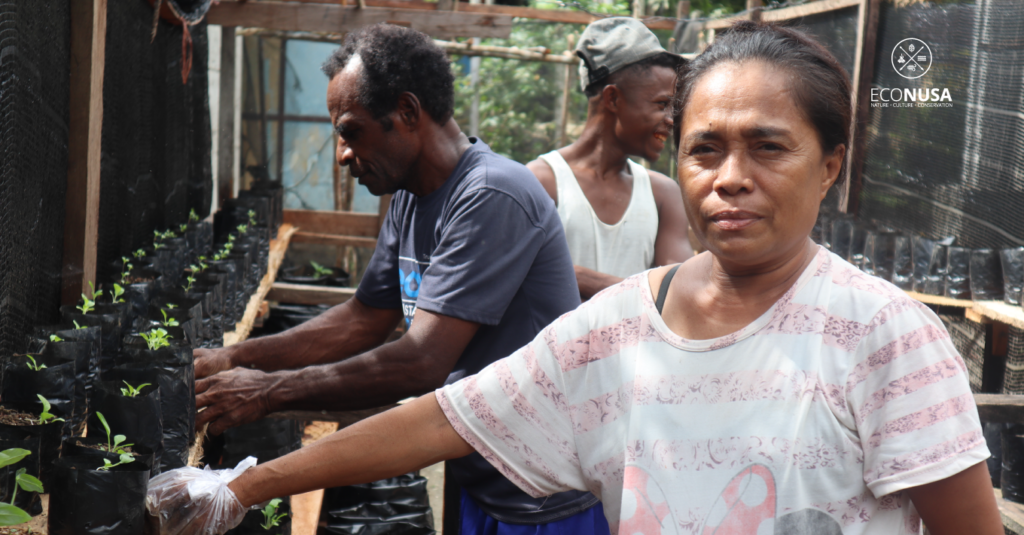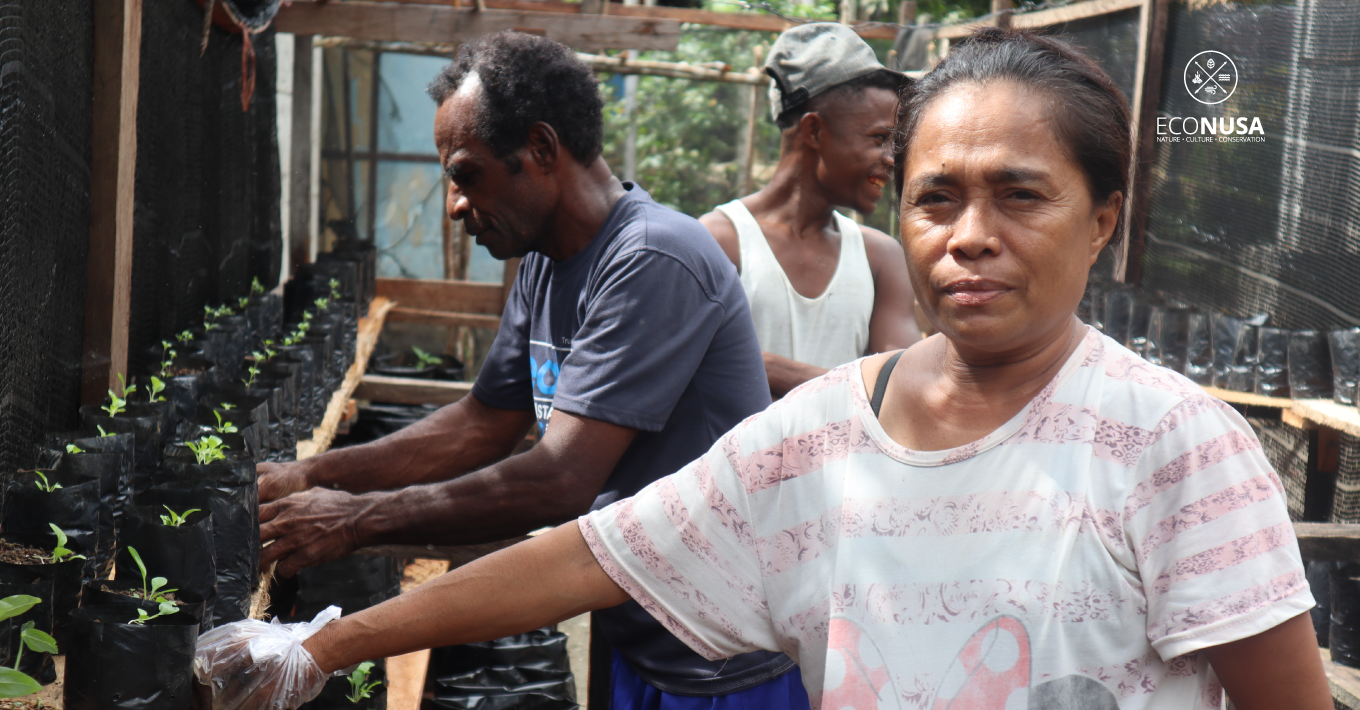 Planting vegetables at the field has been a generation-to-generation tradition for the peoples at Mai Mai Vilage in Kaimana District, West Papua. After opening a field, the locals usually plant various vegetables before planting long-term vegetation such as cassava, papaya, banana, taro, gedi, or nutmeg.
However, as their gardens are located very remote from their villages, the community found it hard to optimize the field. To reach the field, they should ride a long boat which consumes around 10-15 liters of gasoline. Their houseplants were many times eaten by animals like deer and wild boar. Without strong fences, their plants would be ruined before harvesting. As a result, production of vegetables could hardly meet their daily needs. "So, we, when we have business to Kaimana, usually buy vegetables such as mustard and beans," said Nelci Walun, one of the local women. 
Read Also: Residents of Sawinggrai: Quiet Homestay, Gardening Back to Life
Most peoples of Mai Mai are gardeners and fishermen. They plant banana, taro, nutmeg, make copra and catch fish and sea cucumber. They sell their yields to meet their daily needs including vegetables and gasoline from Kaimana. It takes about 45 minutes by boat from Mai Mai to the downtown of Kaimana.
Considering the condition, EcoNusa provided training for gardening at the house yard. Their house yard has so far not been utilized yet due to the absence of knowledge on how to cultivate sandy soil. "Gardening on the house yard will ease the plants nurture including pest control," said Arya Ahsani Takwim, the EcoNusa's Program Associate for Natural Resource Management.
EcoNusa paid a visit to Mai Mai in April 2021. They provided training to local women on how to plant organic vegetables at their house yard. By optimizing the house yard, the community is expected to suffice their nourishment domestically. They also consume healthier vegetables as they do not use any chemical substance. They do not necessarily spend budget for vegetable consumption. They could even earn extra income by selling their crop.
Read Also: Sago, Life for People in Sentani Lake
Not all villagers were enthusiastic to take part in the training. Some of them were reluctant to participate due to their unpleasant memories when they had got similar training from government institution two years before. Before harvest time, the training providers banned them from picking the crop because they should wait for official inauguration. "The vegetables were eventually decayed without yield," said Since Suparto, a local woman.
The other villagers were also reluctant to join the training in fear of wasting their time and energy. "They are afraid if we just make use of them," said Arya.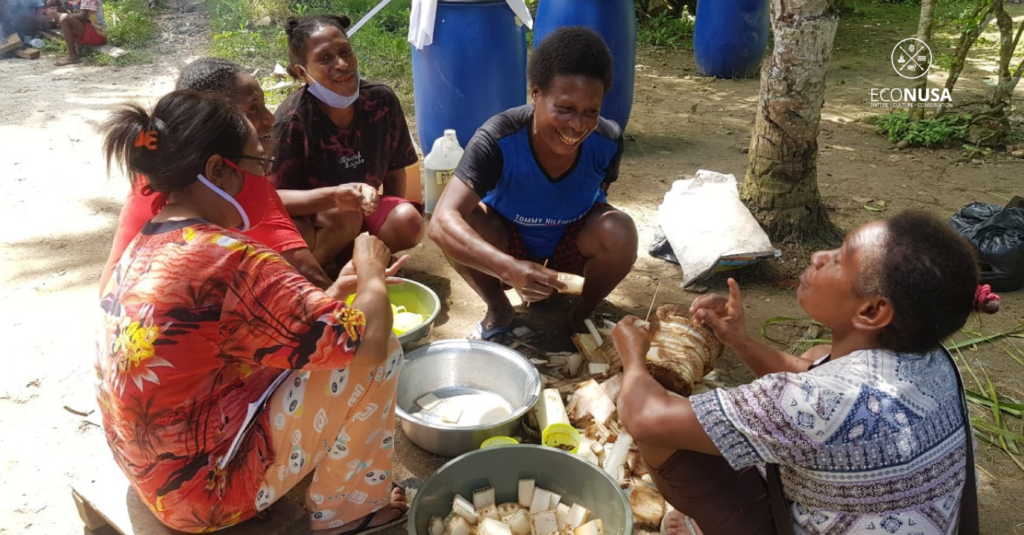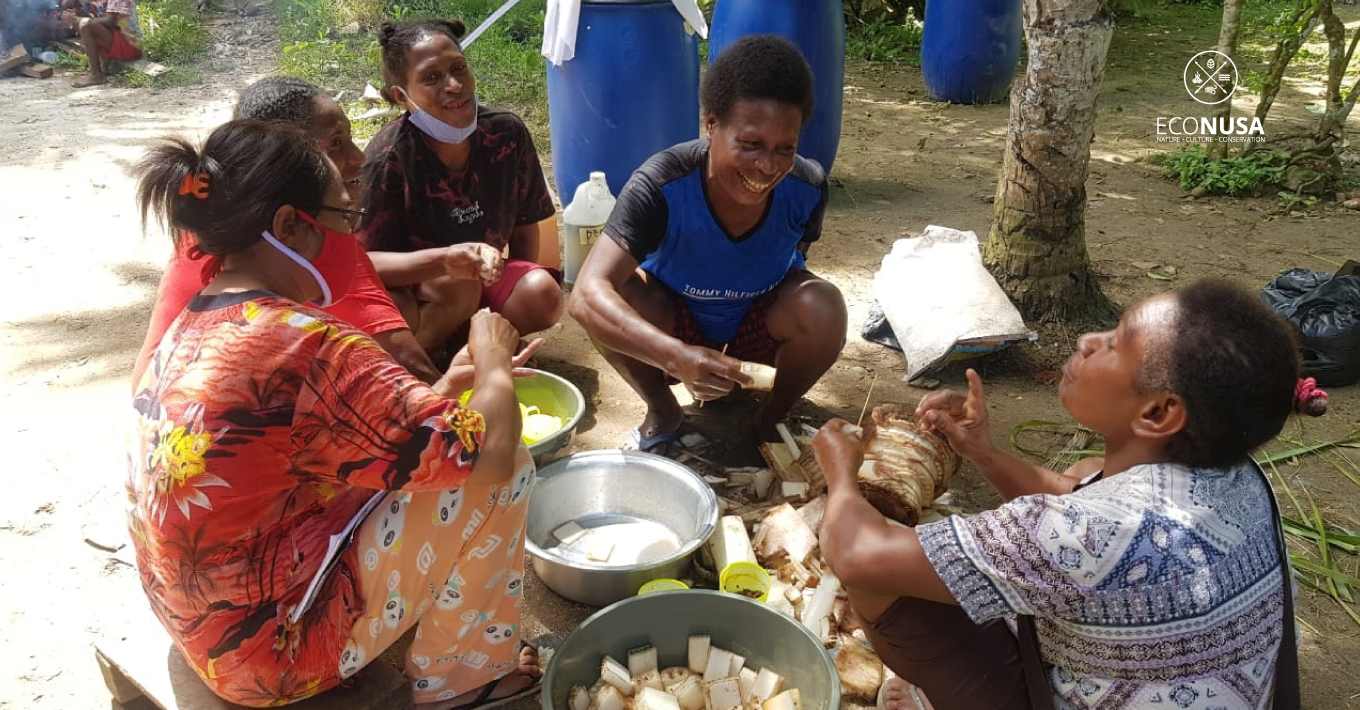 EcoNusa attempted to convince them. There were 30 women eventually joining the training. They established Farmer Women Group so-called Otanggau which means one heart. In the 7-day training, they learned how to cultivate various vegetables such as chili, tomato, bitter melon, mustard, water spinach, long beans, pumpkin, and spinach.
They were trained to cultivate land, create vertical and horizontal planting medium, select healthy seeds, produce organic fertilizer and pesticide to control pests and ailment. They afforded the materials from their surroundings. For instance, to make pesticide, they could use garlic, chili, or papaya leave.
The Otanggau Farmer Women Group kept on gardening in their house yard so far. Two women who was formerly reluctant to join eventually took part in the activity upon seeing their neighbors' green vegetables planted on the house yard. They replaced inactive members of the group.
Read Also: Coffee Farming Safeguards Yourself in the Middle of a Pandemic
Early August, EcoNusa visited Mai Mai Village to see the progress of the Otanggau Farmer Women Group and assess the economic impact from gardening on their house yard.
On the engagement, those women shared their challenges and experiences. According to them, many plants failed to grow well due to lacking soil nutrient because not all members could produce organic fertilizer and pesticide at home. The growth was disrupted by heavy rains that made the foliage withered. Some others were eaten by rats.
However, they also shared that they were getting more knowledge on how to make planting media from charcoal made of wood fiber. They also created organic fertilizer, pesticide, fungicide, and herbicide from the existing materials. Now, all members of the farmers group could crop water spinach and mustard. "We could save more because we do not need to afford vegetables," said Yusfita Farinatae.
In addition to the domestic consumption, most of women with more yields sold their vegetables to Kaimana as it was the case with Nelci Walun. Nelci could earn Rp200,000 after selling 11 packets of water spinach and 9 packets of mustard. The income here equals to the value of 10 kilograms of rice. "I spend the money for polybag and waring to expand the plants at my house yard. The more we plant, the more crop we will have and earning from vegetables will keep on growing," she said. 
Read Also: Handing West Papua Forests Back to Titleholders
The Otanggau group also shared their knowledge from training to the other fellows at Mai Mai Village. They provided training on the making of organic liquid fertilizer made of coconut or palm water and planting media from sawdust.
Regarding the progress of the Otanggau, Mai Mai Village chief, Obeth Ons, committed to give supports to these women by providing seeds and other equipment allotted from the village fund and prospect fund. "With the program, I see women getting more enthusiastic to plant at their house yard. Other communities are also interested in doing the same at their houses," Obeth said.


Editor: Leo Wahyudi