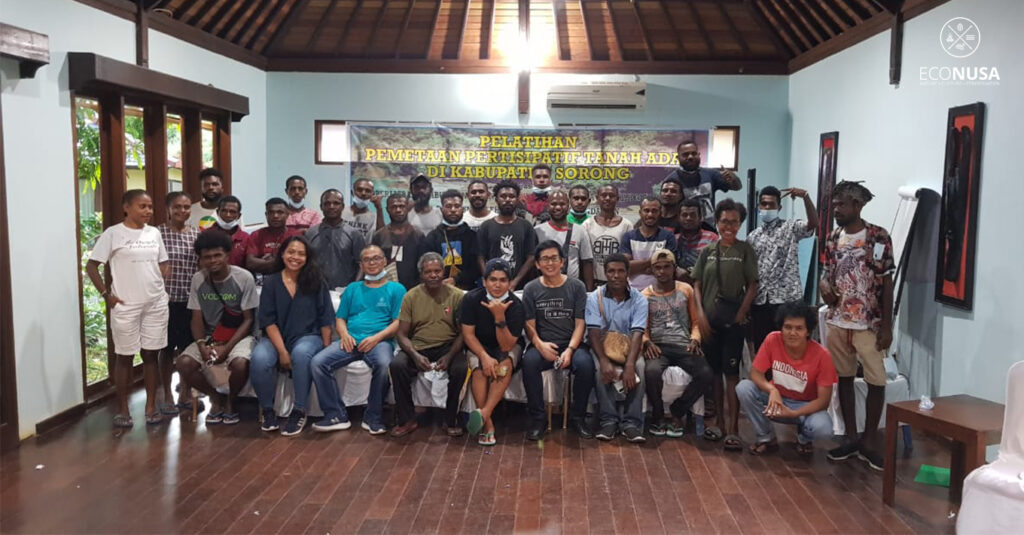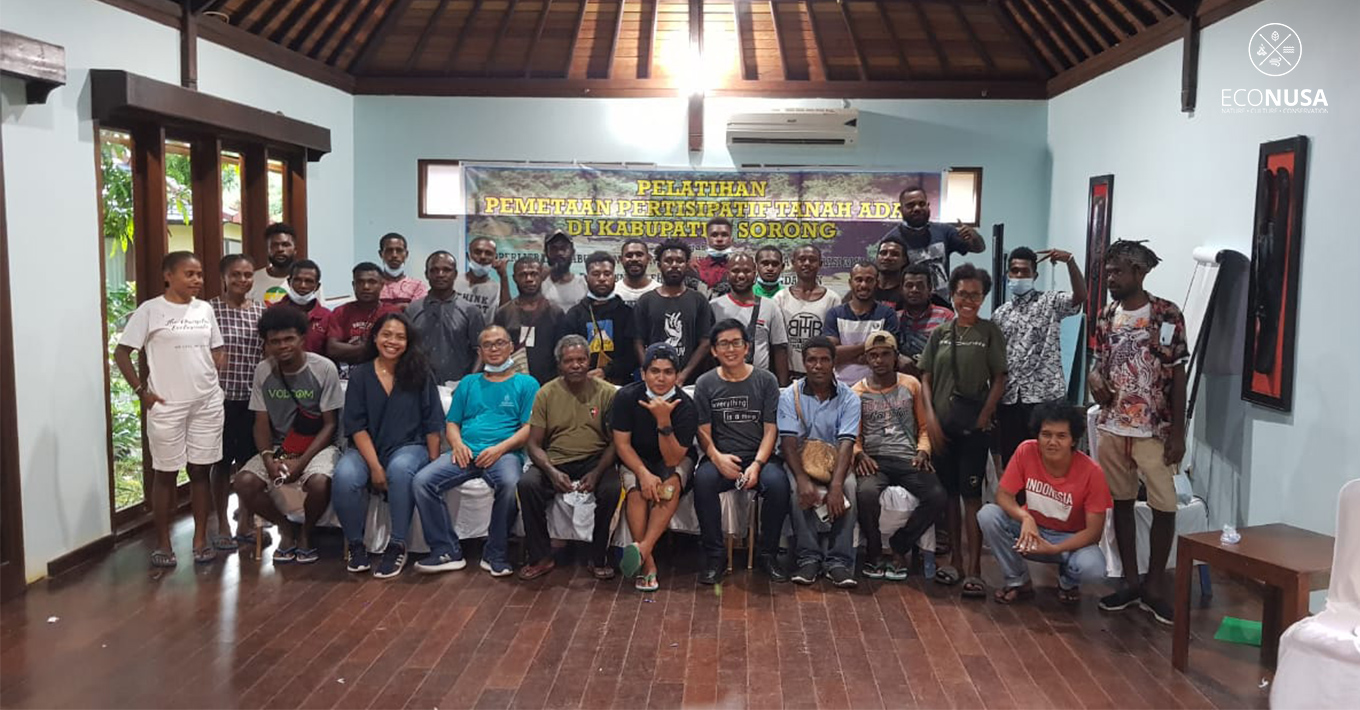 Malaumkarta Youth Organization (PGM) and Sorong Regency's Research and Development Agency (Baperlitbang), West Papua, organized participatory mapping for customary land participated by representatives of four villages at Sorong Regency. The training was given as a follow-up of license revocation of four palm oil companies done by Sorong Regent, Johny Kamuru. "Mapping of customary land is the solution to protect customary areas from investment threat," said Torianus S. Kalami, the PGM chairman and training coordinator.
The training held on 23-28 August 2021 at Saoka Sub-district, Maldum Mes District, Sorong Mayoralty, was attended by 25 participants. They came from Villages of Malaumkarta, Asbaken, Kwakeik, and Maladofok. Every participant is trained to understand self-reliance, natural resources management, customary land recognition proposal, mapping technique, and independent organization.

Read Also: Revoking Palm Oil Concession, Sorong Authorities Sued
Following the revocation of palm oil estate licenses, Regent Johny Kamuru urged that the former concession land should be given back to the indigenous community. The scheme of recognition and protection of customary land in Sorong Regency has been stipulated by Regional Bylaw (Perda) No. 17/2017 and Sorong Regent Regulation (Perbup) No. 6/2020.
"In case there was a Jakartan or an investor coming with money and valid permit, and backed up by security apparatus, what will all of you do?" said Darkono, the EcoNusa's Coordinator for Research and Geospatial, opening the training.
As to Darkono, that condition might be possibly happen anytime. The indigenous people will be driven away from their own villages due to the incoming palm oil or mining investment.
For the reason, the indigenous community should complete the required documents, including customary land map so that their land got validation from the Regent. "So, when an investor has not to come yet and take over the customary land, we should make use of the Bylaw on indigenous people recognition to protect our customary areas, among others, through this training. At least we could acquire a Regent Decree as the guarantee to protect customary land," said Darkono.

Read Also: Local Cadres Study on Village Information System and Mapping
To speed up the return of land to the indigenous people, EcoNusa Foundation jointly with PGM conducted an assessment to villages which overlapped by the former palm oil licenses. The assessment will identify the indigenous community perception to palm oil license revocation and follow-up plan for customary land management. There are 66 villages intersecting with 8 palm oil concessions that had been revoked in Sorong and South Sorong Regencies. As from the figure, 33 villages visited were in Sorong Regency.
Learning from some processes of proposing customary land as done at Sorong Regency, the mapping here was the most time-consuming process. It needs basic knowledge on mapping or the use of Global Positioning System (GPS) so that the map could get recognition and go in line with mapping standard.
The participatory mapping training got positive responses from the clan representatives attending the session. "We want to protect our region from palm oil, Forest Concession Rights (HPH), and mining investments. The mapping is useful for us," said Pilemon Ulimpa from Kwakeik Village.

Read Also: Mengelola Sumber Penghidupan Masyarakat Kaimana, Papua Barat
Pilemon and other participants were anxious to know the border of their territory amidst the other villages. With clear border, they would be able to manage and develop their own local potentials.
The participants were very enthusiastic to participate in the training. The clan representatives agreed and are motivated to get recognition from the Regent. They wanted to get along with the process done at Malaumkarta Raya. To follow up, EcoNusa provided facilitation to the required proposal document on indigenous people recognition.
There are some stuffs to be prepared such as management plan document, indigenous people existence fact, valid border of customary land proven by map, recognition from neighboring clans such as the Bylaw on Indigenous People Recognition in Sorong Regency.
Separately, the Malamoi Council Chairman and a pastor, Paulus Sapisa, said, "I want young people now to understand customary law so that they could defend their regions not only for now but for the next generations in modern way."



Editor: Leo Wahyudi & Nur Alfiyah