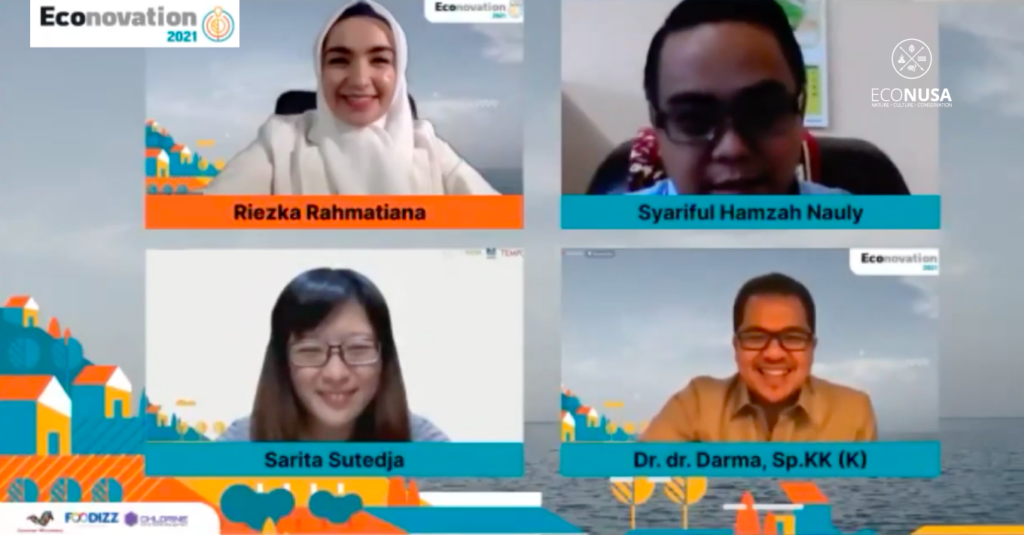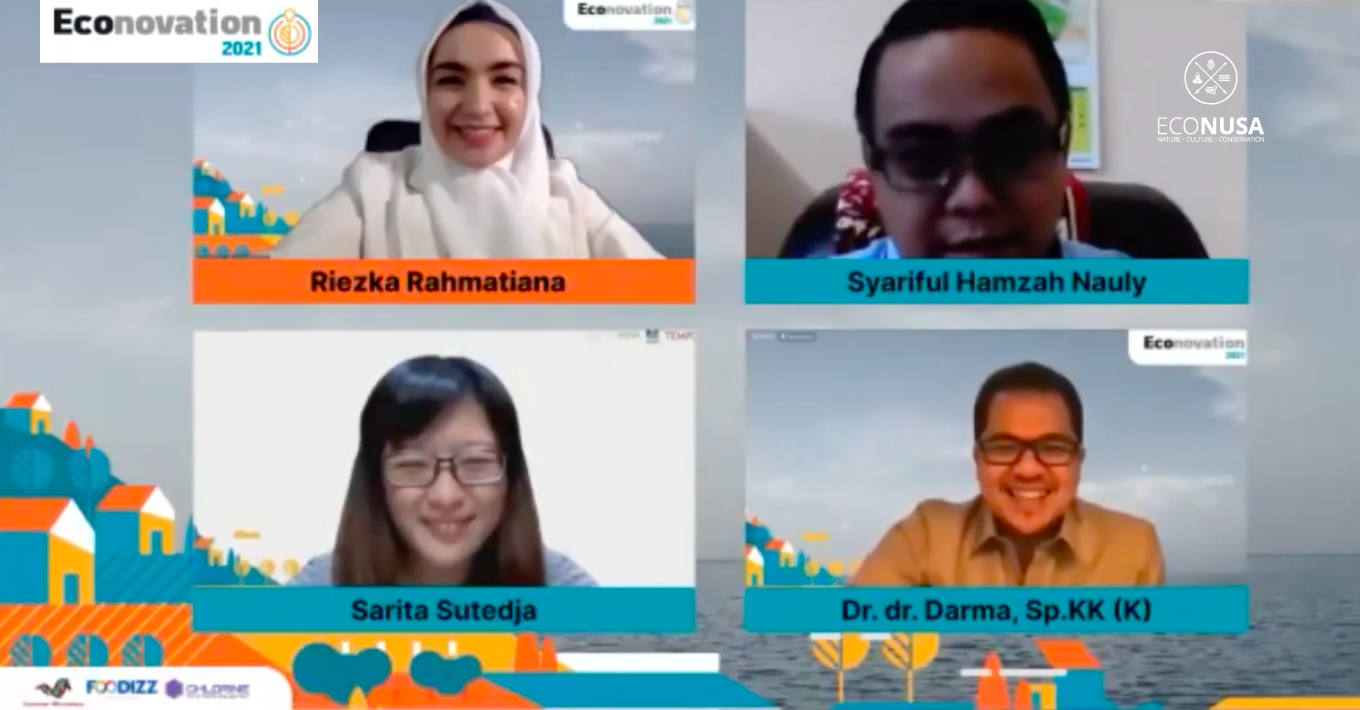 Running a business might be painstaking issue. A business person should take various business innovations to grow the business. Sarita Sutedja, Foodizz Corporate Communication General Manager, shared five simple steps to dig ideas for business innovation in an Econovation virtual roadshow 2021 on June 9, 2021, with accessible video on EcoNusa TV YouTube.
EcoNusa jointly with its partners initiated Econovation 2021. The virtual event here presented Sarita Sutedja, Foodizz Corporate Communication General Manager, I Gusti Nyoman Darmaputra, Founder of DNI Skin Center and Aura Dermatology, and Syaiful Hamzah Nauli, West Kalimantan's Regional-owned Company (Perusda) Director as the resource persons. The program accommodates Indonesian young peoples to develop business ideas on three categories, namely food security, community-based health and education solution. Young peoples are expectedly to become solution for the Covid-19 pandemic-stricken situation.
As to Sarita, the first step is to see opportunity or identify the surrounding problem. For instance, upon observing cafés in Bandung with youngsters growing interest to café may make us interested in café business. "The question is what prospective coffee?" said Sarita.

Read Also: Handing West Papua Forests Back to Titleholders
Responding to this question it needs to take the second step, that is by conducting small research to collect data, fact and information on cafés in Bandung. The research will find data on our business competitors, their strong points and setbacks. For instance, café with many electric plugs on strategic spots will give strong point.
The research also covers the targeted market and customer including their habit. For example, it covers their daily media consumption, their spending while hanging out. It also includes internal capacity covering both our strong and weak points.
Grabbing the data, the third step is to discuss the idea. As to Sarita, having idea without data and fact will eventually be in vain. Research result could be handed out to colleagues to get inputs on competitive café spot. "For instance, as from all the existing ideas, there is a coffee shop with women empowerment as the theme. It ranges from barista and waitress to community activity on women empowerment. But male is allowed to be the customers," added Sarita.
The fourth step is to make a business plan. The business plan should be broken down in details, covering financial planning, marketing, operation, organization and growth projection. It includes expansion plan by branch opening or partnership scheme as this will refer to the financial system and marketing plan.
The last step is action. This is to prove whether or not our ideas will succeed. It should get support by well-planned business plan. "Never be half-hearted that leads to failure due to disorganized business plan without considering the 3-5 years projection," she said.
Digging other opportunities

On the other hand, Syaiful Hamzah Nauli, West Kalimantan's Regional-owned Company (Perusda) Director, said that pandemic has restricted public mobility. For the reason, a business person should have creative innovation to reach out customers. "As from food, education and health sectors, health issue is quite significant surviving sector because there are many clinique or community health centers with extra patients," he said.
The Kalbar-owned company conducted a research to make the innovation. But, as to Syahruli, food has quite lucrative opportunity noting the fact that West Kalimantan shares the Malaysian border. Perusda is expected to export rice to Malaysia. "From this year, we supply rice targeting civil servants as the target market. Now we can sell 50 tons of rice per month. We will grow larger in the near future," he said.

Read Also: Securing Development, Preventing Ecology Disaster
In addition to food, there are also some opportunities to look up according to I Gusti Nyoman Darmaputra, Founder of DNI Skin Center and Aura Dermatology. However, some peoples hesitate to focus on that kind of industry upon realizing that they are not health graduates, despite the open opportunities on this business. "For instance, we start from health education. We can create infographic, Instagram live. Now people are craving for information and they are eager for healthy life," he said.
Without majoring in health education, people could run on medicine industry. Up to now, 90 percent of our medicine materials are imported. We can take this chance, for instance by employing local wisdom. "There are many kinds of traditional medicine that could be optimized such as herbal concoction," he added.
Econovation registration opens up to May 31, 2021. As from hundreds of proposal submissions, 15 candidates with the best business ideas will be shortlisted. They will get mentoring and business matching process from prospective investors that will help develop the business innovation. Initiating Econovation program, EcoNusa Foundation and its partners call young people to reconstruct Indonesia with a better and more sustainable economy!

Editor: Leo Wahyudi