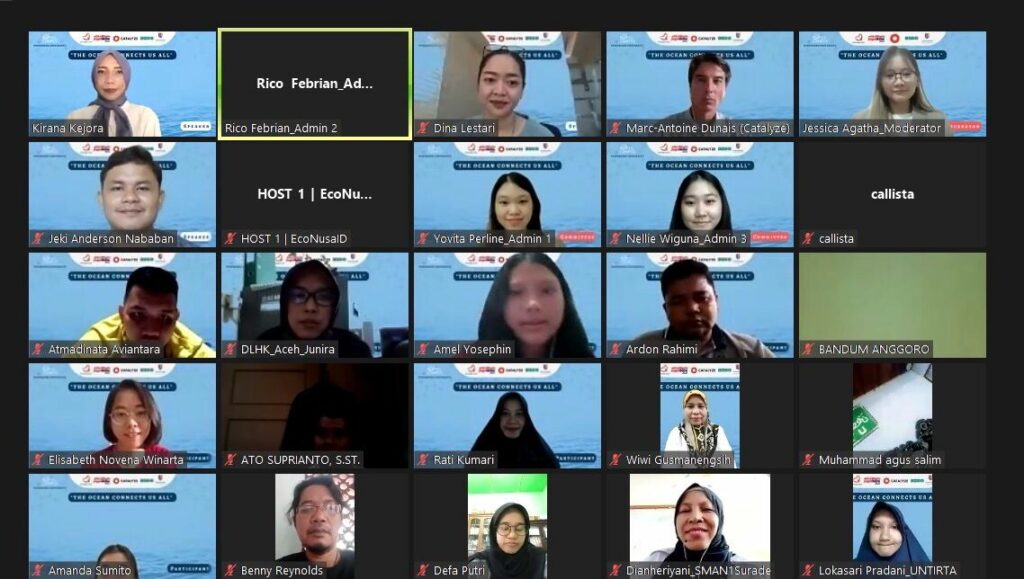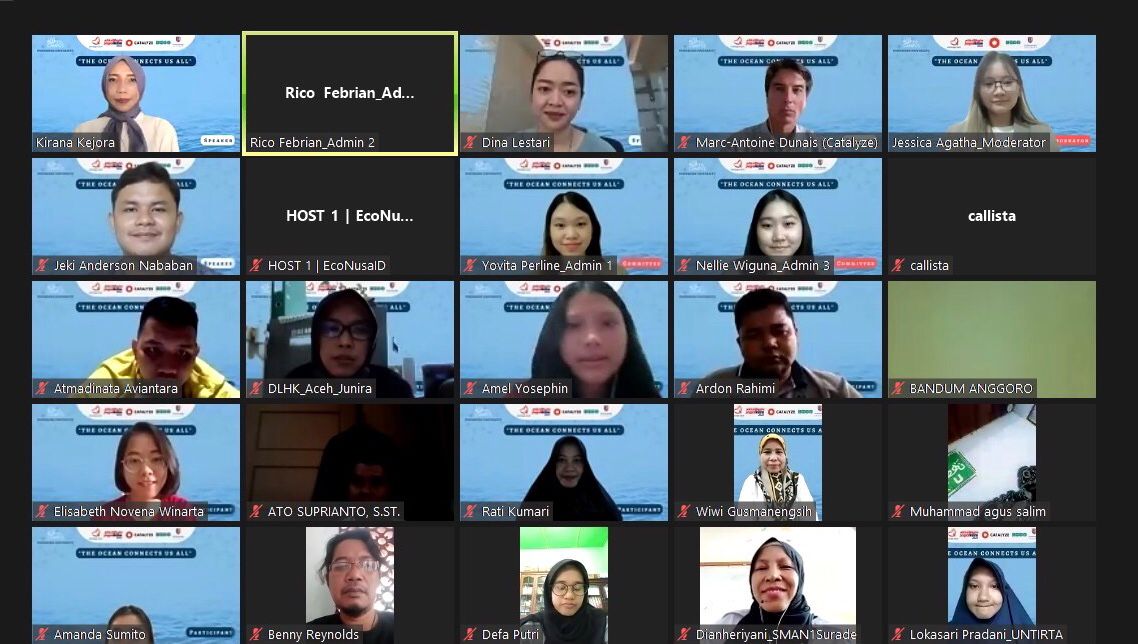 Waste of consumption goods is often overlooked. When its aesthetic value has diminished, it every so often will end up in the trash bin. Then, when the trash is not well managed will put a stop to the sea and they will destroy water ecosystem and fisheries. Whereas, with creativity, waste will have an added value.
Such a mindset is well placed at the mind of Dina Lestari Pringgotono, a lecturer of Design Product of Podomoro University, Jakarta. "We can protect sea ecosystem by conducting research and development prior to our creation with waste," said Dina in an online Sail to Campus (STC) discussion entitled The Ocean Connects Us All held by EcoNusa in collaboration with Podomoro University on 7 June 2022.
Dina processed various kinds of socks to create other products with artistic values. She made a 120×90 cm painting using a tufting gun, carpet maker machine. Her passion on textile art has made Dina and her friends develop eco-friendly batik making technique.
Read also: Dean Forum to Oversee Maritime Affairs and Fisheries Policy
"We use eco-friendly materials and food grade materials. When it is washed it is degradable. We substitute wax with tamarind seed mixed with margarine. When applied, the substance will become solid and work like wax," said Dina.
Textile industry becomes one of the factors causing land and water environment degradation. The Ministry of Environment and Forestry (MoEF) said that Indonesian ocean has been polluted by 1,772.7 grams per square meter in 2020. With a total of 3.25 million square kilometers ocean, it is predicted that 5.75 million tons of waste has polluted Indonesian ocean. As from the figures, the composition of fabric waste is 128.58 grams per square meter.
In addition to fast fashion trend production, textile industry is deemed one of the factors causing river pollution from fabric coloring and washing processes. Bengawan Solo River, for instance, is polluted by textile and liquor industries waste. Based on the study on water sample of 11 spots at Gupit and Bengawan Solo Rivers in March 2021, the river water has been polluted by hazardous chemical substance and microplastic.
Read also: Civil Society Coalition Drafting Village Regulation to Protect Coastal Areas
In response, the Partnership Manager of Penjaga Laut, Jeki Anderson Nababan, said that industrial activities that ignore environmental sustainability will give major impact to water ecosystem. Extinction and scarcity of sea biota are inextricable issue. Another threat comes from the climate crisis that give derivative impact such as the rising sea level.
"Coastal communities are mostly affected by the climate crisis. Last year fishers could catch a large amount of fish, but this year the fish catch dropped due to climate crisis and overfishing," said Jeki.
Sea protection is deemed an urgent issue. In this respect, the Indonesian demographic bonus with the upsurge of productive age could become one of the collective actions to protect sea. This is upheld by the growing green awareness in Asian countries including Indonesia. The Managing Director of Catalyze Indonesia, Marc Antoine D., said that to create collective action of sea protection, a persuasive communication in a campaign will play major role.
"There are various environmental issues that could be solved by persuasive communication. we can inspire public to fight for it. Many young people have passion. We can motivate them and convince them that there is something to be done for sea," said Marc.
Editor: Leo Wahyudi