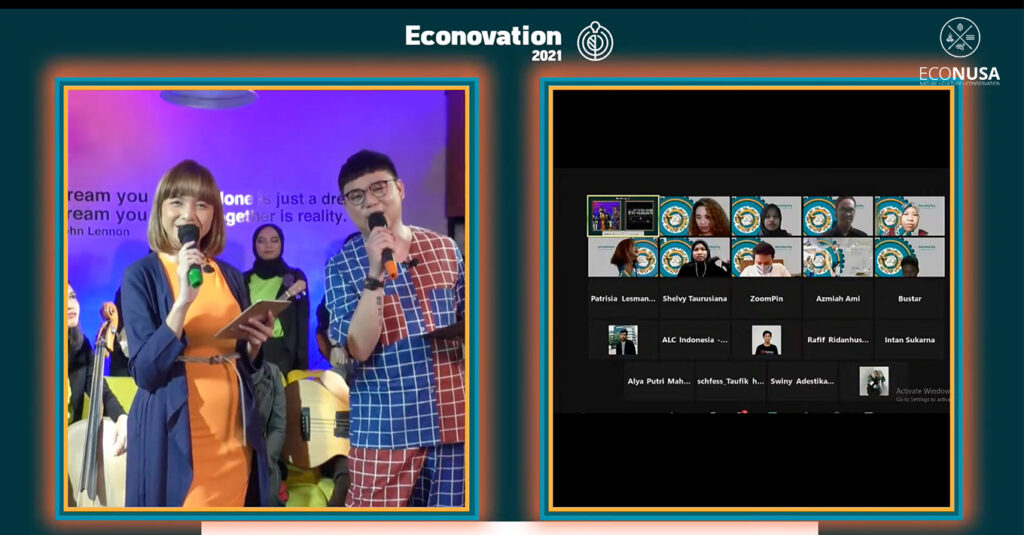 Econovation business competition award gave awards to the best three business innovators for potentially helping recover Indonesian economy during pandemic. Their proposed business innovation offered ideas on sustainable economic development, education solution and community health which has declined since the outbreak of Covid-19 pandemic early last year.
"This is very good achievement as it could draw investor and stakeholder's attention. I hope the Econovation competition here could generate innovative business model. It would not only empower but also generate positive impact to public," said Teten Masduki, the Minister of Cooperative and Small and Medium Enterprises, on the "Awarding Day Econovation 2021" on Friday 17 September 2021.
Econovation received 241 applicants since April 2021 when the program was opened for registration. As from the figure, 15 applicants consisting of 8 of food security category, 5 of education solution category, and 2 of community-based health category. Then, as from those 15 frontrunners, the top 3 innovators were selected to get supports and assistances accordingly. 

Read Also: Sustainable Development in Tanah Papua: Development Partners Joint Commitment
The best 3 innovators are awarded to Shaany Collagen Drink, Edubox, and Yant Sorghum. Each winners got Rp 50 million worth capital to support their business, current account, trophy, professional website, digital marketing technology training, as well as business incubation and acceleration. "Hopefully the competition here will create a beneficial collaboration among parties in support of Indonesian economy awakening," said Sandiaga Uno, the Minister of Tourism and Creative Economy.
In addition to the best participant, Econovation also provides award to 15 finalists, namely Highest Consistency Innovator award to Defuture Farmer, Highest Growth Potential Innovator award to Active Learning Club Indonesia, Most Impactful Business on Society award to Timor Moringa, Best Sustainability Commitment award to Remparempa, and Best Technology Adaptation award to Komerce.

Read Also: Now or Extinct, Not Late to Mitigate Climate Crisis
Then, Most Inclusive Product Innovation award went to Yuvee, Most Creative Product Innovation to Culture Academy Indonesia, Highest Export Potential award to Rumah Rempah Noni, Best Social Media Management award to SCHFESS, and Best Product R&D to MarkHerb.
Econovation is born due to EcoNusa initiative jointly with RM Inkubasi as the technical executor. Business ideas proposing on the Econovation are expectedly to respond to various challenges during and after Covid-19 pandemic. EcoNusa Foundation CEO, Bustar Maitar, said that the enthusiasm of business innovators for Econovation could mark the awakening of Indonesia.
"It is not simply selfish economy without thinking of other people. The competition is quite different. The challenge is how to create impact not only to the surrounding community but also to some other places," added Bustar.

Read Also: Cenderawasih Significance in Rainforest Ecosystem Stability
One of the best winners is Yant Shorgum. Yanti, the owner of Yant Shorgum, said that sorghum serves as an alternative food that used to be feed for livestock among farmers in Mataram, West Nusa Tenggara Province. In fact, sorghum is deemed a zero-waste plant with maximum use from root to see. Knowing the sorghum potential, Yanti collaborates with 200 farmers from 25 villages to produce flour, snack, and alternative food other than rice.
"We have delivered our products to several countries like China, Turkey, and Singapore. We will teach any visitor from cultivation to production method," Yanti said.
Watch the awarding event video here.


Editor: Leo Wahyudi & Nur Alfiyah