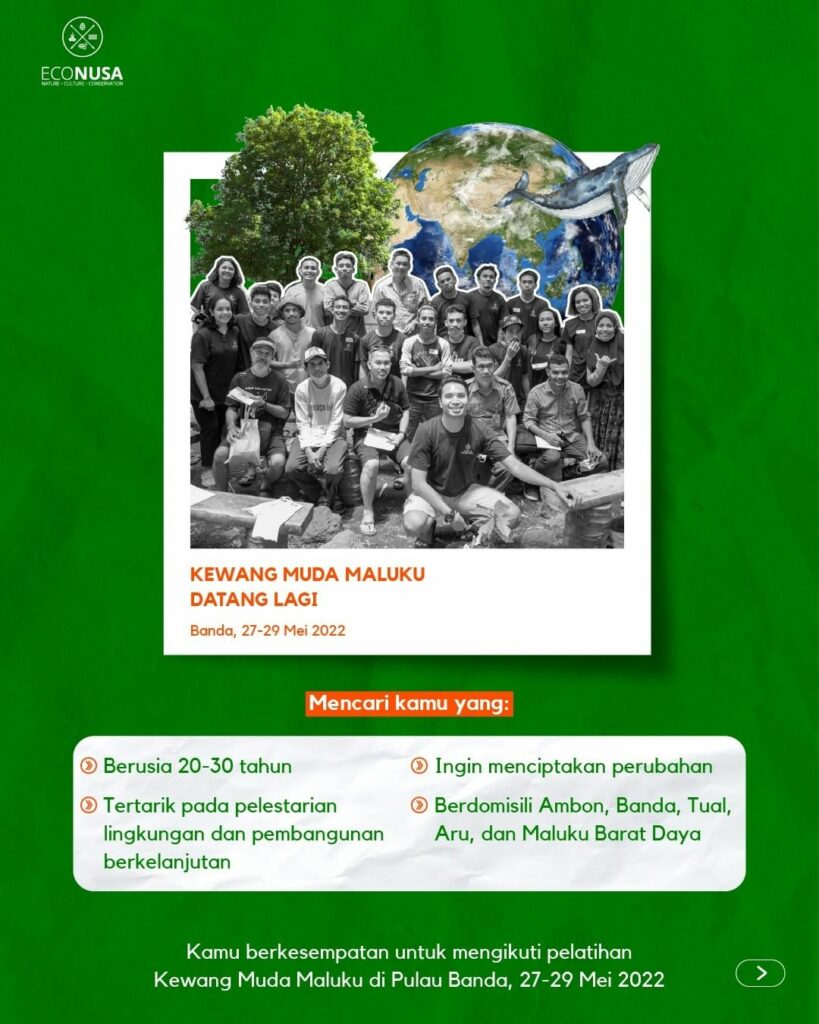 Are you between the ages of 20 and 30?
Do you live in Ambon, Banda, Tual, Aru, or Southwest Maluku?
Do you care about environmental protection and development?
Do you want to make a difference?
Kewang Muda Maluku is Back!
If you answered yes to all of the questions, you're in luck! This year, the EcoNusa Foundation and Moluccas Coastal Care will organize the School of Eco Diplomacy: Kewang Muda Maluku program, which will provide training for young people interested in Maluku's environmental conservation issues.
What can you get from this program?
Training and camping on 27-29 May 2022 on Banda Island.
Learn together about ecology, local wisdom, and the role of young people for change.
Guidance and mentoring to design environmental actions up to post-activity.
Ecosystem field trip.
Practice creative communication and teamwork.
Access to various interesting discussions online and offline post-training.
Registration process:
Fill in the registration form at info.econusa.id/KewangMudaMaluku2022 no later than 22 May 2022 at 23:59 WITA.
Upload a short video / article with the theme of: Young people as the protectors of the sea and forest.
Fill in the commitment form to participate in the full training (if selected).
Registration and training is free of charge! So what are you waiting for? Let's register soon and don't miss it!