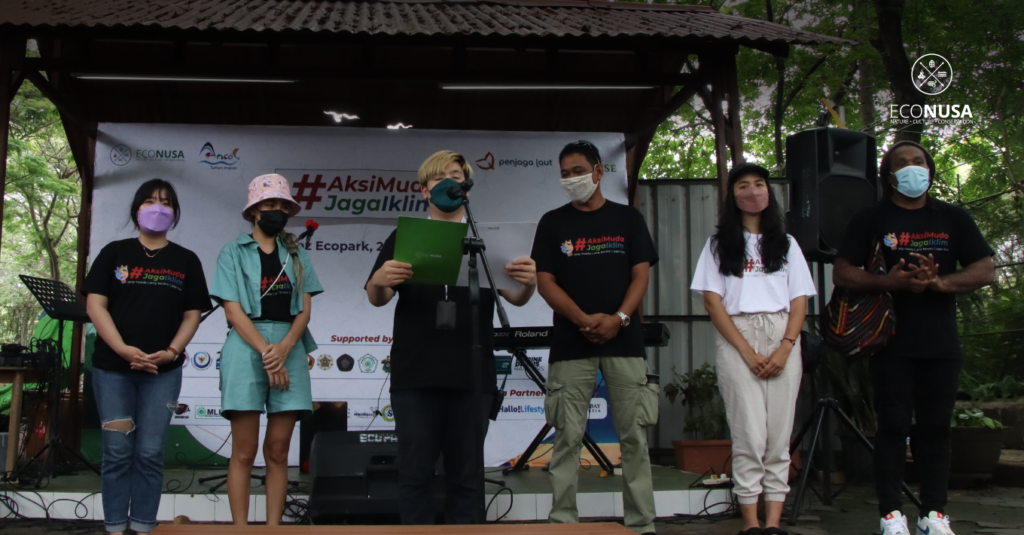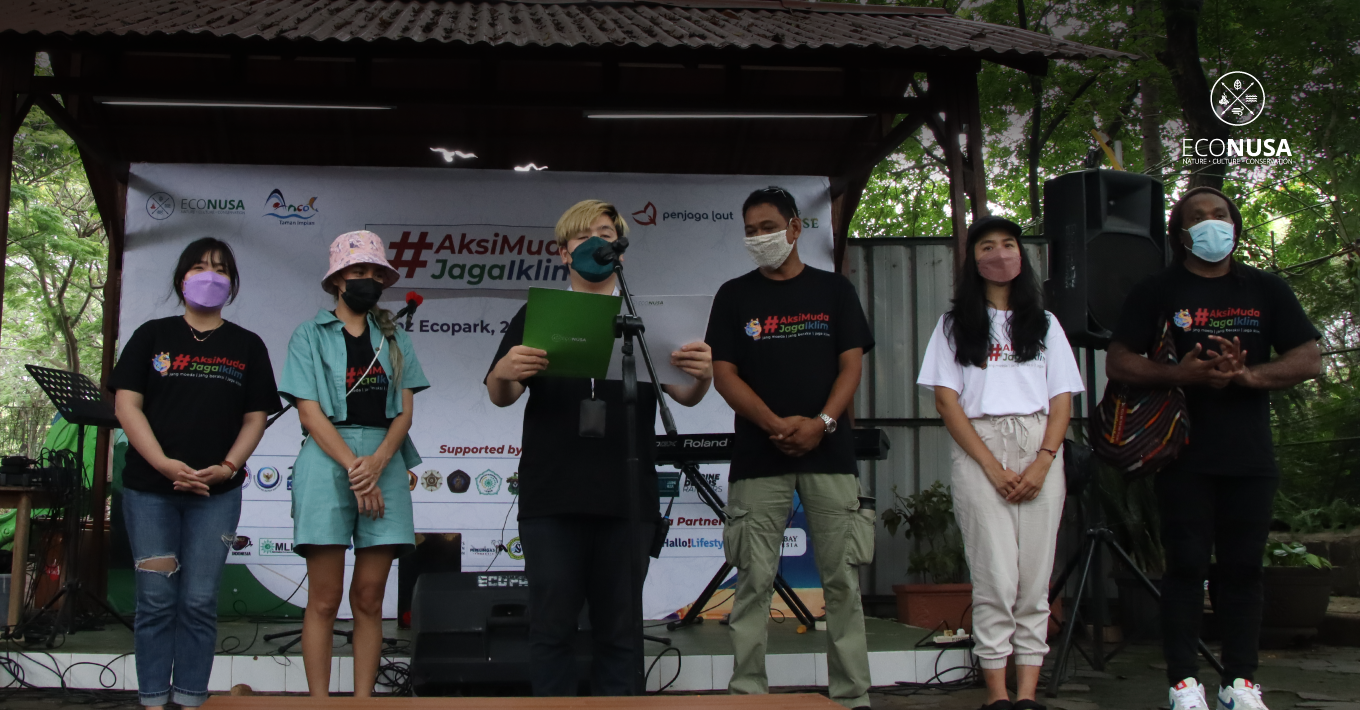 In the COP 26, young people were invited to articulate their voices on climate crisis. The United Nations Climate Change Conference (UNFCCC) established children and youth constituents so-called YOUNGO in 2009. Now YOUNGO has 200 youth organizations and more than 5,500 individual members.
On the climate summit, Heeta Lakhani and Marie-Claire Graf of YOUNGO Global said that YOUNGO has cooperated with the UK presidency and UNFCCC Secretariate to design Youth and Public Empowerment Day. They unite four generations to share best practices in pursuit of collective climate justice.
Besides, Ministers of Education of 23 countries also gave their words to put climate change as the core of curriculum. They will eliminate carbon at school while developing school resources.
Read Also: Thousand Youngsters Performing Aksi Muda Jaga Iklim as Youth Pledge Manifesto
In this light, EcoNusa also encourages young people to play their active roles to cope with climate crisis. EcoNusa has provided education on environment through School of Eco Diplomacy program to youngsters in Papua and Maluku. The organization has just organized an initiative so-called #AksiMudaJagaIklim (Youth Action to Mitigate Climate/AMJI) in October 2021. AMJI initiative was done nationwide by planting mangrove, beach clean-up, coral reef transplantation, green scallops planting, turtle release, webinar and Instagram live on green issues. The actions were done in 142 spots across Indonesia.
The actions recorded that 33,572 mangroves and trees were planted, 1,058 coral reefs transplanted, 24,241 kilograms of waste cleaned up, 1,000 kilograms of green scallops planted, and 200 turtles released. Youngsters should have collective movement to perform real action to mitigate climate crisis. "Perhaps, what we are doing looks unsophisticated, but if we move together across Indonesia, it will give outstanding impact," said Irene Natalia Komala, a young influencer participating in AMJI.
Roles of Tanah Papua and Maluku Island
Statistic of Indonesia recorded that there are 39 million hectares of forests in Tanah Papua and Maluku Island in 2019 or three times larger than the size of Java Island. Both regions have 50 percent of the remaining forests in Indonesia. Based on data from the Ministry of Environment and Forestry (MoEF) in 2019, those areas have 7,145 gigatons of carbon stocks.
Read Also: Inspired by Social Media, Marcello Tahitoe Stops Using Single Use Plastics
According to EcoNusa's CEO, Bustar Maitar, the protection of forests in Tanah Papua and Maluku Island is one of the measures to cope with climate crisis. "This is our last frontier. The last forests we have are in Papua and Maluku. Healthy sea and ample stock of fish are in the eastern of Indonesia. This is the most remote area. The faraway area usually is out of notice. So, it needs our protection," said Bustar.
To defend the remaining forests, EcoNusa in collaboration with local governments provide training on participatory mapping of customary lands in some regions in West Papua. One of them is in Sorong Regency, West Papua. This to speed up the process of returning customary land to the indigenous people.
Read Also: Protecting Customary Land from Palm Oil Investment
The scheme of recognition and protection of customary land in Sorong Regency is mandated by the Bylaw No. 17/2017 and Sorong Regent Regulation No. 6/2020. "This is good moment before investor is coming and grabbing customary land, we should make use of the Bylaw on indigenous people recognition to protect our customary land. At least we can get a Decree from the Regent as warranty for customary land protection," said EcoNusa's Research and GIS Coordinator, Darkono Tjawikrama.
Editor: Leo Wahyudi