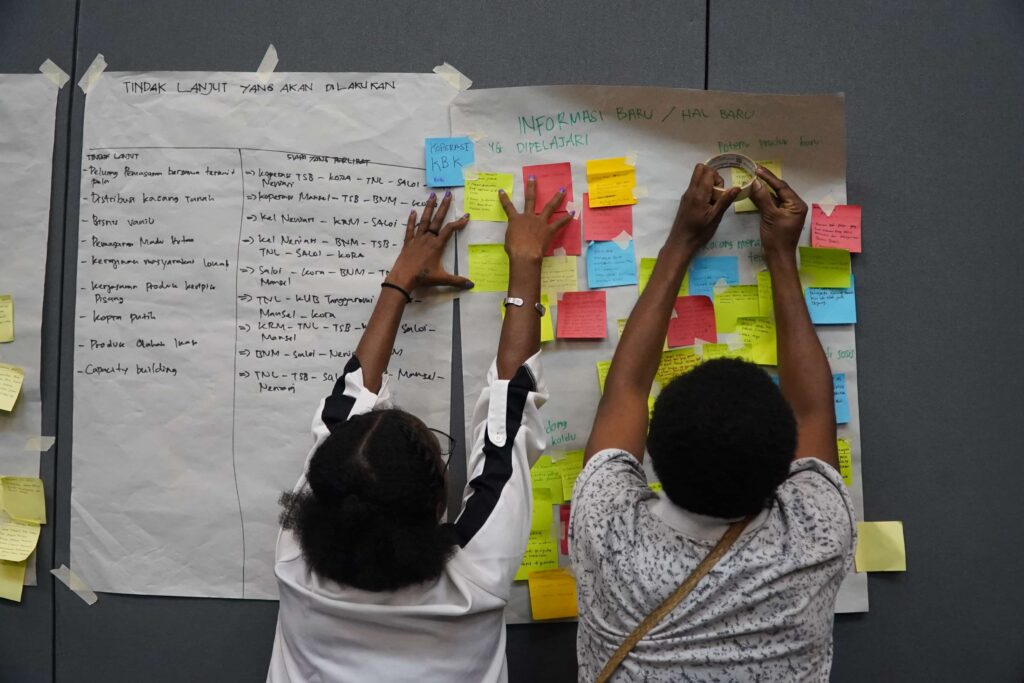 Tanah Papua and Maluku Islands are rich in natural resources. These two areas are home to nearly 50 percent of Indonesia's forests, 52 percent of Indonesia's mangroves, and home to 50 percent of Indonesia's fish stocks. However, the paradise is vulnerable to climate crisis and threats from overexploitation.
Improving a sustainable local economy, food security, and the livelihoods of indigenous peoples and local communities is one of the keys to maintaining and preserving nature in the Maluku Islands and Tanah Papua. EcoNusa Foundation and PT. Kobumi work with the local communities to improve economic, food security and social life while maintaining forest, coastal and marine ecosystems. Currently there are dozens of micro, small and medium enterprises (MSMEs) as well as cooperatives in Tanah Papua and Maluku Islands working with EcoNusa and Kobumi.
To strengthen these MSMEs and cooperatives, EcoNusa and Kobumi held a workshop on Monday to Tuesday, 7-8 August 2023 in Sorong, Southwest Papua. There were 26 MSMEs and cooperatives that participated in this activity. CEO of EcoNusa Foundation, Bustar Maitar, explained that the workshop was held to strengthen networks between business actors and a place for mutual learning. "Instead of studying outside, it's better for us to learn from each other," said Bustar when giving his speech.
Read Also: Pili Nut, Shade Tree as the Source of Livelihood
Acting Head of the Southwest Papua Economic and Development Administration Bureau, Exan Musa'ad, shared his speech during the workshop opening. He was the Governor of Southwest Papua Province. Eksan said that in the midst of global economic problems that have spread to the regions, it is important to develop the MSME and cooperative sectors. According to him, the efforts made by EcoNusa with 26 business partners are important and align with the West Papua Provincial Government program in maintaining the business climate and growing the people's economy. "This activity is in line with the five flagship programs of the Southwest Papua Provincial Government," said Eksan reading the remarks of the Governor of Southwest Papua.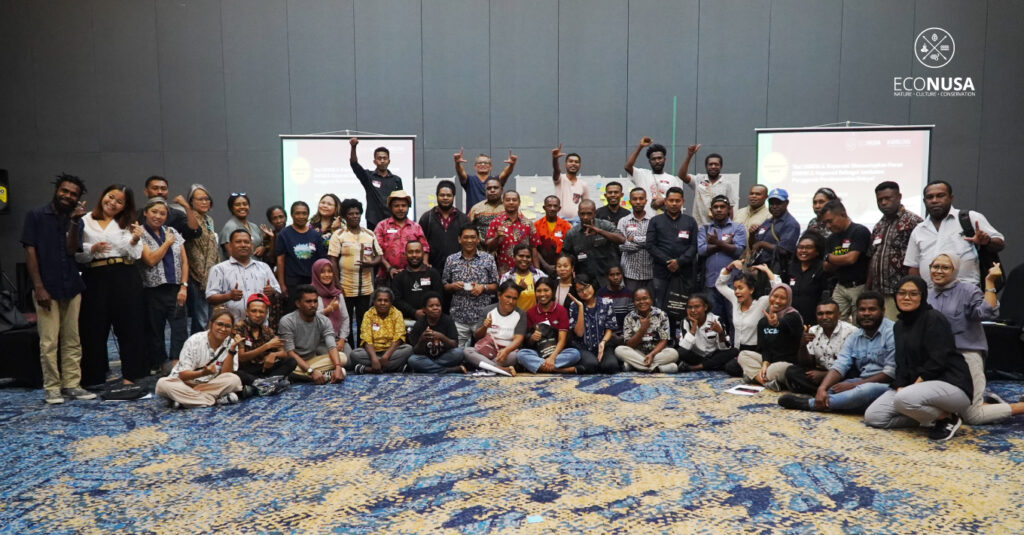 Eksan continued, one of the leading programs is the community economy. In this program, the Southwest Papua Provincial Government will provide interest subsidies. The Provincial Government hopes that this scheme can be utilized by MSMEs and cooperatives to assist in business development. The Governor also advised that these MSMEs and cooperatives can implement three important things, namely being creative, innovative, and collaborative by utilizing technological developments and building a wider network.
Yusdi Nurdin Lamatenggo from the Department of Youth, Sports, Creative Economy and Tourism of Southwest Papua Province also hopes that the efforts made by MSMEs and cooperatives assisted by the EcoNusa Foundation can become the backbone of the economy in the villages.
Read Also: Chronicle from Neniari Gunung, Mobilizing Women for Organic Farming
During the two days of activities, workshop participants will learn and discuss business management, such as frameworks that discuss business models, formulate problems encountered and solutions that can be implemented, introduce needs analysis, develop strategies and business plans, and collaborate for business acceleration.
Elvira Lumapuy, a workshop participant from West Seram, Maluku, said that she gained knowledge participating in the workshop, such as planning and developing a business, as well as developing a product. "In here, I studied with friends from Papua and I can collaborate with them," she said.
Meanwhile, Moses Nauw, Head of the Papua Insan Community Learning Activity Center from Maybrat, is grateful because EcoNusa pays attention to the people of Papua. "EcoNusa is one of the foundations that care a lot about indigenous Papuans," said Moses.
Editor: Nur Alfiyah, Swiny Adestika