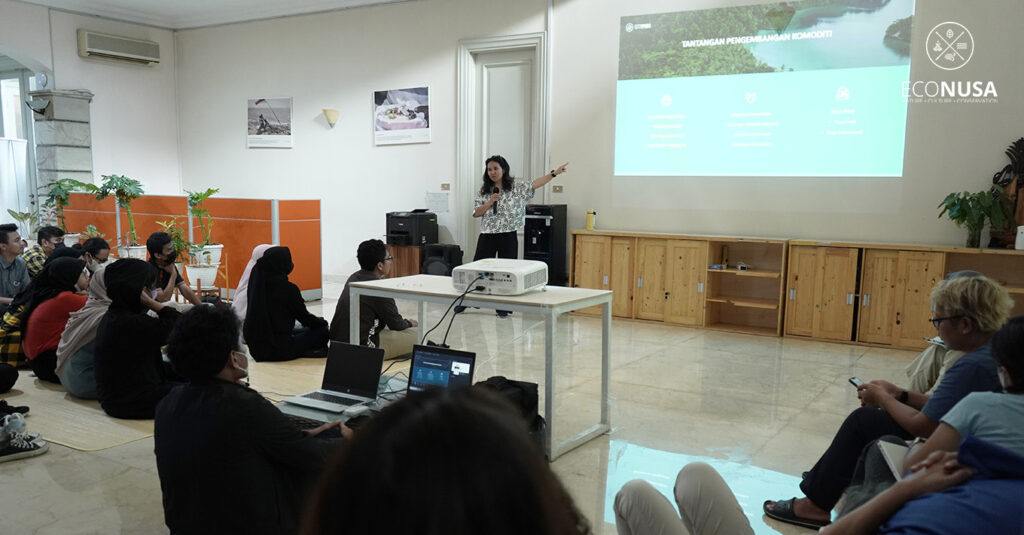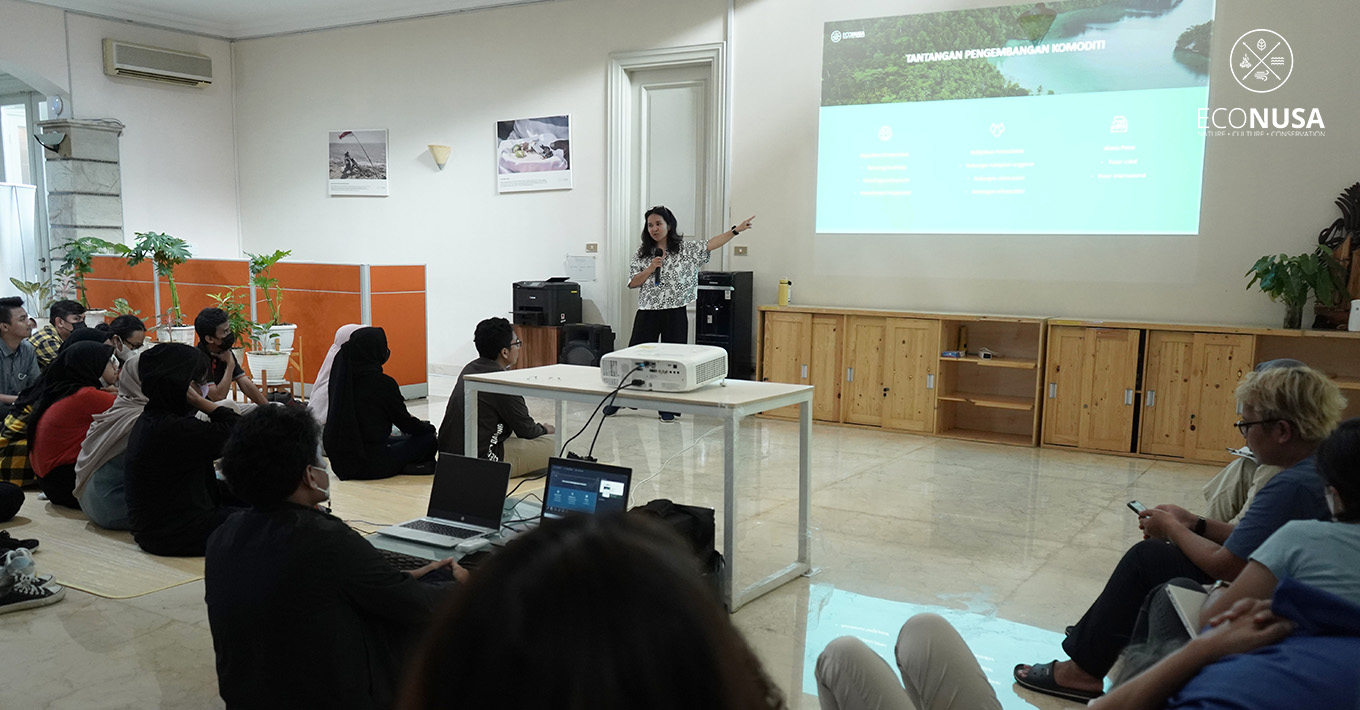 The song lyric of "our land is paradise land" of "Kolam Susu (Pond of Milk)" song by Koes Ploes years ago is not a nonsense. Tanah Papua has become one of the living evident. The areas of Papua and West Papua Provinces have the richest biodiversity in the world in addition to Papua New Guinea. Based on study on Jurnal Nature, there are 13,364 species of flora found in Papua Island. As from the figure, 68 percnet or 9,301 species is endemic flora.
It is not too much to say that indigenous community in Tanah Papua has considered nature as their mother since nature provides livelihood for them. Various vegetation with economic value grows well without any complex technique of planting. This statement was made by EcoNusa's Manager for Natural Resource Management and Community Resilience, Siti Masriyah Ambara or nicknamed Imey, on the EcoNusa Chronicle (PACE) entitled "Exploring Local Commodities of Papua and Maluku" on Tuesday, 21 June 2022.
Read also: Mogatemin STS Participant Pledges to Manage Local Shrimp Potential
As to Imey, the economic value vegations in Tanah Papua could become the prominent commodities as the local economic driver. "If the commodity is well managed, the locals could gain prosperity," she said.
PACE is a regular discussion event organized by EcoNusa every month to bolster the staffers' and volunteers capacities. This time was the 8th PACE which was attended by staffs and some local communities in Jakarta.
From Fragrant Lemongrass to Wild Boar
Nearly the past two years, EcoNusa jointly with communities of some villages in Tanah Papua conducted commodity mapping and natural potential development. Imey said that the activity was intended to seek and assign any commodity that could contribute prosperity to the locals. "The activity, we commonly called, is economic valuation, by calculating economic values from the existing potential and economic values in the villages. For instance, the potential of fragrant lemongrass could be processed into derivative products which could provide income."
Read also: Kaimana Regent Ready for Nutmeg Bylaw with Public Support
Imey gave an example of fragrant lemongrass development in Mare District. Formerly the commodity here used to be unproductive with growing wild. However, thanks to local cadre like Beyum Antonela and her friends, lemongrass was processed into essential oil, then the fragrant lemongrass could be superior commodity with higher selling point.
In addition to fragrant lemongrass, Imey also told some other commodities such as lawang oil produced by local group, Fina Fenandi, at Kouh District, Boven Digoel Regency, and coffee in some regions like Ambaidiru in Kepulauan Yapen and Paniai Regencies. "These products got the market during the 20th National Sports in Jayapura as the nontimber forest product," she said.
Imey added that the commodity does not simply come from vegetation. There is also processed meat from wild boar developed by Lingkar Jerat Cooperative in Sorong, West Papua. There is also floss made from tilapia and cork fish managed by Production Forest Management Unit (KPHP) LIII Boven Digoel Regency in cooperation with women of Wambon Tribe in Tanah Merah. These three fauna was selected due to the overpopulation. "In Sorong, the wild boar over population has turned to be pest to turtle habitat and community crops. In Boven Digoel, the unsold captured fish was usually decayed. So, we try to process the natural product which is formerly worthless turn to be new source of income," she explained.
Superior Commodity and Its Challenge
The government of Indoneisa has long been aware of the importance of local commodity development. Through Ministry of Industry, the government applies One Village One Product (OVOP) approach. It was adopted from the idea of Professor Morihiko Hiramatsu who was once the Governor of Oita, Japan, in 1980. OVOP highlighted one prominent product as the specialty of a region to be developed as the valuable commodity.
Read also: Sasi Sambite: Local Wisdom to Boost Nutmeg Quality in Arguni Bawah
As to Imey, the OVOP-based approach could motivate the local development through community movement. "We have heard the story of Beyum, a local cadre who mobilizes villagers to manage fragrant lemongrass into a product with an added value. Beyum could call the other women to involve and absorb more workers," she added.
But so far, the development of commodity in Tanah Papua still faces some challenges that are categorized into three aspects, namely community capacity, government policy, and market access. As to Imey, in the community capacity aspect, the cultivation technology development and post crop including local knowledge on market condition could be the challenge in commodity development. In government policy aspect, budgeting policy for local commodity and infrastructure development often turns to be obstacles. So, the motors of creative economy at village level eventually find it hard to access the existing market.
Sometimes, the hardship comes when the community commits careless cultivation of natural resources which results in poor quality. Let alone, the infrastructure is poor. Product price is high despite the poor quality. "In this respect, stakeholders and government should play their roles to resolve the complication here," said Imey.