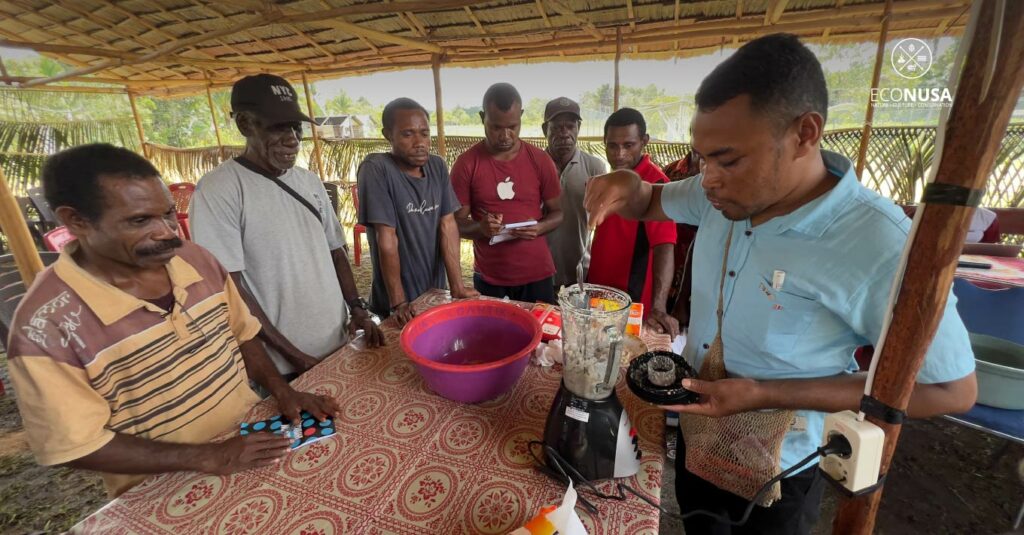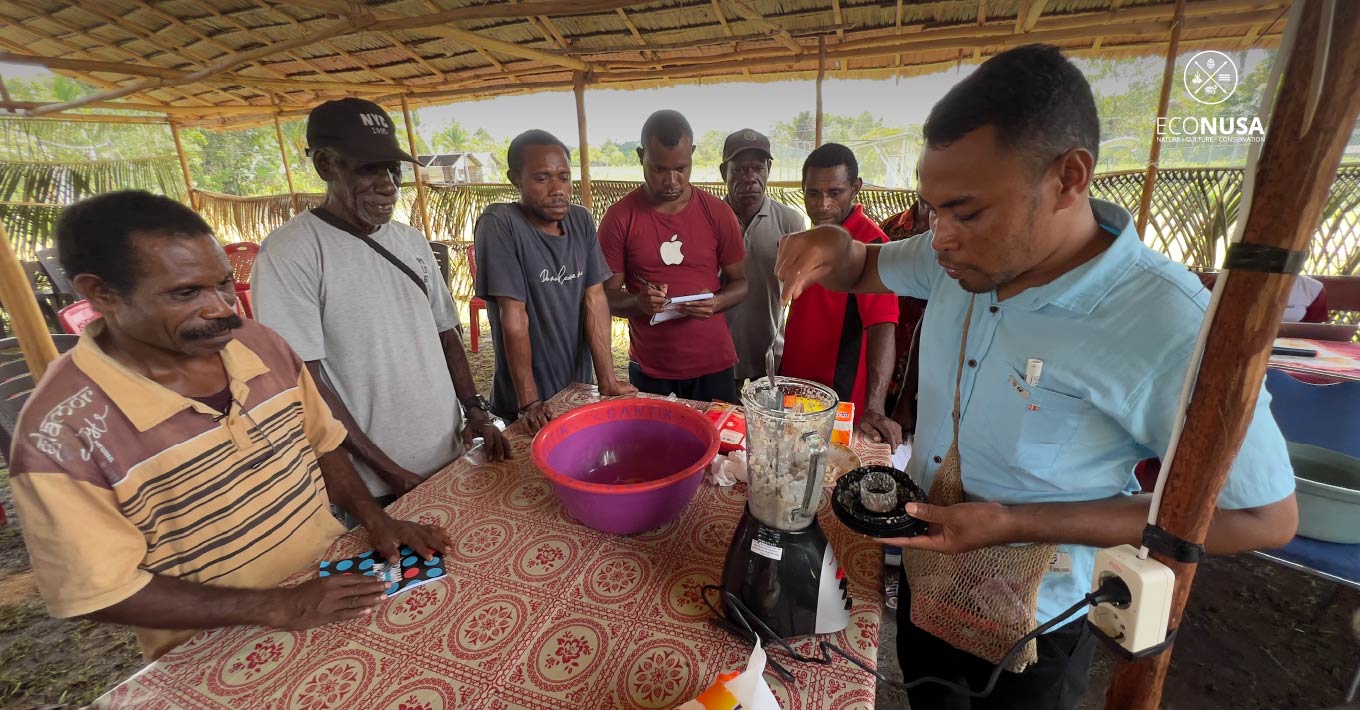 The participants of Mogatemin Social Transformation School (STS) in South Sorong, West Papua did not merely study on sago cultivation and organic fertilizer production, but they also learned how to create derivative products from shrimp, such as shrimp-made crackers and nugget.
Why shrimp? Most of the STS participants in Mogatemin came from the villages with abundant shrimp potential, particularly salty water and freshwater shrimp.
Muhamad Saleh Rumwokas, a lecturer of Muhammadiyah University of Sorong, facilitated learning group for the production of shrimp-made cracker and nugget. He initiated the process by giving knowledge on the benefit and nutrition on the shrimp including tools and materials for cracker and nugget production. On the field practice, the participants came not only from the STS students, but also local women who worked in the public kitchen who listened to the learning session behind the stage.
Read also: STS Mogatemin Participant: The Knowledge Very Priceless
Hermalina Gerawas, the chairwoman of Mogatemin Family Welfare Movement (PKK) who is the wife of Mogatemin Village Head, admitted that women working in the kitchen were keen on taking parts in the cracker and nugget production. However, the condition did not enable them to join as they should work in the kitchen to serve meal and refreshment to the STS participants.
"Let the youngsters join so they have knowledge and could help local women to produce cracker from shrimp," said Hermalina.
Yanto Kemesrar, the STS participant from Haha Village taking part in the group of shrimp derivative products, pledged to pass on his knowledge to the villagers. He will not only explore shrimp but also the other natural potential. "We have sago and also eaglewood. We have ever joined a training on eaglewood and frequently sold eaglewood," said Yanto.
Read also: "Not Just Knowing How to Eat, But How to Plant Too"
Meanwhile, Saleh Rumwokas as the facilitator of the group expected that the participants could make production after training. As to him, the existing shrimp potentials are abundant in each participant's village. "What is important is they practice their knowledge soon they go back home. They should also have various creations because there are many shrimp derivative products, not only cracker and nugget," he added.
He admitted that the knowledge gained from the STS was incomplete due to the limited tools and materials. Saleh was ready to help if a participant seriously plans to produce shrimp derivative products. "I hope the activity does not stop here, but need continuous assistance so that they should get attention. Doing this way will motivate them to make something useful particularly to practice what they have learned from this place," said Saleh.
Read also: Scorhing Heat Not Discouraging Farming Class Participants in STS Mogatemin
After five-day learning process, the STS participants will practice their knowledge in their own villages. They do not simply produce shrimp cracker and nugget, but also create organic fertilizer for agriculture, vegetable planting, sago seeding, and sago-made derivative product, based on the follow-up plan within the next three months.
Editor: Nur Alfiyah, Leo Wahyudi