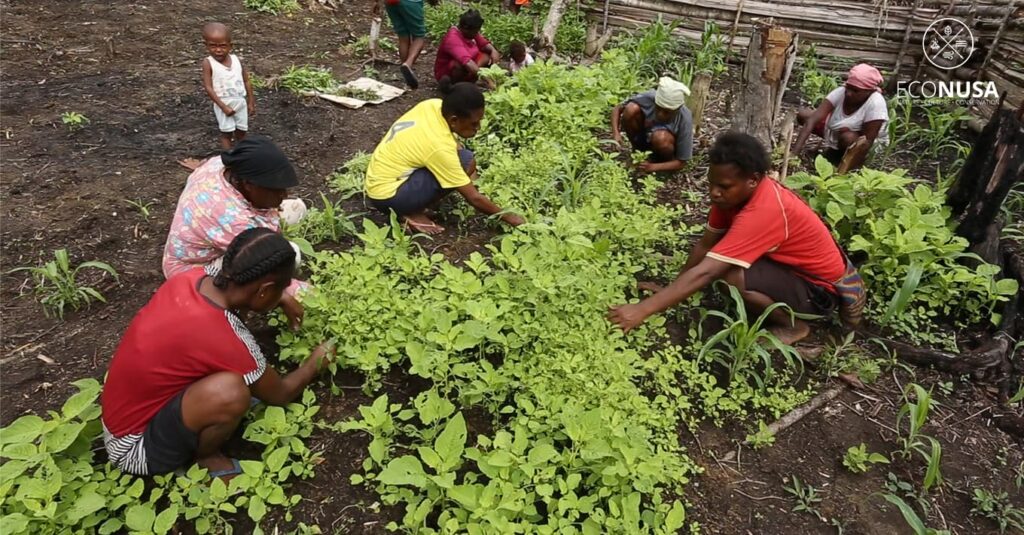 Cooperation involving West Papua Province Government, indigenous community and all stakeholders on the palm oil estate licenses review has led to worthy achievement. Since 2018, West Papua Province Government has evaluated 24 licenses of palm oil estate and could revoke more than 314,000 hectares of concession areas. The figure more than four times of Singapore.
"This (evaluation) process is the big hope of the indigenous community who wants to articulate their aspiration. The perspectives of indigenous community and government should come into one shared system. Forests are the basic needs as qualified hoarder," said Torianus Kalami, the chairman of Malaumkarta Young Generation Association (PGM), on Mari Cerita Papua and Maluku event held virtually on Thursday (27/5/2021).
License review is based on the Presidential Instruction No. 8/2018 on Suspension and Evaluation of Palm Oil Plantation License and Productivity Rise of Palm Oil Estate or so-called Palm Oil Moratorium Presidential Instruciton, Manokwari Declaration and National Movement to Save Natural Resources (GNP-SDA).
Read also: Long Road to Conserve Traditional Culinary in Tanah Papua
On the implementation, West Papua Provincial Government is in cooperation with the Corruption Eradication Commission (KPK), Ministry of Environment and Forestry, Ministry of Agriculture, Tax Office, Forest Gazettement Agency (BPKH) supported by EcoNusa Foundation.
West Papua's Horticulture and Plantation Agency Head, Jacob Fonataba, said the total of concession areas of the evaluated 24 companies is more than 640,000 hectares. Their concessions are located at South Sorong Regency, Sorong Regency, Teluk Bintuni Regency, Teluk Wondama Regency and Fakfak Regency. As from the figures, more than half or 383,431.05 hectares are forests.
Natural Resources Management Scheme
The evaluation found that all companies' violations are categorized into three, namely company declaring to cease licensing process, company breaching the license and never clearing land, and company that has acquired Business Permit (HGU) and/or done planting.
"The next step is that we will talk to the governor and follow up with some regents and customary titleholders. From the meeting we can find out what to do next," said Jacob.
He elaborated some possibilities of natural resources management by the indigenous community on the former concessions areas. The proposed schemes are, first, social forestry. Second is customary forest. Third, recognition of communal customary land. Fourth, other scheme is village-based food estate.
Read also: Food Estate and Future of Biodiversity in Tanah Papua
Before proposing four schemes, West Papua Province Government will conduct a social-economy research covering social picture and area management plan by indigenous community. The research finding is continued by mapping customary areas along with mapping and identification of commodity and environmental service. Mapping result will serve as the regent's consideration to define natural resources management scheme.
"We will not interfere the uncleared land as we plan to create 70 percent of land in West Papua as protected forests as mandated by the Declaration of Manokwari. Meanwhile, we hope we could make one of the aforementioned schemes on the cleared land. We will talk to stakeholders, customary titleholders, on how local pattern of food estate design could supply food to West Papua peoples," said Jacob.
State Loss
In addition to the improvement of palm oil license governance, license review is also intended to optimize the state income from palm oil estate. Based on findings, the tax revenue from palm oil industry is far from adequate.
Chairman of KPK's Prevention Supervisory Coordination Task Force for Region V, Dian Patria, said that West Papua government fails to get appropriate regional revenue from palm oil estate. As from 640.000 hectares of the issued Plantation Business Permits (IUP), only 74,000 hectares of land have been planted. Unluckily, they are only 17,000 hectares of palm oil plantations that paid taxes from Plantation, Forestry and Mining Sectors (PBB P3).
Read also: Captivated by Enchanting Cenderawasih
"Thus, West Papua seemingly gets nothing. They did not pay tax but simply acquired licenses, and worse, they might not have Timber Utilization Permit (IPK). This is crucial. Based on our study in Indonesia in 2016, there is potential leak that is unreported to the state worth by 80 percent. So, the state might suffer from Rp 17 trillion worth state non-tax income that lost in a year," said Dian.
As one of the state institutions, KPK has showed its concern with natural resources management since 2009. Unlike other economic factors, improvement of business peoples' noncompliance and governance could hardly recover the natural resources condition.
As to Dian, natural resources management in Tanah Papua is more urgent. He does not want natural resources degradation as it was the case in Sumatera and Kalimantan would also happen in the eastern parts of Indonesia.
"Eight regents supported the license review process. So, we are in connection. It is also interesting to see how people, civil society organization and regional government are in collaboration. Of course it will not stop only on license revocation. We agree on how we could promote the former concession areas so as to provide benefits to the community," Dian said.
Editor: Leo Wahyudi & V Arnila Wulandani