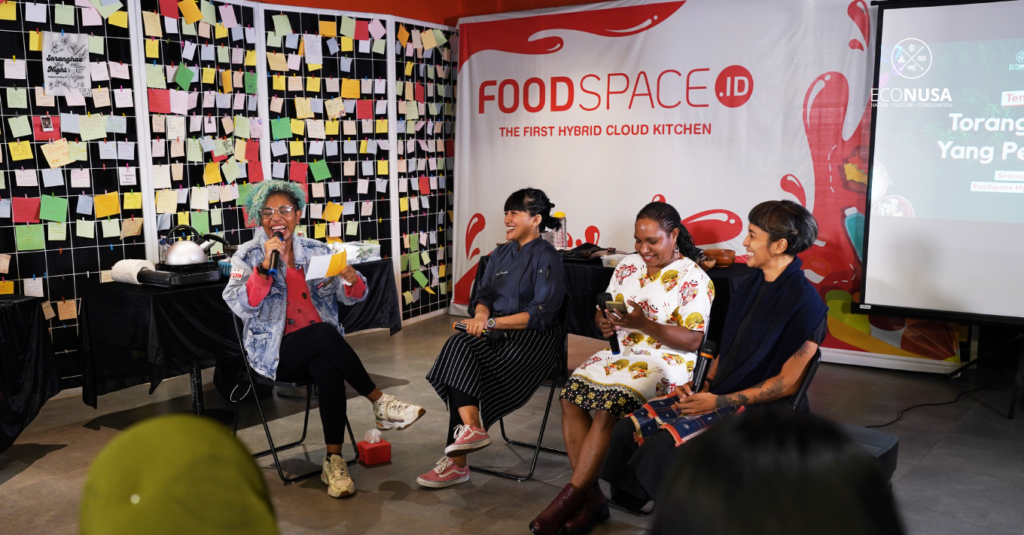 Culinary is part of the nation's culture which is an important identity for Indonesia. Indonesia's richness in biodiversity was the source of its diverse and unique foods,  including culinary delights in the Land of Papua. The wealth of food sources, ranging from carbohydrates, vegetables, fruits, spices, and protein are all provided by nature in the Land of Papua that is easily accessible to the surrounding community.
"If we want to learn the culture of a nation, we can look at its food and culinary ingredients there. Speaking of Papua, culinary delights in the Land of Papua are very natural and simple. It's all about simplicity, which relies on the original taste of the high-quality ingredients. What's in nature, that's processed, and kept in a simple process," said Chef Astrid during the Netizen Gathering on May 23, 2023.
Read also: Fulfilling Nutrition from Own Farm
Torang Pu Alam yang Penuh Rasa as the theme of Temu Netizen, a forum for social media users, was in line with the importance of maintaining the existence of biodiversity as a source of food, especially in the Land of Papua. The discussion that was held to also celebrate International Biodiversity Day on May 22nd went fruitfully among the followers of the EcoNusa Foundation's social media accounts, the EcoDefender youth community, and the Penjaga Laut.
Chef Astrid added, with its simplicity, the cuisines in the Land of Papua are no less diverse than other regions in Indonesia. If we often identify Papuan cuisine with sago-based papeda, locally sago is not only processed into papeda. There are various types of sago-based menus, such as wrapped papeda, roasted sago, apatar sago, and sinole.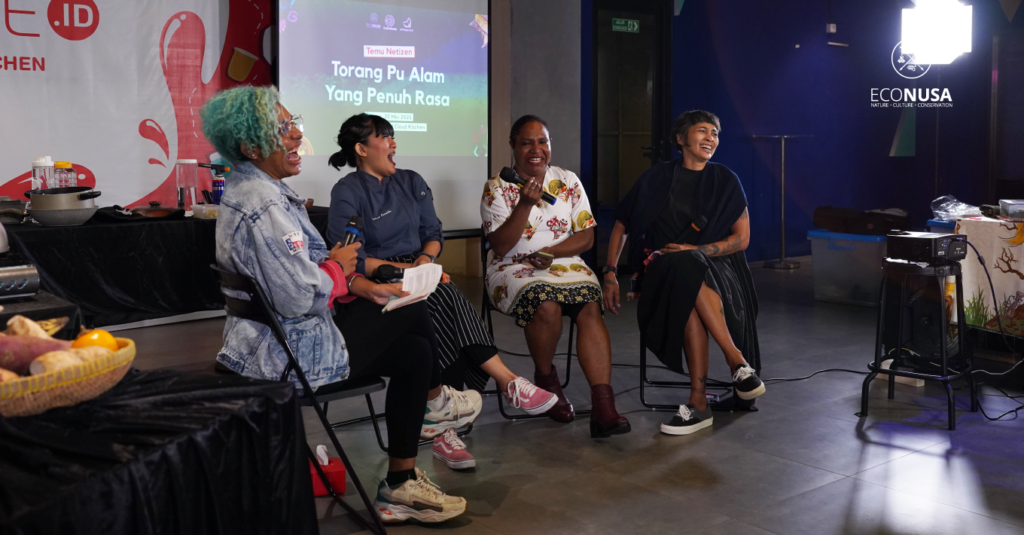 Yuliance Zonggonou, an EcoDefender volunteer known as Yuli said that not all local people in the land of Papua consume papeda. This is because sago does not grow in all regions of the land of Papua. The majority of Papuans that consume sago live in the lowlands and close to the coastline where sago trees thrives. Meanwhile, people living in mountainous areas tend to rely on tubers such as kasbi (cassava), petatas (sweet potato), and taro as their source of carbohydrates.
"Papua also has high-quality coffee, one of which comes from Paniai Region. This coffee is planted directly by the community so they can earn income from there," Yuli said. She explained that the cultivation of coffee plants, especially in Paniai, had existed since the Dutch colonial era. However, the community had stopped cultivating coffee before because they had no market knowledge to sell their crops. This has made people change their coffee plantations area into gardens for other food crops such as cassava, chilies, et cetera.
Read also: Not from the Sea, Native Papua Salt Comes from the Forests
As the public's interest in coffee increased, Yuli saw the potential for Paniai coffee to bring economic benefits to the people there. Therefore, Yuli, with the support of various parties, pushed for the recultivation of Paniai coffee by planting one million coffee trees. The implementation has brought economic benefits to the local community there.
Ade Putri Paramadita, a culinary storyteller who has been in the Indonesian culinary field for a long time, said that all dishes have an interesting background story that is closely related to and strongly attached to the culture of a community. According to Ade Putri, we can all contribute as storytellers to preserve Indonesian culinary delights, one of which comes from the Land of Papua with our own methods and capacities, like what Chef Astrid does to tell her story through the dishes she serves, and Yuli's story through her efforts and actions working with local communities.
Read also: A Travel Notes: Egek, Traditional Conservation Culture of the Moi Tribe
On this occasion, Ade Putri also talked about how the original culture that we have is actually rooted in nature. She shared her experience when visiting a village in Bali that practiced its original culture, where in a traditional ceremony, the traditional elders do not allow single-use plastic containers and prefer to use containers made of coconut leaves or areca leaves. This shows that preserving the Indonesian culture we have is also part of the effort to protect its nature.
"Indonesia, with its natural wealth, has fulfilled all our needs in life, and we must protect this. I don't want to drive away new cultures, but don't let this new thing destroy existing traditions and culture," said Ade Putri.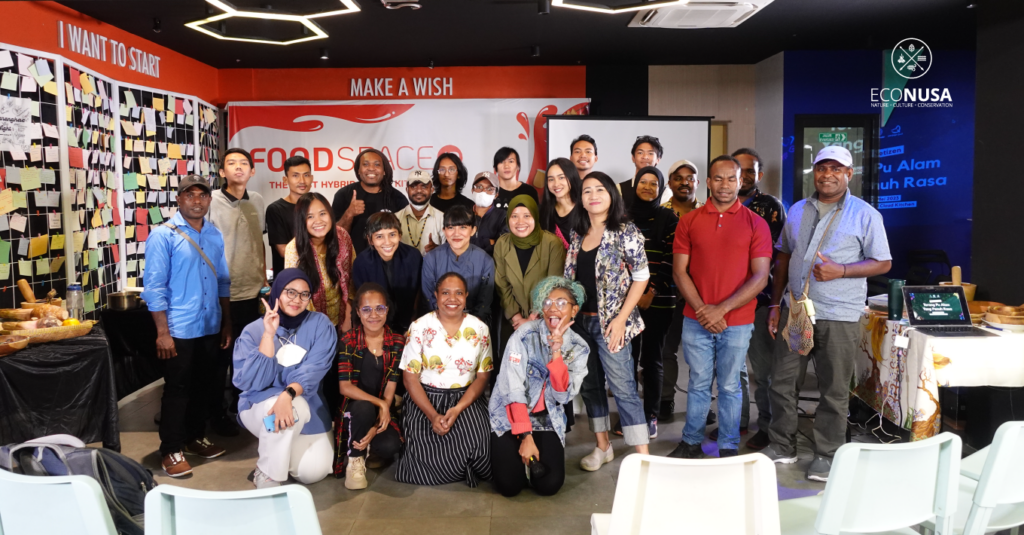 Nature is like a magnificent supermarket that provides all our needs, including food. It is important for us as humans to be able to use natural resources wisely. "It is important for us to educate the public, including cooks, about the importance of protecting existing natural resources. The goal is that this food can be enjoyed not only by today's generations but also by onward generations," Ade stated.
Excitement about the taste of Papua was reflected in Temu Netizen's audience. Tasya, one of EcoNusa's online friends who attended the Gathering of Netizens, expressed her enthusiasm for this event. For her, who consumes mostly Sundanese food, cuisines from the Land of Papua are something new, unique, and memorable.
Stevania Berlinda also gave a positive response to the event. According to her, this event awakens the public, especially young people, that our lives are very dependent on nature, one of which is in terms of food and culinary culture. "If we don't take care of it or just being ignorant, Indonesia's natural wealth will decrease both in terms of quality and quantity, which will have a negative impact on our food security," said Stevania.
Editor: Swinny Adestika