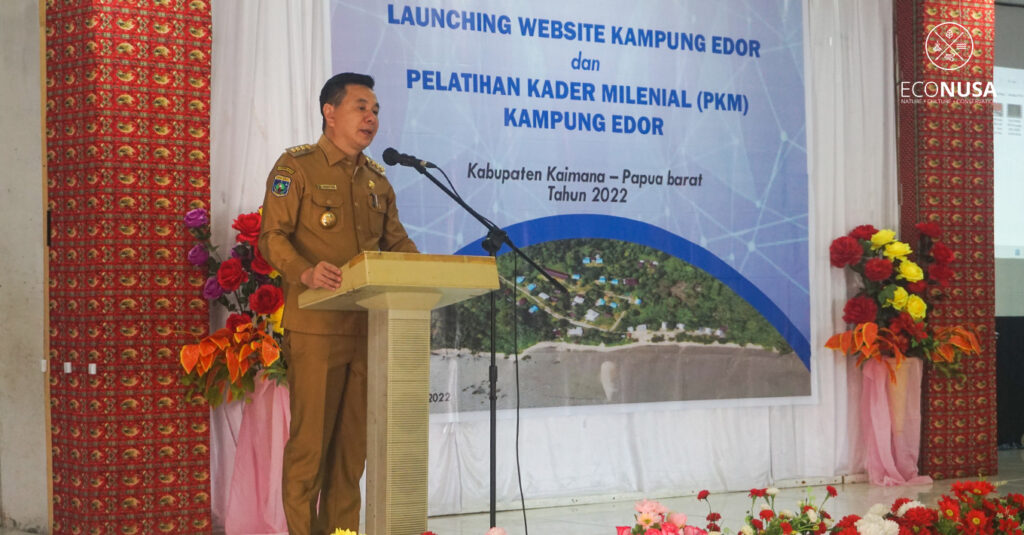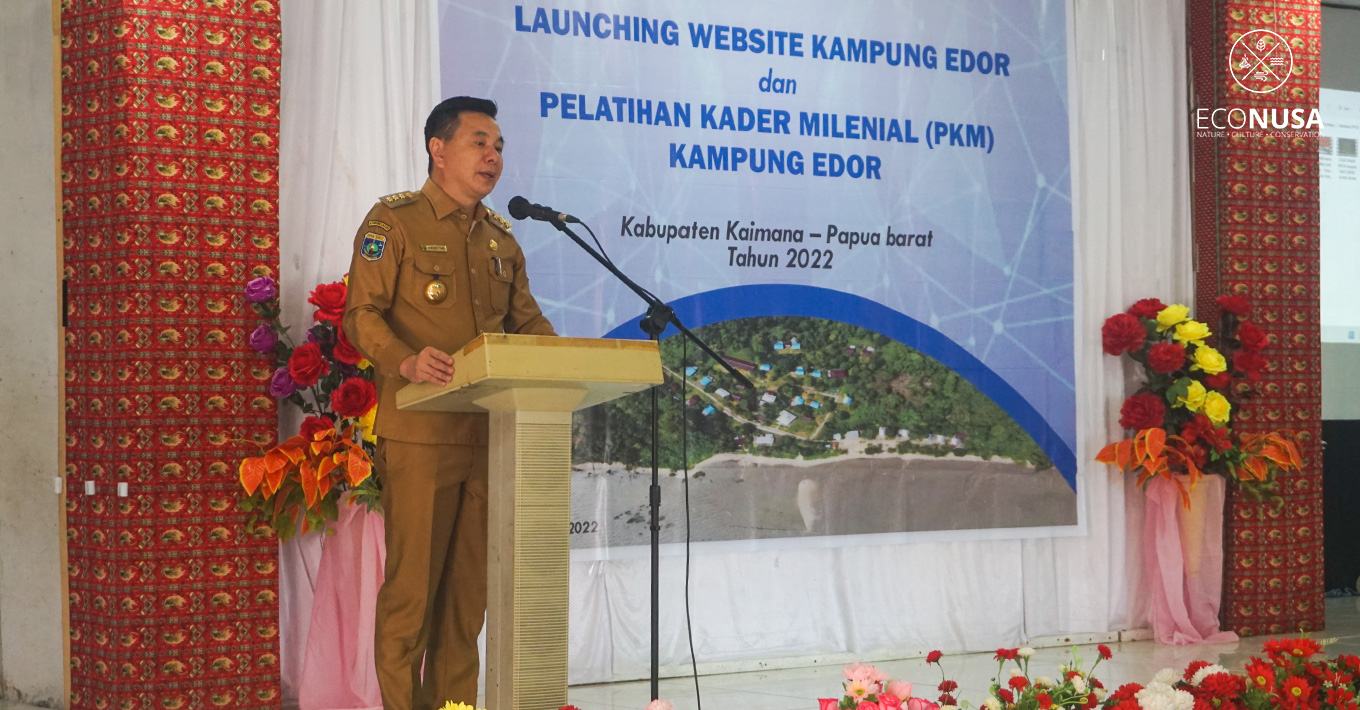 Kaimana Regency Communication and Information Office in collaboration with EcoNusa and Edor Village Government released official website for Edor Village on 31 May 2022. The website which is accessible at https://edor.kaimanakab.go.id will help expose any activity performed by the government and community of Edor Village.
Website launching of Edor Village was officially done by Freddy Thie, the Kaimana Regent, at Geserba GPI Rehobot. The event was attended by more than 50 audiences including the Head of Buruway District, Village Community Empowerment Office Head, religious leaders, and some partners.
Read also: The Long Path of Agriculture Edor
Freddy said that the launching of Edor Village website is deemed the village's one step ahead to craft a data-based local development planning. Edor is one of the 84 villages in Kaimana that has created village website.
Kampung Edor is one of the 10 villages located at Buruway District in Kaimana Regency, West Papua Province. Edor Village has prepared a governance of Tourism Village. The village is expected to lure more visitors with the local nature potentials at Buruway Bay. The splendor of village ambience and the flying cenderawasih at local forests in Edor will serve as exquisite attractions. Besides, the tourism potential of conservation forests with mangrove along the coastline, teak forest, and primary forests will give more added values to tourists.
"Hopefully after website launching and training of millennial cadre of Edor could manage the website into informative media as a good source of data to village government to develop a data-based planning," said Freddy. 
Read also: Involving Youth to Natural Resources Management in Kaimana
The Regent also thanked EcoNusa as the government partner that has collaborated with Edor Village government to develop the hamlet to have their own website which will contribute to the local development planning.
Head of Edor Village, Kadir Suban, said that in addition to information media, the website also has some features like village information system, demography data, administrative service, government data, Village Budget, and village statistics.
"Besides, the potential picture of Edor Village in Buruway District, Kaimana Regency, could give attraction to Edor people and its surrounding to make a better relationship in pursuit of shared dreams to develop a better and more prosperous village," said Kadir.
Read also: Managing Kaimana's Source of Livelihood in West Papua
According to Alosius Numberi, the EcoNusa Office Head in Kaimana, EcoNusa has accomplished the development of data center at Edor Village. It is part of EcoNusa's efforts to urge villages in Tanah Papua to have more transparent and accountable governance. "Besides, the development of local data center which is integrated to the website is intended that the village could identify their natural resource potentials and expected to ease access in development planning that is based on the local needs and potentials," said Alo.
Starting from the notion, EcoNusa cooperated with the Kaimana Regency's Communication and Information Office to promote village profile, local history, local potential, and village fund spending transparent report could be exposed into the website. The Edor website will serve as the model of data-based development to other villages in Kaimana. The launching was also followed by capacity building to young cadres as the web administrators.
Read also: Chronicle from Neniari Gunung, Mobilizing Women for Organic Farming
The launching of website here was the final process of a series of activities that have been done from December 2021 to April 2022. The series of activities here include data collection of potential, social economy data, and administrative territories of Edor Village. The designation of village territories involved relevant stakeholders including the neighboring hamlets such as Yarona and Kambala Villages in Buruway District.
On the other hand, the cadre training for web management is deemed a non-formal education for cadres to enhance their skills on information and multimedia systems. The activity will provide journalism standard, opinion writing, copy writing, graphic design, and videography. 
Editor: Leo Wahyudi