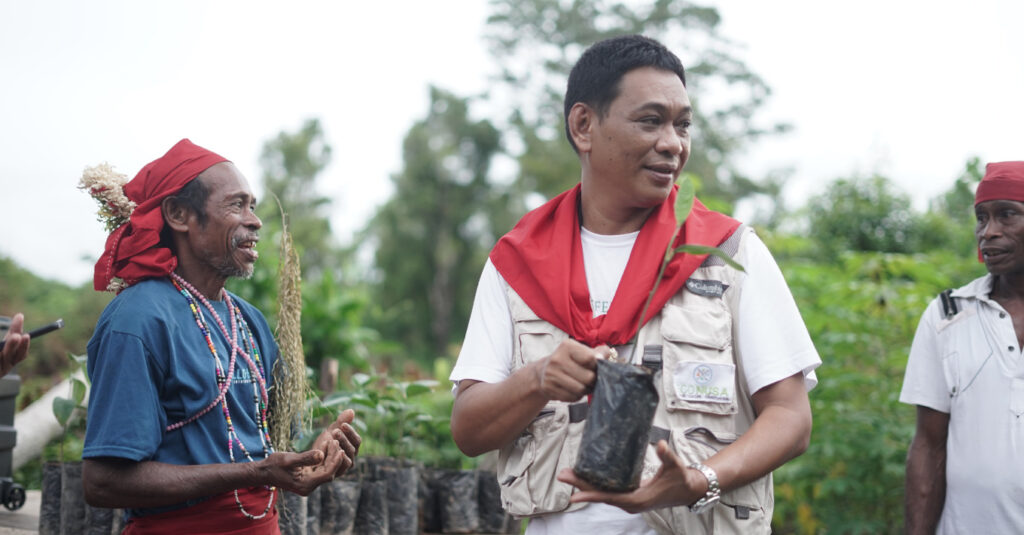 July 2023 marks the 6th year of EcoNusa Foundation. Along the way, there were certainly constructive challenges, one of which was the Covid-19 pandemic. EcoNusa strives to remain relevant towards the empowerment programs that we carried out on the ground. EcoNusa continues to work with local communities in the villages to support community independence and livelihood through local commodities potential. Until 2022, we have worked with communities in 179 villages in 33 districts that have outreached 35,800 beneficiaries. (Read the 2022 Annual Report)
Supporting the government, EcoNusa continued the programs to improve land-based licensing management, especially in oil palm plantation areas in West Papua Province. Until the end of 2022, 14,093 hectares of permits in concession areas have been revoked. Moreover, permits for a land area of 194,887 hectares are still in the review process.
We consistently work with local communities to improve governance and recognition of indigenous peoples' rights to manage their own customary territories. Our program of indigenous territories mapping has covered an area of 452,549 hectares until 2022. We then support and assist local customary communities to draft proposals to obtain recognition of rights on their customary territories to the regional governments.
Read Also: Good News, Gelek Ulim Abgies Pela Customary Territory Receives Government Recognition
In January 2023, acting (Pj) Regent of Sorong, Yan Piet Moso issued Decree of the Regent of Sorong Number 593.2/KEP.77/2023 concerning Recognition of Ulim Abgies Pela's Gelek Rights. We welcomed the good news. Gelek Ulim Abgies Pela is part of the Moi Tribe. Its customary territory is located in Kampung Kwakeik which is directly adjacent to five gelek (clans), namely Ulim Abgies Kiem, Ulim Abya Pela, Mobalen Klatomok, Kadakolo Awenolo, and Kadakolo Tiliwolo. Other customary communities, assisted by EcoNusa are currently working in the similar process to obtain their customary territory rights in near future.
Not only customary communities, young people from varied communities continue their movement for climate protection and have shown great results. Through the Youth Action to Protect the Climate (Aksi Muda Jaga Iklim / AMJI) movement, around 29,632 young people from various regions in Indonesia have participated in AMJI for environmental conservation actions. Until 2022, AMJI has been conducted simultaneously in 421 locations nationwide.
We continue to amplify the good practices and positive narratives carried out by indigenous communities in Tanah Papua and the Maluku Islands. Information about natural wealth, including traditions, such as stories of indigenous communities' efforts in preserving forests, seas, climate, managing natural resources, biodiversity, as well as the unique cultural heritage and local wisdom that are continuously upheld amidst modernization, serve as our inspiration to create constructive narratives. More than 300,000 followers actively interact with EcoNusa on social media channels, and over 7,000 participants engage in our discussions.
Read Also: Youth Action to Mitigate Climate, A Collaborative Youth Action to Reduce Climate Crisis Impact
The results of the assessment we conducted in the fourth quarter of 2022, from 700 respondents representing five major cities (Jabodetabek, Bandung, Makassar, Ambon, and Sorong), showed that 53 percent of the respondents stated that they pay more attention to environmental and socio-cultural issues.
"We express our gratitude to the EcoNusa team and all partners who have supported the implementation of all these activities, including the central and regional governments. May the benefits of what we have done be felt by the indigenous communities in Papua and the Maluku Islands," said EcoNusa Foundation's CEO, Bustar Maitar, during the celebration of EcoNusa Foundation's anniversary (July 21).
With a hopeful spirit for the coming years, EcoNusa believes that the journey ahead may not be easy, but there will always be a way to achieve the goals. Building the economic independence of indigenous communities, especially through cooperatives driven by the communities, is essential. We are striving to open market opportunities through KOBUMI, a social enterprise established to improve the quality of local commodities and open market opportunities in the regions of Papua and Maluku, which face limited access, making it difficult for communities to sell their harvest. In April 2023, KOBUMI successfully sold 12.3 tons of nutmeg, a local produce of the indigenous communities in Maluku, to Jakarta. We hope that future national and international market opportunities will continue to expand, bringing prosperity closer to the communities.
Read Also: Protecting the Richness of the Nature with Preserving the Sense
We will also continue to mobilize young people to be more concerned about the world's climate through the EcoDefender and Penjaga Laut communities. As they are the future leaders who will make policies, it is essential to build their environmental awareness from now on.
In line with that, EcoNusa will also continue to create positive narratives about Papua and the Maluku Islands. The good practices carried out by indigenous communities will continue to be amplified through all channels, so that they can be replicated and preserved, ensuring that the forests and seas in Eastern Indonesia remain protected.
EcoNusa will keep learning to stay relevant. Ultimately, the ongoing dynamics in Eastern Indonesia will never diminish our spirit. The challenges we face in the field will be valuable lessons to push us further and work for the people, our climate, and for Indonesia.
Editor: Swiny Adestika