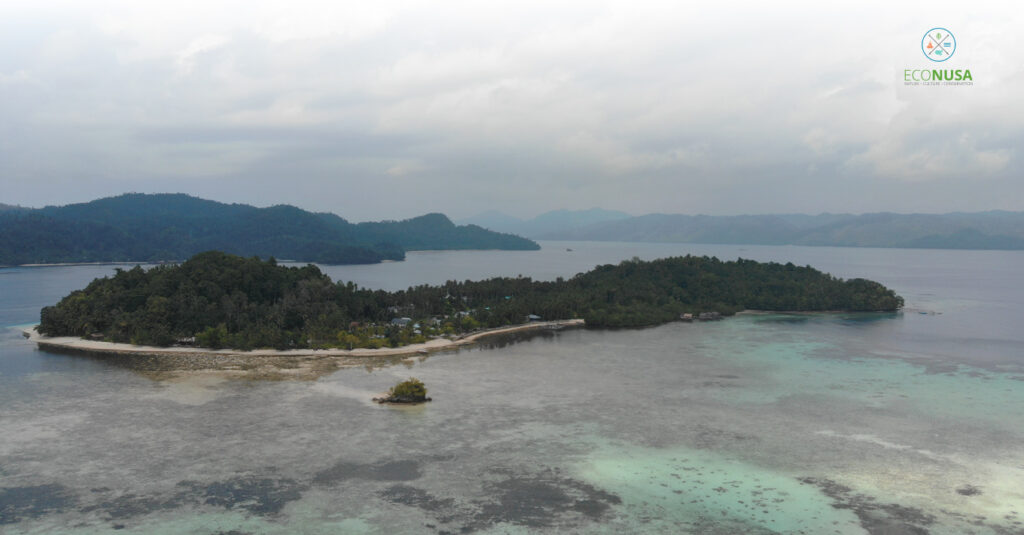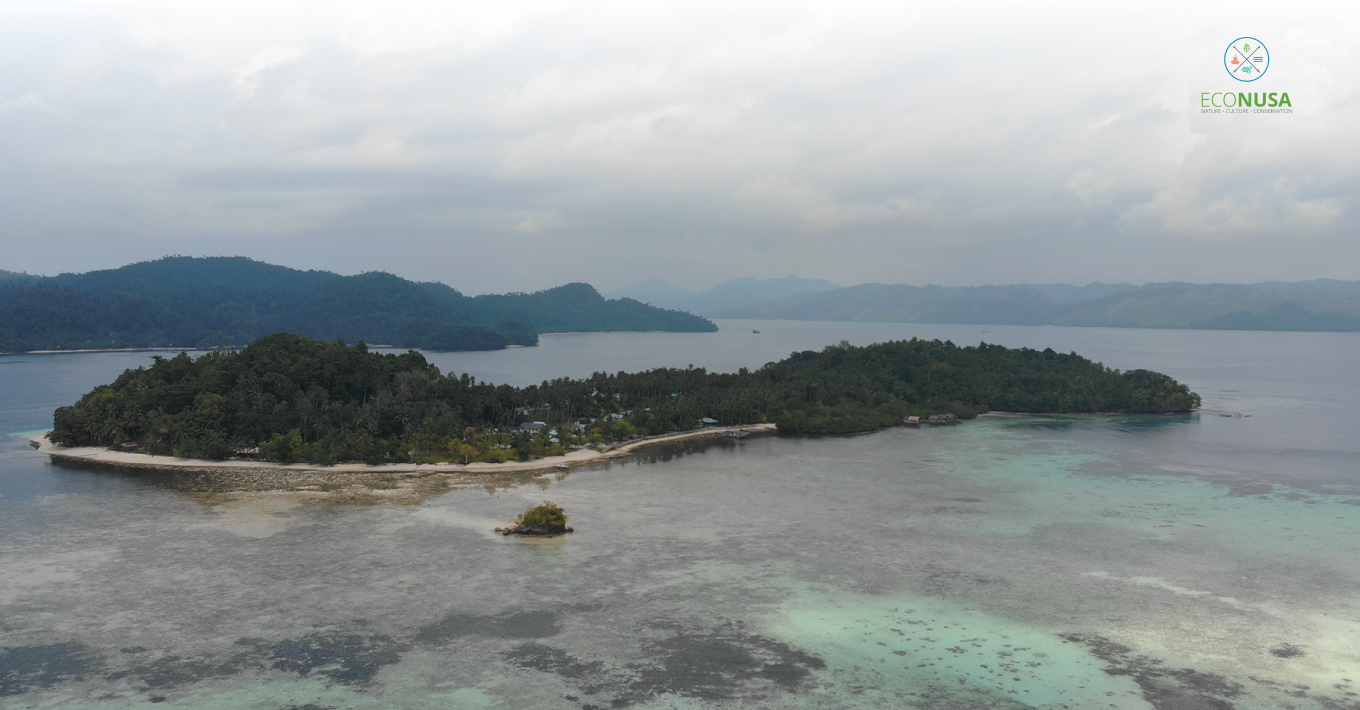 Global warming has brought about impact to earth. The mounting temperature will later change the climate pattern and mess up the normal balance of life. Some effects here, among others, are the rising drought, health risk, loss of species, and increasing sea surface temperature that could sink the small islands.
To date, Indonesia has 17,504 islands, and only 2,342 islands or 12.38 percent are inhabited. The other 87.62 percent or 15,337 islands have no inhabitants. However, some of those islands are prone to sinking due to global warming. "Thousands of coastal villages in eastern Indonesia are prone to sinking," said Parid Ridwanuddin, a member of Jaring Nusa and WALHI's National Executive Manager for Coastal and Ocean Campaigns, on the annual meeting of Jaring Nusa in Bali, Tuesday 30 August 2022. The annual meeting theme was "Narrative of Saving Coastal, Sea, and Small Island in Eastern Indonesia."
Parid said that thousands of coastal villages that are vulnerable to sinking include the 175 villages in Bali, 297 in West Nusat Tenggara, 1,108 in East Nusa Tenggara, 783 in North Sulawesi, 1,011 in Central Sulawesi, 527 in South Sulawesi, 954 in Southeast Sulawesi, 201 in Gorontalo, 152 in West Sulawesi, 1,064 in Maluku, 934 in North Maluku, and more than 570 villages in West Papua and 662 in Papua.
On the other hand, EcoNusa CEO, Bustar Maitar, said that the easter Indonesia regions are the last frontier for sea biodiversity in Indonesia. There are coral triangles. Around 76 percent of the world coral triangle species can be found in this coral triangle areas here. Coral triangle is the home for various sea fauna species and source of community livelihood. "When the carrying capacity of eastern Indonesia regions is damaged, then the people living on the coastal areas and small islands will be threatened," said Bustar.
Read Also: Developing Village Based on Potential and Assets
In addition to climate change, the vulnerability of coastal areas and small islands in Indonesia is also triggered by various factors of policy, economic, and people's way of life. Eastern regions of Indonesia even face serious threat particularly the small islands in Papua, Maluku, North Maluku, Sulawesi, West Nusa Tenggara, and East Nusa Tenggara from agrarian conflict and conflict of fishers capture zone. The condition has led to the declining income among coastal communities, poverty, and degrading food security.
In fact, the coastal and small island communities in Indonesia should have got protection and gained prosperity. The coastal communities are warranted by the Law No. 1/2014 on Coastal Areas and Small Islands, and Law No. 7/2016 on Protection and Empowerment of Fishers, Fish Growers, and Salt Farmer. But in fact, fisheries governance fails to side with small fishers. Policies that side with investment, infrastructure development, and mining sector have caused detriment to the communities and destroyed coastal areas and small islands.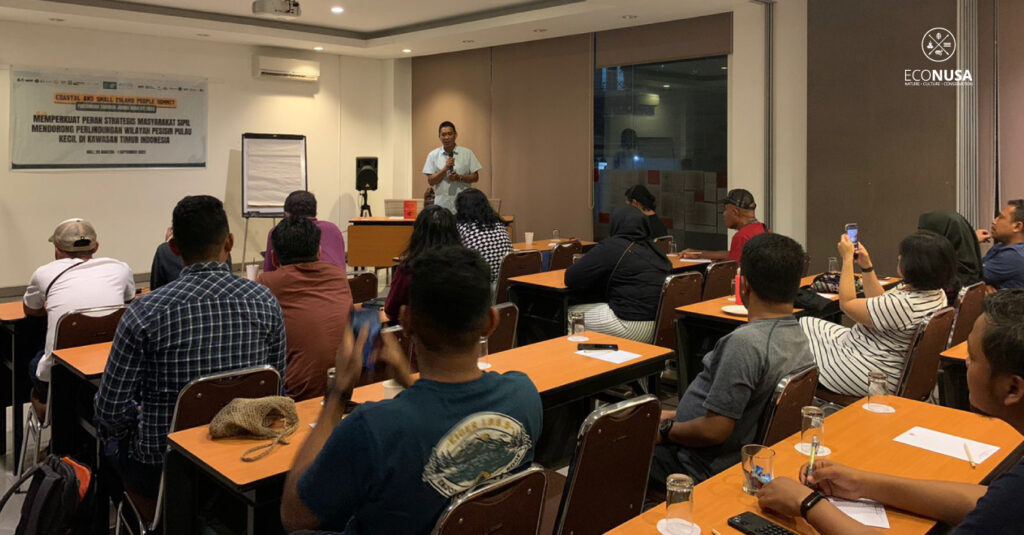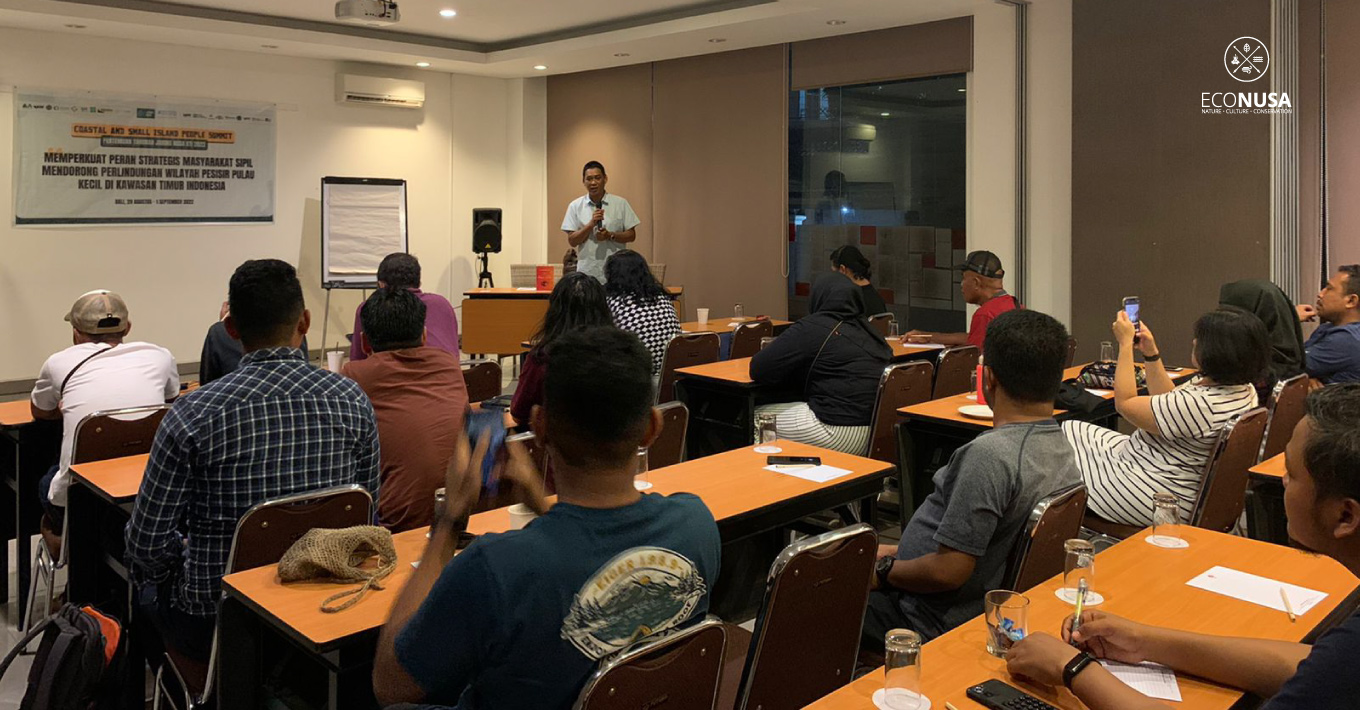 Bustar said, to initiate coastal protection could be performed by, among others, sharing knowledge from the communities cooperation failure and success stories in natural resource management and assistance works. Jaring Nusa has so far had many discussions with stakeholders and even produced policy recommendation paper on coastal community's property rights that had been submitted to the government on the 2022 GTRA (Agrarian Reform Task Force) Summit in Wakatobi.
Meanwhile, Suhana, the Deputy of Pandu Laut Nusantara Secretary, said that social justice is the key for sustainable ocean governance. The ocean justice has thus far been articulated, but the implementation is not clear yet so far. "We need to document  better the initiative of local service and struggles related to ocean and to endorse individual and public's voices who take action and risk their lives to protect sea and coastal areas," said Suhana.
Read Also: Fisheries Management Inclusivism and Sustainability in Indonesia Blue Economy
According to him, the government, conservation NGOs, and philanthropic organizations should put local managers, including coastal communities, small fishers, indigenous peoples, and women should be put on the frontline to defend sea.
R. Moh. Ismail, the Coordinator of Indigenous People Group of the Ministry of Maritime Affairs and Fisheries (MoMAF)'s Coastal and Small Islands Utilization Directorate, said that there is a need for national commitment to improve indigenous people's welfare, assistance of tools and infrastructure, and basic need for their living quality.
In this annual meeting, all members in Jaring Nusa urged the Indonesian government to evaluate and stop all extractive industry projects in coastal areas and small islands in the eastern regions of Indonesia. Besides, the government is also urged to assure the recognition and protection of public management areas in coastal and small island while calling to speed up the scheme development to save coastal community and area from the impact of climate crisis.
Since its initial declaration on 19 August 2021, Jaring Nusa has existed to promote a better change of coastal condition, sea, and small island, particularly in the eastern regions of Indonesia. There are 18 organizations and communities in eastern Indonesia such as Sulawesi, Maluku, North Maluku, West Papua, East Nusa Tenggara, and West Nusa Tenggara, as members of Jaring Nusa.
Editor: Nur Alfiyah