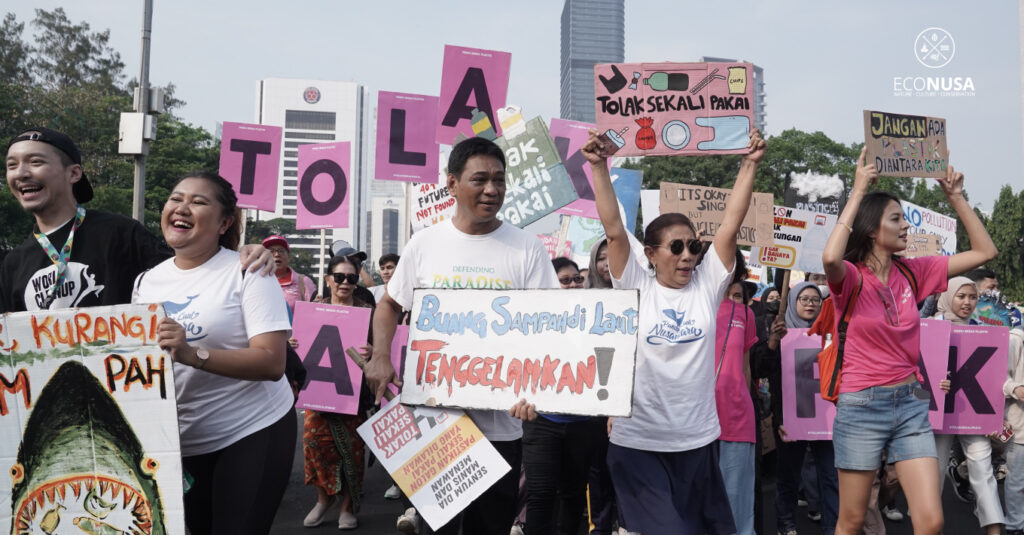 Plastic waste is threatening the earth. The United Nations Environment Program (UNEP) states that plastic is part of the largest marine waste or up to 85 percent of total marine waste and is the most dangerous.
According to UNEP, without urgent action, it is estimated that the 11 million metric tons of plastic currently entering the oceans each year, and will triple in the next 20 years. This means that by 2040 around 23-37 million metric tons of plastic or equal to the weight of 178 largest cruise ships (Symphony of Seas) will flow into the ocean. If distributed, this amount of plastic waste is equivalent to piling up 50 kilograms of plastic waste on every meter of coastline around the world.
The Plastic Free March was held on 27 July 2023. The 2014-2019 Minister of Maritime Affairs and Fisheries, Susi Pudjiastuti, joined the march. She said that the large amount of plastic waste had an impact on fishermen's catches. "That plastic waste goes from the city to the river, the river to the sea. Poor fishermen. When they catch fish they get plastic," she explained.
Therefore, she advised everyone to reduce the use of plastic in their daily lives. For example by not using plastic straws, bringing tumblers, and no longer using single-use plastics. "Now I ask you to ban the use of single-use plastics together!"
Read Also: EcoNusa's 6th Anniversary: Welcoming the Year of Hope
The Plastic Free March is a collective campaign aiming for a plastic-free future. This march was held to encourage the government to achieve its target of reducing waste by 30 percent and waste handling by 70 percent by 2025 as regulated in the Presidential Regulation no. 97 of 2017 concerning the National Policy and Strategy for the Management of Household Waste and Household-like Waste.
This collaborative effort was initiated by 8 organizations, including the EcoNusa Foundation, and is part of a global campaign known as #PlasticFreeJuly. July 2023 is the fifth year that the Plastic Free March has been held in Indonesia. "Plastic is a road that leads us to extinction, so it must be stopped and replaced with more environmentally friendly alternatives," said Bustar Maitar, CEO of the EcoNusa Foundation.
Apart from encouraging people not to use single-use plastics, this year's Plastic Free March also voiced three demands to the government. First, is to ban the use of single-use plastics and encourage re-use practices as a solution.
Read Also: Microplastics Exist in Salt and Contaminate the Human Body
Currently there are more than 100 regencies, cities and provinces in Indonesia that have banned the use of single-use plastics. With this policy, plastic waste will be significantly reduced, especially single-use plastics such as shopping bags, straws, and styrofoam. The Plastic Free March also encourages policies to accelerate reuse ecosystems as a solution.
According to Tiza Mafira, Executive Director of the Indonesia Plastic Bag Diet Movement, Indonesians actually have a habit of reusing the same items. But because of changes in consumption patterns, people are now using single-use plastic more frequently. Therefore, concrete efforts from the government and producers are needed to re-create ecosystems for reuse.
"If this ecosystem is formed and implemented by the whole community, Indonesia can become an example of a country that practices this solution, in line with the expectations in the Global Plastic Treaty which is being drafted by UN member states to end plastic pollution," said Tiza.
The second demand is to encourage the government to improve the waste management system. This includes remedial measures, such as increasing the waste management budget and infrastructure, supporting the development of reuse ecosystems, and involving informal workers such as scavengers in the transition to a circular economy.
Read Also: Plastic Free Rally Calling Producer to Stop Sachet
Abdul Ghofar from WALHI said that improving waste management starting from planning, implementation, control and evaluation is the key to the problem of waste and plastic pollution structurally. "So far, current waste management has not worked due to a number of reasons, such as waste management planning that is not based on a comprehensive study and the lack of evaluation of ongoing programs," he said.
The last demand is to ask producers and business actors to be responsible for post-consumption waste. This includes reducing the use of single-use plastics, using environmentally friendly packaging, and implementing obligations to expand producer responsibilities, such as recycling or managing their product waste. A total of 42 producers submitted a roadmap for waste reduction in their packaging products to the Ministry of Environment and Forestry of the Republic of Indonesia.
"Producers play an important role in preventing waste generation. Individual action is also necessary, but changing the system of how products are distributed to consumers will have a significant impact," Atha Rasyadi, Urban Campaigner for Greenpeace Indonesia said.
Editor: Swiny Adestika