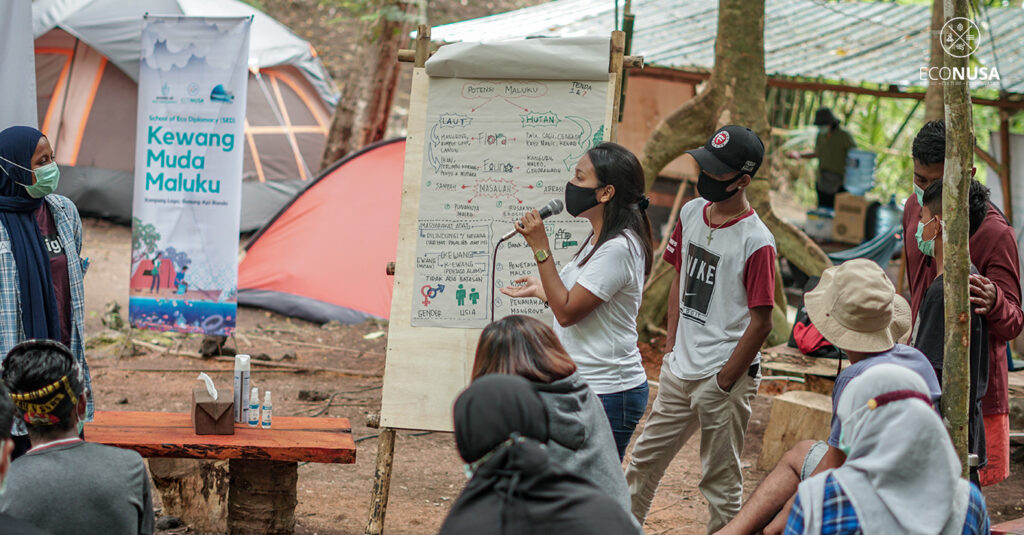 The five-year existence of EcoNusa should be presented with lessons learned. What has been done by EcoNusa should be sustained, particularly those interventions involving community group, youth, women, and all stakeholders, including government.
"In its organizational and programmatic implementations, EcoNusa has surely given impact to the eastern of Indonesia, national, and even national scopes," said Julia Kalmirah, the Supervisor of EcoNusa Foundation, in the EcoNusa Foundation Board of Trustee hybrid meeting on 13 July 2022.
The meeting delivered an accountability report of all implemented activities in 2021 and progress report of Semester 1/2022. The meeting was attended by Zulfahmi, Felia Salim, Nurhani Widiastuti, Yan Piet Karafir, as the Board of Foundation Trustee, Julia Kalmirah as the Foundation Supervisor, Bustar Maitar, Etik Mei Wati, and Leo Wahyudi S as the EcoNusa Foundation Management, including directors, managers, and regional office heads. Ridho Hafiedz, one of the Board of Trustees, failed to attend the meeting.
Read Also: EcoNusa Supports Maritime and Fisheries Research in Maluku Island
In this meeting Bustar as the Chairman of Management and CEO of Econusa delivered the 2021 annual report, final financial statement and organizational audits, and progress report of Semester 1/2022. Bustar mentioned some significant attainments gained by the organization in 2021 on the organizational role in collaboration with regional government in West Papua in the context of plantation corporate license evaluation, customary area mapping, community assistance and economic empowerment, including business development lifting up the local commodity.
Financial statement and organizational audits opinion were fairly presented and this is part of EcoNusa's commitment to become an accountable organization. "The organization has grown up so rapidly that it should keep its accountability," said Bustar in his presentation.
In response, Felia said that EcoNusa has a lot of activities, and it seems like breaking out in such a brief time. As a new organization, the spirit is fresh, and adrenaline is high. There are many worthy programs that should be strongly institutionalized.
Read Also: Walking While Making Pathway
Youth as important asset As to Felia, EcoNusa should have already considered the more structured, institutionalized youth program with EcoNusa approach. She was pleased to see young people in Papua and Maluku having networks among those in the western Indonesia. The destiny of Indonesia lies in the hand of young people. "EcoNusa could hardly force its pace. It must have its exhaustion. There are ups and downs cycle," Felia asserted.
Felia reminded EcoNusa to stay alert. What has been done thus far was a long run game that the movement should be well organized. "It is a long-term game. Hopefully, EcoNusa could serve as a good example and have a long life," she added.
Responding to the statement, Nina Nuraisyah, EcoNusa's Communication and Youth Mobilization Director, said that youth activities in the EcoNusa's intervention areas have been on track. The organization has made some strategy adjustment since early 2020 by, among others, placing field staffers in Jayapura and Sorong. It aims to make them closer and more intensively provide assistance to youngsters.
Read Also: Youth New Dream for Better Ecology and Democracy
On the information channel, EcoNusa has made many activations to draw more involvement of youngsters. The basis laid on the volunteers in a volunteer community through EcoDefender in Sorong and Jayapura. "I am optimistic that there will many more youth activations in the future on ecological issues by young people," said Nina.
EcoNusa deployed staffers on the ground to get direct interaction with EcoDefender in Sorong, Jayapura, and Jakarta so as to do monitoring and provide assistance on the ground in such a way that the outputs could go along with Econusa's works. "Hopefully, there will be many champions who voice ecological issues more actively," added Nina.
Bustar conceded that young people are important assets that need well design and facilitation. He said that EcoNusa promoted awareness on democracy and ecology at national level. "We should make it seriously so that the youth new dream will not be in vain," Bustar asserted.
Read Also: Youth Camp Calls Youngsters to Act for Ecological Crisis
General perspective Concluding the meeting of Board of Trustees, Supervisor, and Management of EcoNusa Foundation, Zulfahmi, appreciated the organization performances that have gone so far. Along with its development, EcoNusa has made a lot of things very well in such a brief time while drawing public attention. "The attention here is not meager, but so big attention that made people see Papua with some accomplishments that were partly made by EcoNusa," said Zulfahmi.
Zulfahmi also reminded that there will be many eyes, many peoples that keep their eyes on EcoNusa. Let alone, it is the political year in which many people talk about politics. He told again that voicing aspiration should be well addressed in prevention of political engineering that makes us as if affiliate to a certain political candidate or party.
Nurhani also agreed that the ground staffers should be more aware of the change of political constellation at the regional level. Let alone, there are some parties who have not accepted willingly the plantation license revocation. "The condition will give more pressures to EcoNusa. I remind that there must not be any mistaken measure due to the absence of coordination on the ground," said Nurhani.
Zulfahmi highlighted that the condition should be taken into serious consideration among the ground staffers. "Never let yourselves be entrapped personally nor organizationally so as not to be trapped into practical politics which might harm us in terms of organization," he strongly emphasized.

Editor: Nur Alfiyah