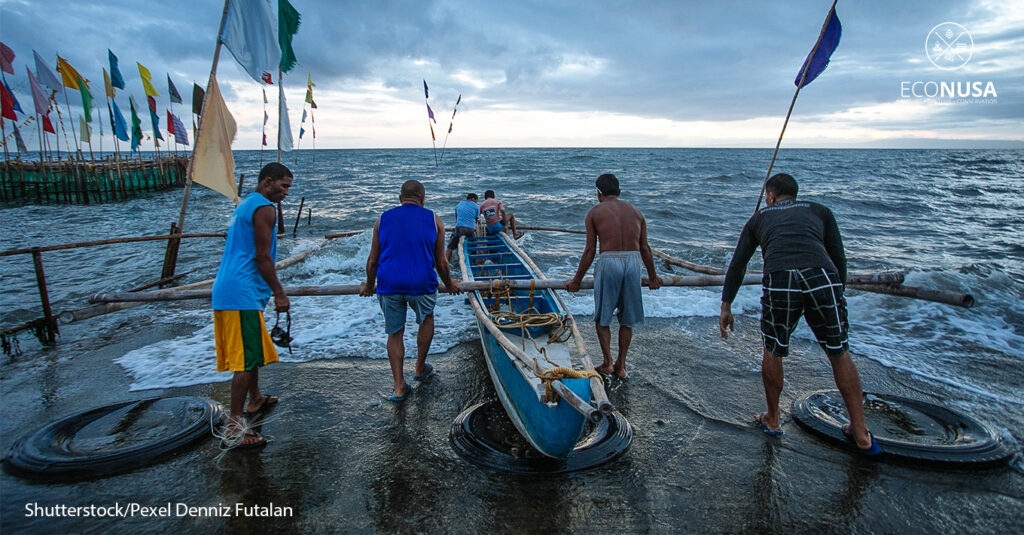 Ministry of Maritime Affairs and Fisheries (MoMAF) emphasized that the policy on measured fishing policy is mandated by the Law No. 45/2009 on Fisheries. The policy implementation aims to sustain the fisheries resources for sustainable Indonesian sea.
The MoMAF's Director General for Catch Fisheries, Muhammad Zaini Hanafi, said that with measured fishing policy, fishing activity could be done by output control that utilizes the existing fish resource potential. Prior to the policy, fishing applies input control. "With this system, it has weakness as we could not control over the utilized fish resources optimally," said Muhammad.
To support the government in the development of equitable and sustainable maritime affairs and fisheries policy, EcoNusa facilitated the studies on social, ecology, and biology at Fisheries Management Area (WPP) 714 in Banda Sea, WPP 175 in Seram Sea, and WPP 718 in Aru Island. EcoNusa cooperates with three young researchers from Pattimura University, Maluku Polytechnique of Marine and Fishereis, and Maluku Muhammadiyah University.
Read Also: Blue Ecomic Implementation Not Optimum
The research is intended that academician could provide research-based recommendations as consideration of policy making. The study results will be handed over to the local and central governments. "A good policy on maritime affairs and fisheries should include scientific evidence-based recommendations as it empirically happens on the ground," said Wiro Wirandi, EcoNusa's Ocean Manager.
In 2022, EcoNusa aims for producing three research papers as from nine targets. The studies have been undertaken since April 2022 and expected to accomplish within 6 months in September 2022. To attain the goal, EcoNusa Ocean Program team is in collaboration with maritime affairs and fisheries stakeholders in Maluku such as Provincial Maritime Affairs and Fisheries Office, Provincial Development Planning Agency, House of Representatives' Commission IV, indigenous people representative, private sector, and Nongovernmental Organization.
The study covers three major points. First, the study concerns with an analysis of sustainable perception on small scale catch fisheries in Seram Bagian Barat and Central Maluku Regency. Second, perception of Aru community to the measured fishing policy. Third, the research focus is related to small scale fisheries management in Banda Sea.
Read Also: Measured Fishing Policy Overlooking Ecosystem and Fishers Welfare
To ensure that the study has run well as agreed, EcoNusa conducted monitoring for the study progress on 29 July to 5 August 2022. Monitoring was done in Kawa Village in Seram Bagian Barat Subdistrict, South Seram in Central Maluku Regency, and Aru Island. "In addition to research progress checking, the monitoring is also important for building scientific evidence-based recommendations for small scale fisheries sustainability which is affected by the later implementation of measured fishing policy," said Wiro.
Based on the measured fishing policy, MoMAF plans to distribute the areas into some zones for some reasons, namely industrial zone, local fisheries zone, and protection zone. Industrial zone will be divided into some WPPs, namely WPP 572 (western Sumatera and Sunda Strait), 573 (southern Java to southern Nusa Tenggara), 711 (Natuna Sea), 715 (Maluku Sea), 716 (Sulawesi Sea), 717 (Cenderawasih Gulf and Pacific Ocean), and 718 (Aru Sea, Arafuru Sea).
Read Also: Waimon Community Dreams to Manage Shrimp in Bambu Island
Meanwhile, for local fisheries zone will be located at WPP 572 (western Sumatera and Sunda Strait), 712 (Java Sea), and 713 (Makassar Strait, Bone Gulf, Flores Sea, and Bali Sea). Protection zone is allotted at WPP 714 (Tolo Gulf water and Banda Sea). As from the zoning categories here, it seems the government fails to consider equitable fisheries, utilization, and WPP empowerment.
The researchers are expected to provide arrangement and solution concerning with the measured fishing policy. For the reason, recommendation from academician is highly required as feedback to the policy made by the MoMAF.

Editor: Leo Wahyudi, Nur Alfiyah