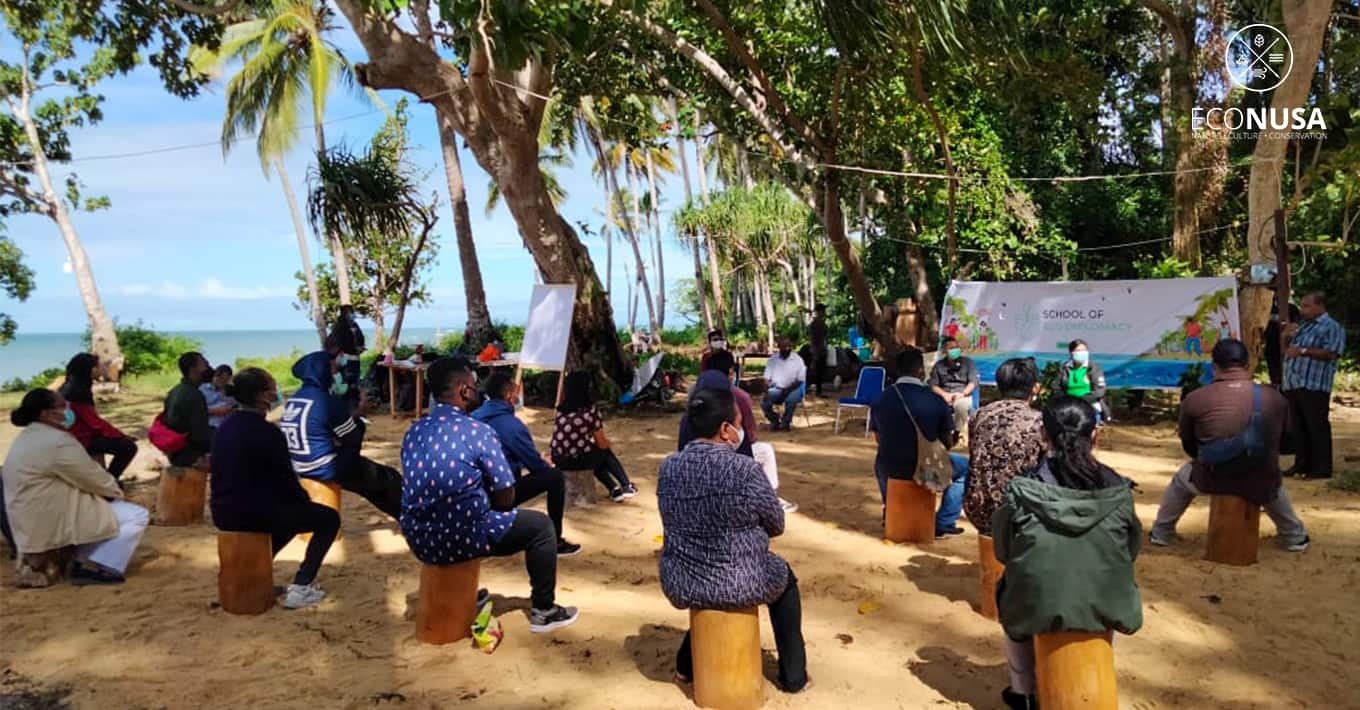 The potential of marine and fishery resources in Kaimana Regency, West Papua Province, leads to big responsibility to all stakeholders to keep protecting them. Young people is expected to play major role to conserve ecosystem and call for public participation.
The statement was addressed by Kaimana Regency Secretary, Luther Rumpumbo, on the Basic Class of School of Eco Diplomacy (SED) on Thursday, May 29, 2021. Head of Regional Technical Executive Unit for Kaimana-Fakfak Water Conservation, Eli Alue, Kaimana's Forestry Office IV acting officer, Henny Trisye Samber, Kaimana's Head for Information, Promotion, and Public Assistance of Culture and Tourism Office, Corich Corputty, Conservation International's Sustainability Fisheries Officer of Kaimana, Ridwan Putra, attended the event.
SED Kaimana was attended by 18 participants from three regions in West Papua, namely Kaimana Regency with 13 participants, South Sorong Regency with 2 and Sorong Regency 3. All participants are youngsters of 16-25 years of age who were shortlisted from their essay and interview selection prior to the training.
Read also: LJP Cooperative to Improve Community Economy
"We might be proud of the large potential from fisheries. But we must not just keep our own pride. No way. Because it will be depleted sooner or later, surely it will," said Luther.
Kaimana is one of the water and marine areas with large amount of natural resources in addition to Raja Ampat and Cenderawasih Bay. With its 76.000 hectare of mangrove, Kaimana has the largest blue carbon potentials in Indonesia with its crucial role in climate crisis mitigation.
The extensive mangrove areas serve as the fish breeding area and for the reason, Kaimana has potential fisheries. Unfortunately, the mounting density and population mobility of Kaimana has made Luther worried about the degraded resources in the near future. Thus, Luther hoped that SED participants could call the community to love and preserve the natural richness of Kaimana. 
Read also: Malaumkarta Youth Enthusiastic to Use Digital Platforms to Introduce the Potential of the Region
"Many peoples do not comprehend our environment and not all peoples get education on environment. Young people participated in the training here should educate the community to give more love to environment," added Luther.
EcoNusa's Public and Youth Mobilization Program Manager, Rina Kusuma, said that SED Kaimana was intended to facilitate young people in Tanah Papua and Maluku Island to have more leadership characteristic on environment while improving critical mindset towards the issues in the community.
As to Rina, the characteristic and critical mindset of young people will play crucial roles in improving  various potentials in Kaimana. She believed every young people is an eco-diplomat that will bring change to their own regions.
Read also: Waste, Major Concern of Maluku Young Kewang
"Kaimana has remarkable potentials from marine and fisheries, including their tourism. This certainly requires supports from reliable youngsters to build Kaimana with environmental perspective," said Rina.
Writer: Astried
Editor: Leo Wahyudi & V. Arnila Wulandani