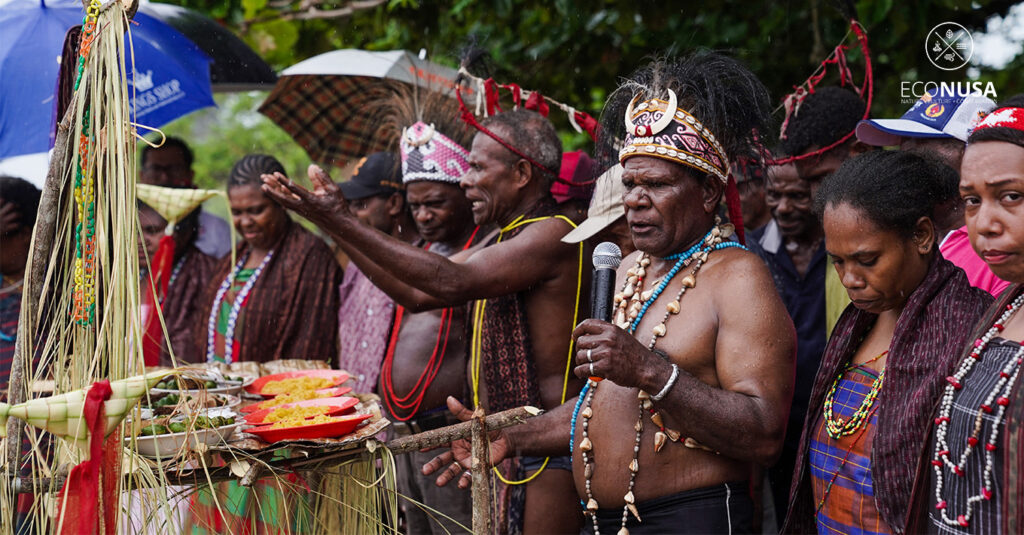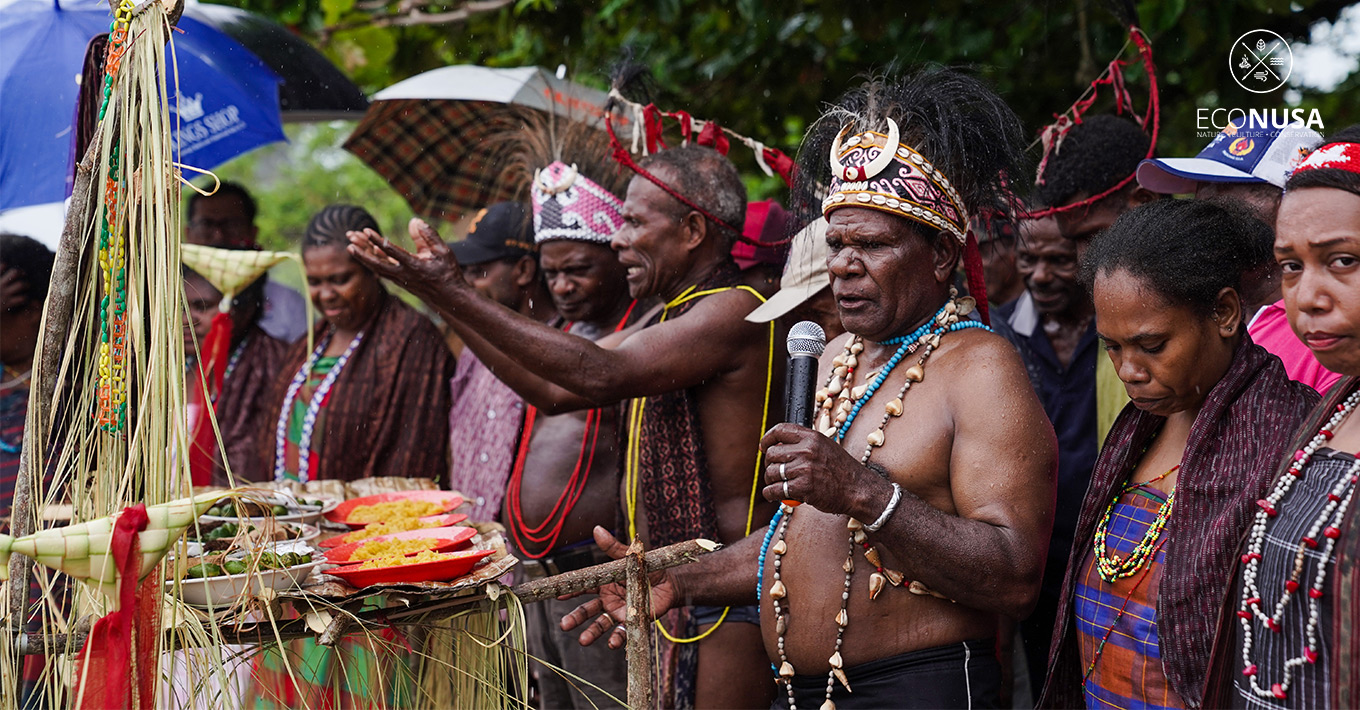 People in Malaumkarta Village in Makbon District, Sorong, West Papua, got together that morning to celebrate a special moment. The ambience was more jam-packed than usual. Many elder people wore traditional outfits. They prepared kakes, an offer on a plate with betel nut, cigarette, sago, and yellow rice. Kakes was put on a table traditionally called dafeles safung (coconut trunk with coconut leaves as an altar) decorated with Timor fabrics.
There were also young people moving back and forth preparing boat, fish catcher, and big basket. Women and some girls were busy cutting cassava leaves while boiling water on large pots on fire wood. Small children were running joyfully to see the hustle and bustle among the surrounding elder
people.
Monday 13 June 2022 was started by Christian prayer before heading the benfia ceremony which was led by Moi tribal leader in Malaumkarta Village. The ceremony marked the traditional procession kick-off to retract sea egek following 6 year of imposition. With the retracted egek, the local people could take sea products with high economic values such as lobster and sea cucumber.
Read Also: KORAL: Procurement of 2000 Boats in Biak Numfor and Tual Improper
The elders expressed their prayer and mantra to show respect to the ancestors of 14 clans of Moi Tribe in Malaumkarta. Soon afterwards, the young people readied to take traditional fishing tools for manual use, diving equipment and some boats.
One boat was packed by around ten to sixteen peoples. They headed the northern beach. After sailing around some spots, the boat stopped. One or two passengers went underwater. Those onboard prepared basket and fish net storage while observing the diving colleague.
After few minutes of diving, they came up the surface and raised their hands. It meant they had not got any catch. After another dive, they came to the surface and shouted excitedly when their hands held 20 centimeter long lobster.
Read Also: Jeopardy for Fish Kingdom in Kaimana
Then a boat approached the diver and took the lobster from the hands. The young people on that boat took their turns to go underwater. When the sundown was coming with heavy cloud, those boats went back to the land.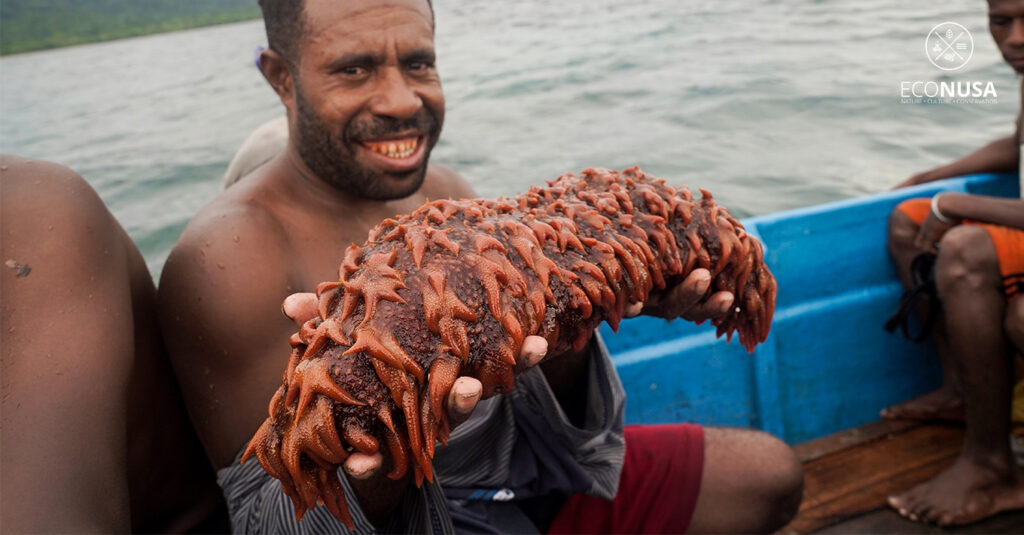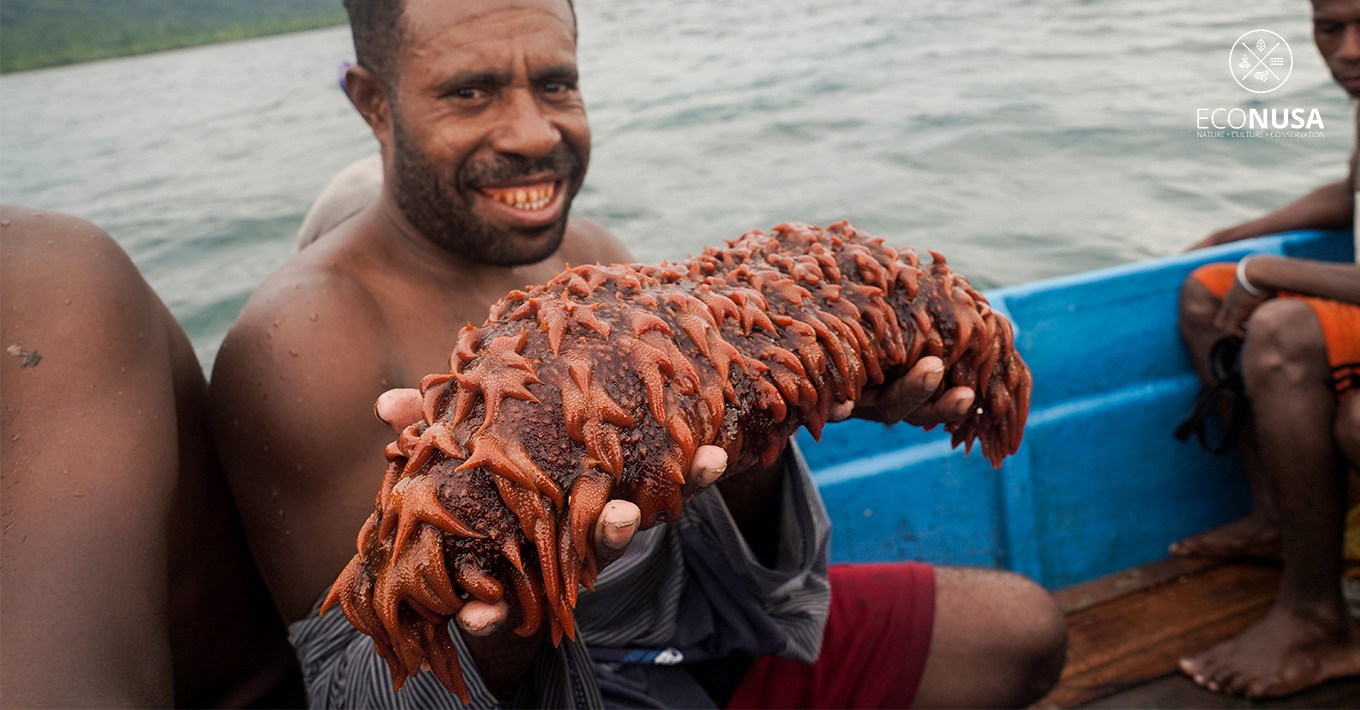 They took out the catches during egek on the beach. There were milk sea cucumber, shoe sea cucumber, and pineapple sea cucumber with 18-30 centimeters long, batik lobster, bamboo lobster, and a super large lobster commonly called golden lobster by Malaumkarta people. Upon weighing them, a man with black hat asked the price. A medium size lobster cost Rp220,000 and he paid 3 lobsters.
A month before, Malaumkarta villagers intended to retract sea egek for lobster and sea cucumber to meet their needs. "The last egek was retracted in 2017. So, it has been 6 years closed," said Jefri Mobalen, the Head of Malaumkarta Village.
Egek was a traditional agreement to regulate and protect the management of natural resources in Moi Tribe custom areas in traditional way. Egek is almost similar to sasi which is commonly applied in some regions in eastern Indonesia.
Read Also: Human and Nature Relation in Tanah Papua
"Egek is retracted when there is basic needs among the society such as for education, health, and so on. When there is financial needs to support those needs, egek could be retracted upon the traditional agreement," added Jefri.
Usually the member of every clan will address their needs to all customary members for discussion. When they made a deal, decision will be made to retract or close the egek for sea or forests products. The yields resulting from egek are sold. The income was collected to meet the collective needs. The retraction of egek was based on the communal needs to construct a church at Malaumkarta. The community decided to retract egek for lobster and sea cucumber due to their higher economic values.
In addition to Moi Tribe clan member, Sorong Regent Johny Kamuru, high ranking officials from Maritime Affairs and Fisheries Office, representatives of conservation partners, and public eager to know the ceremonial egek retraction and sea commodity crops attended the event here. Their attendance was invited by the Malaumkarta Young Generation Association (PGM), a youth organization in Malaumkarta that defends and promotes Moi Tribe traditions.
Read Also: Measured Fishing Policy Overlooking Ecosystem and Fishers Welfare
Moi and Papuan peoples commonly express their idea verbally. PGM called public to observe the retraction of egek so that many could see and understand instead of a mere tourism. "Even there are Moi people who do not understand yet egek. But with the event, all will have knowledge on it," said Tori Kalami, the coordinator of PGM, while elaborating that egek will be closed again following the customary deal from 14 clans.
The yields resulted from egek are not regular sea products for the daily community consumption. The community usually catch fish for daily consumption or for sale. The sea products belong to egek were special as they were only consumed during the retraction of egek. Besides, the higher economic value could sufficiently cover various community needs. Egek is like deposit from nature which needs conservation for their benefits.
Editor: Leo Wahyudi & Lutfy Putra