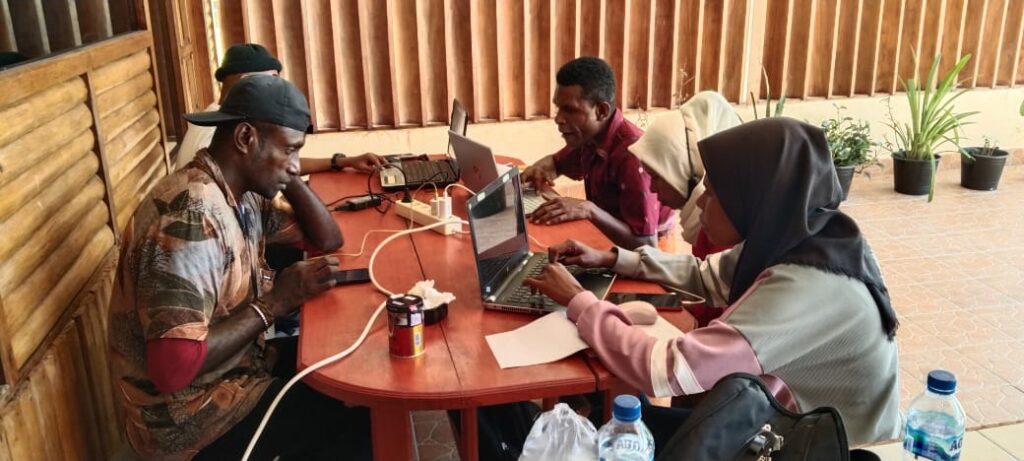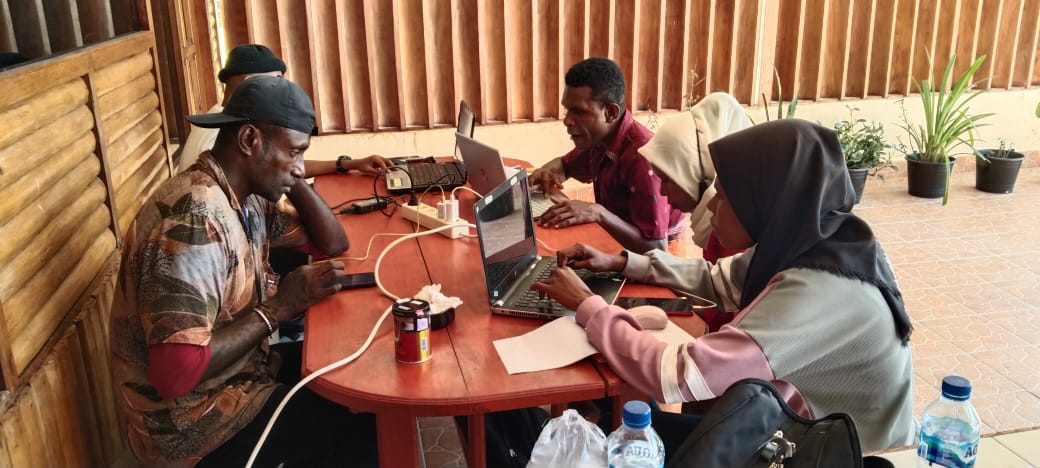 Following the release of Edor Village's official website, the Kaimana Regency's Communication and Information Office, in West Papua, in collaboration with EcoNusa organized a millennial cadre training (PMK) on 2-3 June 2022 at the Communication and Information Office.
Five youngsters of Edor Village were selected as the training participants who were taught on basic journalism and technical assistance on website management. The young Edor villagers are expected to administer the website with some contents on local news and information independently.
"We are from Communication and Information Office, the government of Kaimana Regency, and Edor villagers and hope that the website keeps running. So, do not let it down," said Hidayat Sirfefa, Website Development Section Head of Kaimana's Communication and Information Office.
Read also: Edor Village Website Launching, Progress for Data-based Local Planning
Formerly, Kaimana Regent Freddy Thie on the launching of Edor Village website on 31 May 2022 said that the village website is the important thing in digital era. "The development of Edor Village is always updated, but never let it down after launching," said Freddy on the website launching event.
Therefore, Hidayat urged that after the training, the given knowledge should be learned over and over again as part of the Edor Village's assets. "You are part of the mandate of Edor Village to manage the website at best," he said.
The participants got big picture on the use of website. Besides, they learned on how to write news, activities, important agenda, photo production, and news-worthy information.
Read also: Om, Priceless Food for Ngalum Ok Tribe
Juan Pratama, one of the participants, said that they got new technical knowledge on news writing for website, the language style, and how to publish them.
Juan realized that his peers and he should change their writing habit. They have so far only updated their status or uploaded photos on social media with simple notes. "But, with the training, we are demanded to write with the Indonesian standard and correct sentences," said Juan.
In response, Yudha Wirastana, an Information System Analyst of Kaimana's Communication and Information Office who acted as a mentor, told the participants to have guts to try and make a mistake. "Never fear of doing wrong. The most important is that you have made a try," said Yudha.
Read also: 73 Youth Digital Campaigner 2022 Produced 783 Contents
He expected that the millennial cadres could become pioneer among the villagers. He believed if the village is good, it means the community is also good, so the website should actively disseminate information.
"Hopefully we could introduce Edor Village to the world through village potential that will be promoted by the website," said Juan.
Edor Village located adjacent to Kaimana City is one of the 10 villages at Buruway District in Kaimana Regency, West Papua. As to Freddy, as from 84 villages in Kaimana, Edor is deemed the more prepared village in digital era. The village which is inhabited by 42 families or 127 peoples still preserves their tradition which is newsworthy for extensive audiences. 
Read also: EcoNusa Calls SAI Papuan Youth to Protect Forests
Previously, the Head of Edor Village, Abdul Kadir Suban, said that in the digital and modern era like now, a village website is urgently needed because the village government is required to disseminate information more quickly. The website serves as the way to build an independence, local sovereignty, and information media for Edor development.
To the millennial cadres, Hidayat asserted that they live in the village, but they are not inferior, because they are internet and digital literate. "It should be induced into the people of Edor Village," said Hidayat.
Editor: Leo Wahyudi & Nur Alfiyah