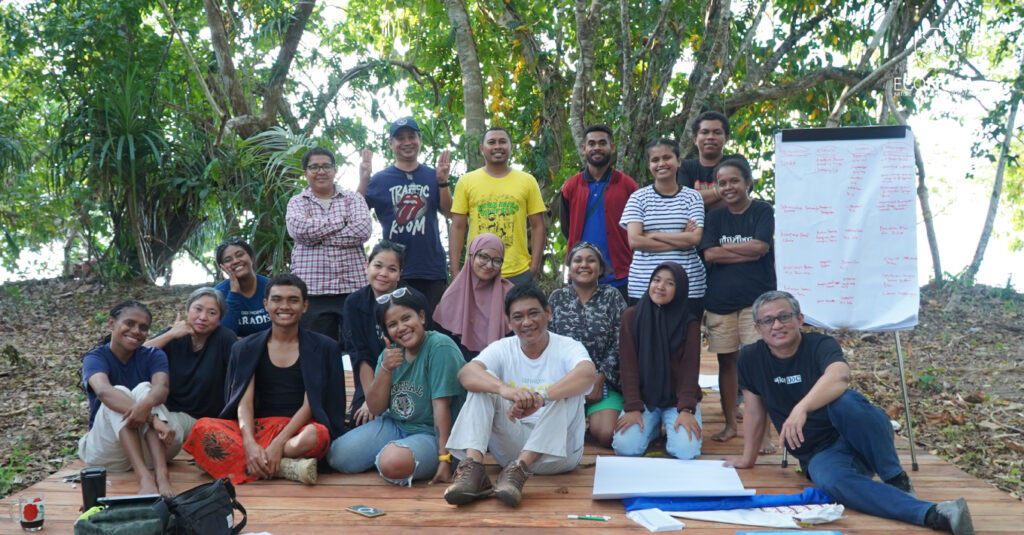 Tanah Papua and Maluku Islands are potential areas in Eastern Indonesia. These two areas have extraordinary marine and forest potential. According to the Central Bureau of Statistics in 2021, as much as 77.91 percent of land in Tanah Papua is forest cover. Meanwhile in the Maluku Islands, forest cover reached 85.99 percent.
As for fisheries, the Ministry of Maritime Affairs and Fisheries noted that the 718 water areas in the Aru Sea, Arafuru Sea and the eastern part of the Timor Sea have the highest estimated potential for fish resources in Indonesia. Maluku was also designated as a National Fish Barn because it has a large potential for fish resources.
Young people in Tanah Papua and Maluku Islands have an important role in managing and protecting the potential of the forests and the sea. Therefore, young people need to develop creative and strategic ideas to solve various environmental problems in order to make nature sustainable.
Read Also: Manokwari Youth Camp: Building a Network of Environmental-Conscious Young People
I had the opportunity to take part in the Youth Strategic Meeting at the Keik Kili Mibi Learning Center in Sorong, West Papua, with other youth friends from Tanah Papua and Maluku Islands on August 11-14 2023. The Youth Strategic Meeting facilitated by EcoNusa Foundation is a forum for young people to jointly think and formulate strategies that will be carried out in a short time but can have a big impact in preserving forest and marine ecosystems, especially in Tanah Papua and Maluku Islands. The hope is that these strategies can help protect forests and seas in the two regions.
I left for Sorong from Ambon on Saturday, 14 August 2023. After arriving in Sorong, me with EcoNusa staff, young people from Ternate, and the Youth Strategic Meeting activity committee went to the Mibi Learning Center. From Sorong City, it takes 1.5 hours to travel through the paved road that divides the forest. We arrived at Mibi at 14.45 WIT. In this place, I meet young people from Sorong, Manokwari, Merauke, and Jayapura. We all belong to the Ecodefender or Sea Rangers community.
The main activities in the Youth Strategic Meeting are sharing sessions, strategy discussions, and presentation of work plans. The activity started with a sharing session by the CEO of EcoNusa, Bustar Maitar. This was one of the most memorable activities because we were able to meet and get direct experience from figures with long experience in forest protections, especially in Eastern Indonesia. Bustar explained the importance of youth for protecting the natural resources of Eastern Indonesia.
Read Also: Sasi on Lemon Island, An Initiative from Local Youth to Protect Marine Biodiversity
"Youth is EcoNusa's partner in protecting and preserving East Indonesia's forests and seas. Forest cover in the Land of Papua reaches more than 70 percent and the seas of East Indonesia also have extraordinary potential. If not properly managed and heavily protected, exploitation will continue so that our children and grandchildren will not feel it," said Bang Bustar.
In this strategy sharing and discussion session, we also had the opportunity to listen to and learn from the experiences of EcoNusa staff and other young friends. The head of the EcoNusa Sorong office, Adi Saputra, shared his experience and also emphasized on the need to find the roots of environmental problems.
"If we do a clean-up action in the morning, the area might get dirty again in the afternoon, so don't only focus on the clean-up action. Try to find out where the root of the problem is and find the best and most efficient solution to implement. For example, do continuous advising on not using single-use plastic," said Adi.
Read Also: 3 Demands to Reduce Single-Use Plastics were Voice Out at Plastic Free March
From the sharing session, a number of tips and tricks were shared to attract attention and educate youth. For example, the effort to educate young people should be carried out using a group approach, interspersed with activities that the audience liked, looking for the roots of environmental problems, and digging up initial data as material for making work plans.
Apart from sharing sessions, we were also guided to formulate problems and potentials that exist in the environment. This is then used as a reference for formulating a short-term plan that is expected to protect forests and ocean ecosystems in eastern Indonesia. When I returned to Ambon, I brought a work plan that was structured but not complicated, and hoped to bring positive results in mobilizing youths in Maluku to protect our forest and ocean.
Author: Khadija from Penjaga Laut Ambon Community
Editor: Nur Alfiyah, Swiny Adestika