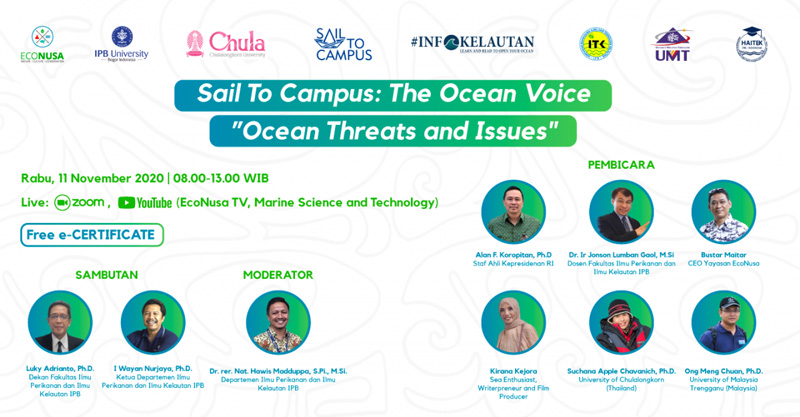 Do you know that 3.25 km2 of the 7.81 million km2 area of Indonesia are oceans? With the existing ocean area, Indonesia has enormous marine and fisheries potential. However, our ocean is not doing well right now! Human activity is one of the factors that threatens his condition.
Starting from marine pollution, overfishing and destructive fishing, to global warming. These things are threats that we need to pay attention to in order to conserve marine resources.
For this reason, the Department of Marine and Marine Sciences, Faculty of Fisheries and Marine Sciences IPB Agricultural University invites friends to participate in the discussion through the webinar Sail To Campus: The Ocean Voice – "Ocean Threats and Issue"
Together with speakers and researchers from 4 countries in Southeast Asia, friends will be invited to discuss the sea and its various threats. Come on, record the date of the game!
Wednesday, November 11, 2020
08.00 -13.00 WIB
Live on Youtube EcoNusa TV, Marine Science and Technology