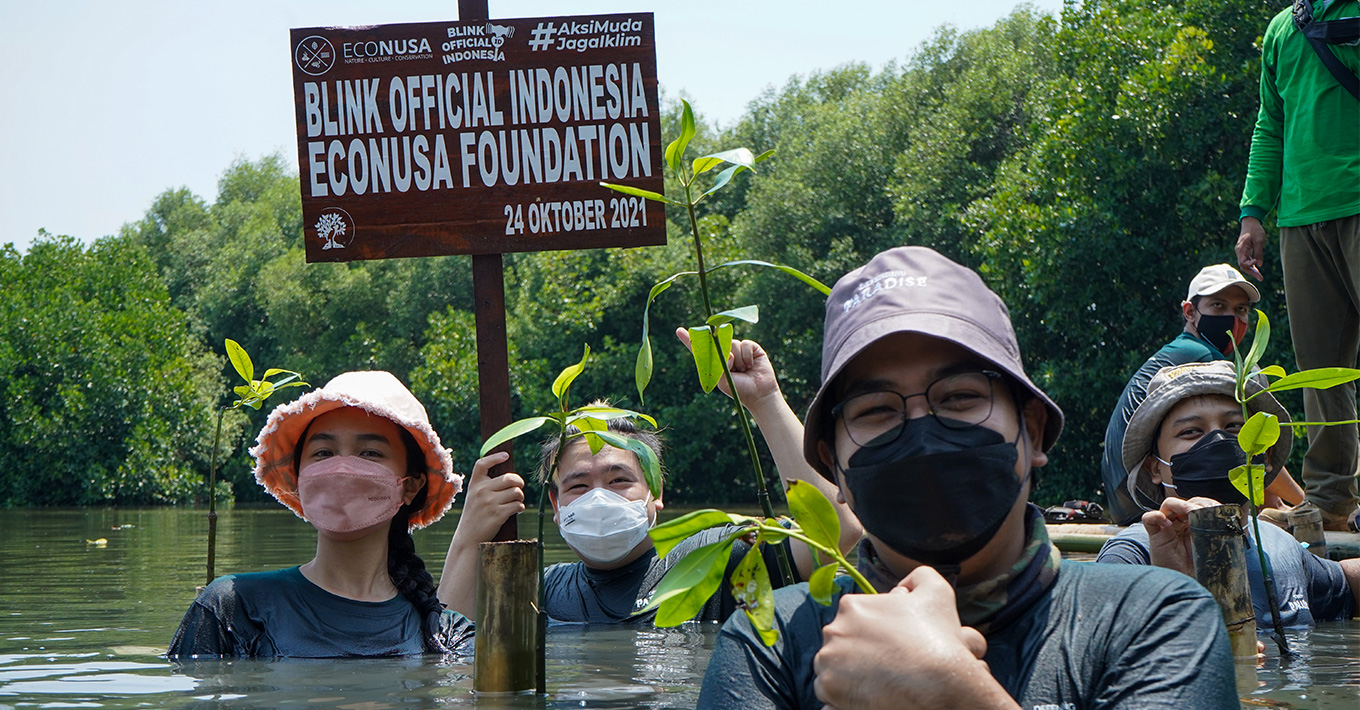 Blink Official Indonesia (BOI) in cooperation with EcoNusa Foundation initiated the planting of 2,850 mangroves in Jakarta Province and Raja Ampat Regency in West Papua Province. The event was part of the calls from South Korean music group, Blackpink, which was appointed as the ambassador for UN Climate Conference or COP26 2021.
In a video aired on YouTube, Blackpink called its fans to make actions for climate crisis mitigation surrounding their residences. The video uploaded on 9 December 2020 has been played back by more than 2 million viewers.
"As to me, this experience is very interesting because this is the first time I plant mangrove. Globally, I could involve directly in the action promoted by Blackpink to mitigate climate crisis," said Jevon Christian, a BOI administrator, after planting mangrove on Sunday 24 October 2021.
Read Also: Mangrove Rehabilitation, Government Attempts to Reduce Carbon Emission
There were 50 mangroves planted at Angke Kapuk Mangrove Ecopark, Jakarta. Then, the other 2,800 mangroves were planted at Sawinggrai Village, Mleos Mansar District, Raja Ampat Regency, in West Papua. Mangrove planting in Sawinggrai Village was in cooperation with EcoDefender activists and Raja Ampat Community Business Association (PERJAMPAT).
Jevon said that climate crisis narratives spoken out surrounding him and his family dealt with ecosystem degradation and biodiversity extinction. According to Jevon, this issue will affect tourism sector in Indonesia which is highly regarded as the natural resource-rich country. "The closest topic to domestic aspect is about traveling. Climate crisis will cause the loss of ecosystem on the tourism spot," he said.
Similarly to Jevon's, another BOI member, Stefanus Parlindungan Simarmata, said that he was encouraged to take part in mangrove planting so as to be part of the collective actions in climate crisis mitigation. Since he studied at Atma Jaya Yogyakarta University, Stefanus had taken part in social and green actions organized by his campus such as turtle conservation and tree planting.
Read Also: Protecting Customary Land from Palm Oil Investment
As he grown up in Semarang, Central Java Province, he had experienced the impact of climate crisis when tidal flood inundated Terboyo bus terminal. Due to subsided land and sea level rise, Semarang is predicted to be submerged in the next 50 years or by 2071.
Despite the real happening of climate crisis, most Indonesian communities believe that climate crisis is just natural phenomenon. A survey conducted by YouGov to 1,001 respondents in 23 countries, Indonesian community is deemed the top community that declines the notion that climate crisis is triggered by human.
"It is nerve-racking to note that many people decline to believe the climate crisis. For a long time our country has been regarded as the lungs of the world, but the forests have been degraded. Despite the puzzling fact, there are many more people slowly making action to mitigate climate crisis," added Stefanus.
Read Also: Protecting Papua and Maluku Forests Not Only About Birds-of-Paradise Preservation
Not all people in Indonesia has understanding that healthy mangrove ecosystem will improve resilience of coastal communities against the impact of the current climate change. Mangrove can minimize abrasion, tsunami, storm, in addition to economic values. Besides, mangrove can save 3-5 times higher carbon than that of tropical rainforests. Indonesia has more than 3.3 million hectare mangrove. As from the figure, 637,625 hectares, or 19.26 percent, are on critical condition. Planting done by young people like this will be part of big actions in mangrove rehabilitation. 
Editor: Nur Alfiyah & Leo Wahyudi