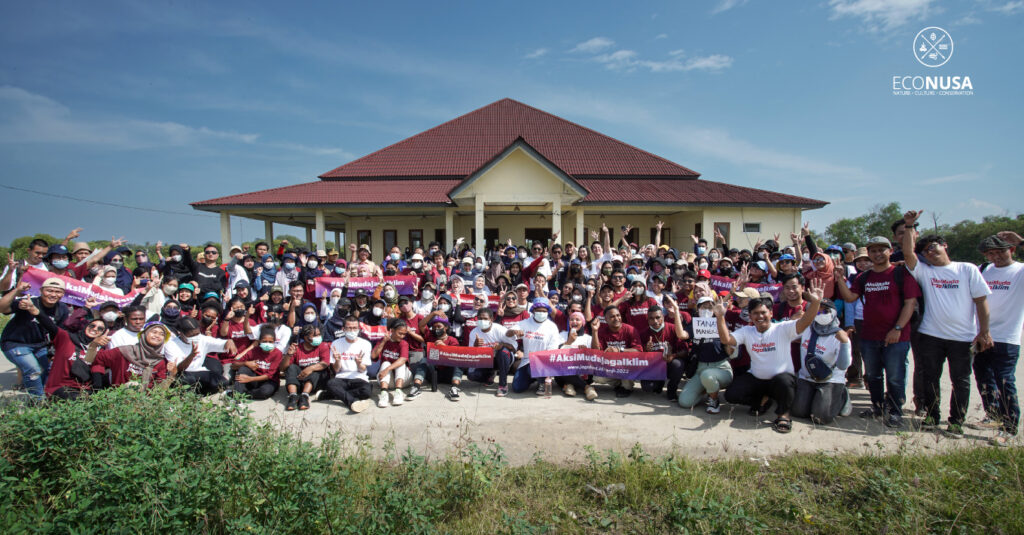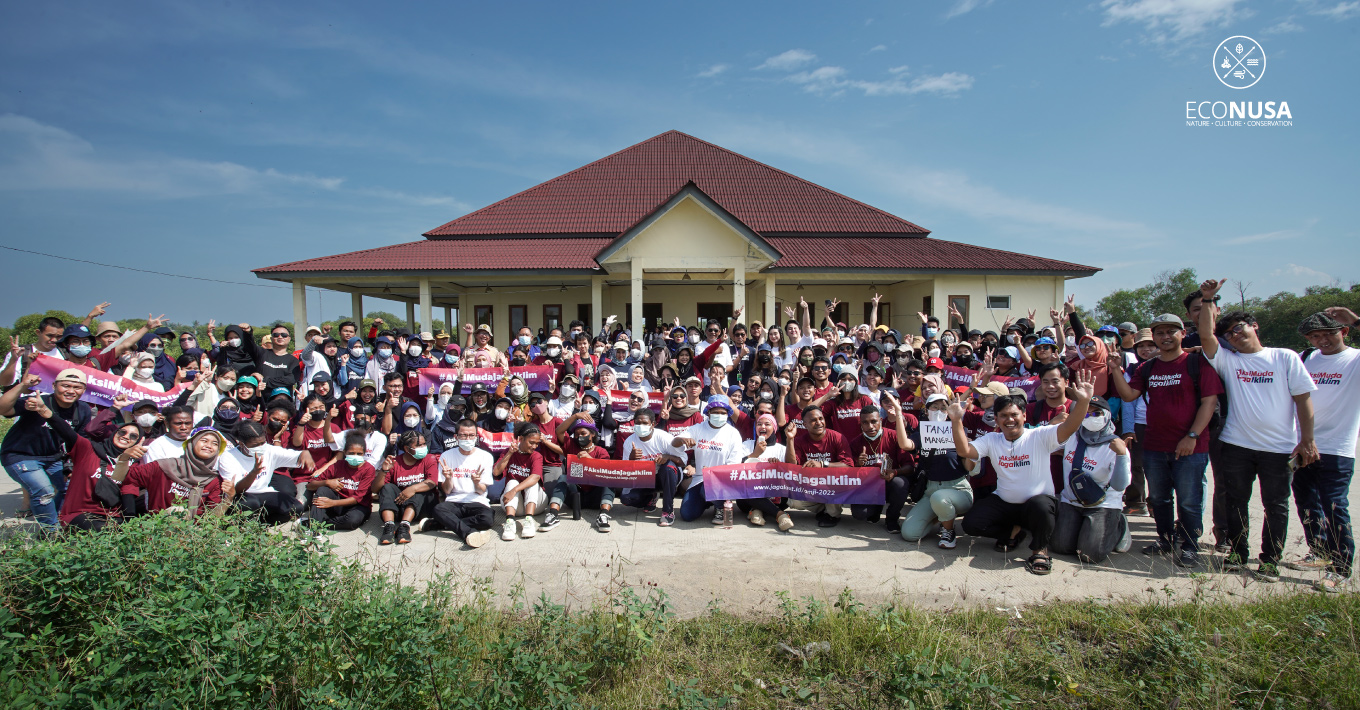 There are so many momentums both at organizational as well as governmental scopes heading the yearend of 2022. EcoNusa attempts to get an advantage from those momentums as a way to endorse the organization's commitment and preference to green issues.
In commemoration of Youth Pledge Day, EcoNusa in collaboration with all community and government elements facilitated the community of Penjaga Laut (Sea Defender) to mobilize young people to engage in Youth Action to Mitigate Climate (Aksi Muda Jaga Iklim/AMJI) on 29 October 2022. The major spot of action was held at Tangerang Mangrove Center in Tanjung Pasir, Tangerang.
More than 9 thousand participants simultaneously made concrete actions in 279 spots involving 89 collaborators nationwide. More than 3,700 trees and 10,000 mangroves were planted on that day. Young people could also collect around 1.3 tons of metal debris, 2.9 tons of plastic waste, and 8 tons of other kinds of waste.
Read also: Young Action to Mitigate Climate, A Collaborative Youth Action to Reduce Climate Crisis Impact
These figures serve as the marker and driver for the youngsters to perform real action for their environment. We agree that this moment would not stop as a mere ceremonial event. But, it would rather be a starting point to build more actions in the wider scope to raise public awareness as the climate change is happening and thus it requires mitigation actions.
Following the AMJI, EcoNusa attended the 27th Climate Change Conference or Conference of Parties (COP) in Sharm El Sheikh, Egypt, on 6-18 November. In this climate summit, Indonesia has been spotlighted due to the declining deforestation rate and enhanced Nationally Determined Contribution (NDC) target to 31.89 percent in 2030 and 43.20 percent with international support. At least, the organization has taken part in support of the Indonesia government commitment on the ecological issues, for instance by the revocation of more than 350,000 hectares of palm oil plantation licensed areas in West Papua in 2021.
Read also: Mitigating Climate, Youth Must Not be Tired of Undertaking Process
In chorus with the COP27 event, EcoNusa also attended over the side-lines of the 17th G20 Summit in Bali. At least, EcoNusa has chipped in the B20 events which is deemed strategic to promote the organization. We took part in the processed products expo from the local commodities of Tanah Papua, such as fragrant citronella, taro, banana, and mushroom at the expo of the G20 Bamboo Forest at Future SME Village, Nusa Dua, Bali. The presence of Minister of Environment and Forestry, Siti Nurbaya Bakar, Minister for Cooperative and Small and Medium Enterprise, Teten Masduki, and Minister for Tourism and Creative Economy, Sandiaga Uno, who paid a visit at the booth has implicitly given appreciation and recognition to local products of Tanah Papua.
Along with the course of the organization in striving for indigenous people sovereignty over the forest and marine natural resources in eastern Indonesia, EcoNusa has been focussing on the development of a social enterprise, Kobumi. The social enterprise here attempts to serve as the connecting line for local commodities and market access at local, national, and international scopes.
Read also: Extreme Weather, Alarm to Perform Youth Action to Mitigate Climate
Kobumi creates sustainable innovation by developing an added value of local products from the indigenous people. It is intended to support the local economy while preserving the sustainability of natural resources. This is done in support of the government's social forestry and indigenous people rights recognition programs.
We give meaning to these pivotal moments to build up the position of EcoNusa as an organization that makes every effort to provide good seeds with social, economic, cultural, and ecological impacts particularly in eastern Indonesia. The moment here also convinces us that we go along with many parties, particularly the central and regional governments, stakeholders, and grassroot level communities in pursuit of collective goodness.
Bustar Maitar