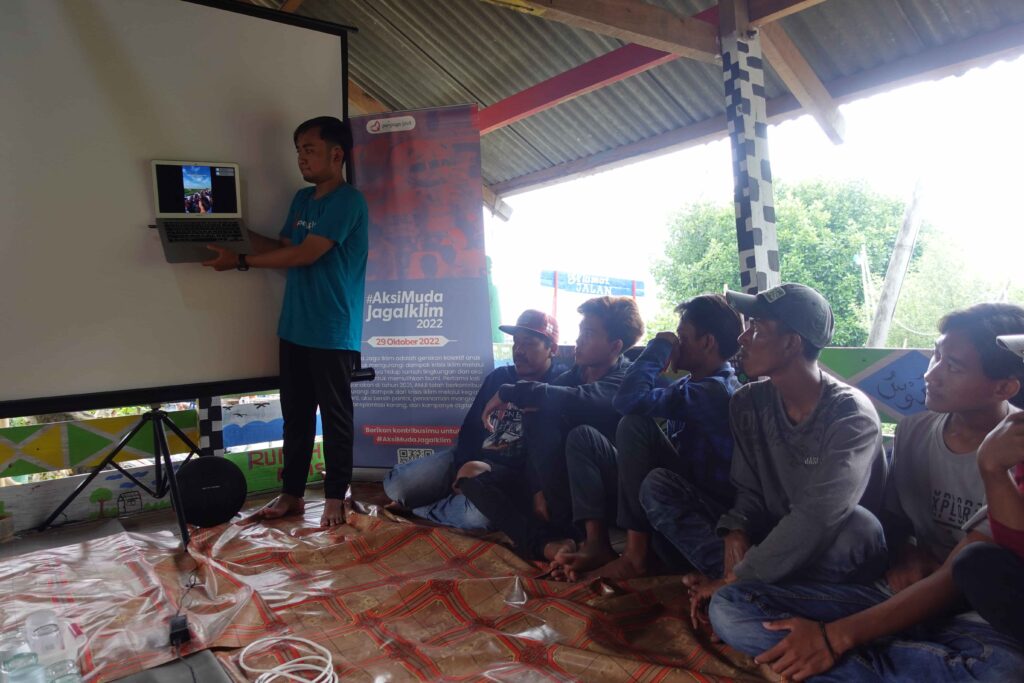 The massive technology improvement has opened more access to young people in voicing out their concerns through digital space. To maximize the technology, Penjaga Laut community with EcoDefender and supported by EcoNusa, conducted a digital training session in one suburban area close to the capital city yet experience the negative impact of the climate crisis on their daily basis called Kampung Muara Jaya, Sederhana Beach, Muara Gembong District, Bekasi Regency, West Java.
23 youth of Muara Gembong participated in this session (26/2), aiming to learn to convey their concerns about various problems in their area, as a form of advocacy through digital space, such as social media. This training gained full support from Suparto, the Village Head. "What Penjaga Laut does is very good, especially in teaching us to use technology, including content creation," Suparto said. He added, "My residents must be able to include technology in their lives, if not then they will be left behind from the outside world."
Read also: Microplastics Exist in Salt Contaminate the Human Body
Irene Komala, a Travel Content Creator was invited as the speaker for the training. Irene conveyed several points including the importance of social media (especially for audio-visual contents), the different characteristics of each social media such as Instagram Reels and TikTok, ideas for content creation, how to make interesting videos, and simple video editing tutorials. 
"Hopefully this activity can be useful for them and they are able to voice out their concern and potential in Muara Gembong through social media and campaign for Aksi Muda Jaga Iklim (Young Action to Protect the Climate) related to mangrove conservation," said Irene.
During her session, Irene asked participants to create social media content related to their surroundings. The lack of signal and limitations of the devices they use did not discourage the participants to continue creating contents. Taryono, one of the participants, said that this activity greatly increased his knowledge, especially about digital technology.
Read also: Youth Action to Mitigate Climate, A Collaborative Youth Action to Reduce Climate Crisis Impact
When it comes to creating content, many of them make content related to tourism potential, traditions, environment conditions, local commodities, and culinary delights in Muara Gembong. These topics resulted from the mapping of potentials that exists in Muara Gembong that was initiated by Irene during her session. On the tourism side, Muara Gembong has several potentials, namely Pasir Timbul, snorkeling site, and mangroves. Unique cuisine is also one of potentials in Muara Gembong, such as milkfish crackers, mangrove fruit ice, mangrove jam, and mangrove dodol. Seafood commodities in Muara Gembong are no less than in other regions, including crabs, shellfish, shrimp, and fish.
Mangrove ecosystems, if managed properly, can improve the welfare of the people in Muara Gembong. Mangrove supports the life of cities adjacent to the coast such as Bekasi and Jakarta, by protecting them from abrasion and sea waves. Mangrove ecosystem is also an important habitat for many marine biotas. Moreover, mangrove fruits can also be processed into delicious dishes such as syrup, chips, and jam. Coastal communities of Muara Gembong have produced these products that have become its signature souvenirs.
Read also: Indonesia Calls for Green Diplomat Role
Furthermore, participants also produced environment-related contents that reflected from their daily problems. Some of the environmental problems they face include the accumulation of postal waste, increasingly high and erratic tidal floods, extreme weather, as well as decreased fish catches which greatly affect the total income of the community. Many changes are desired by the local community, especially in terms of waste management. "Hopefully this problem can be quickly resolved and a solution can be quickly found," said Suparto.
Editor: Nur Arinta, Nur Alfiyah, dan Swiny Adestika