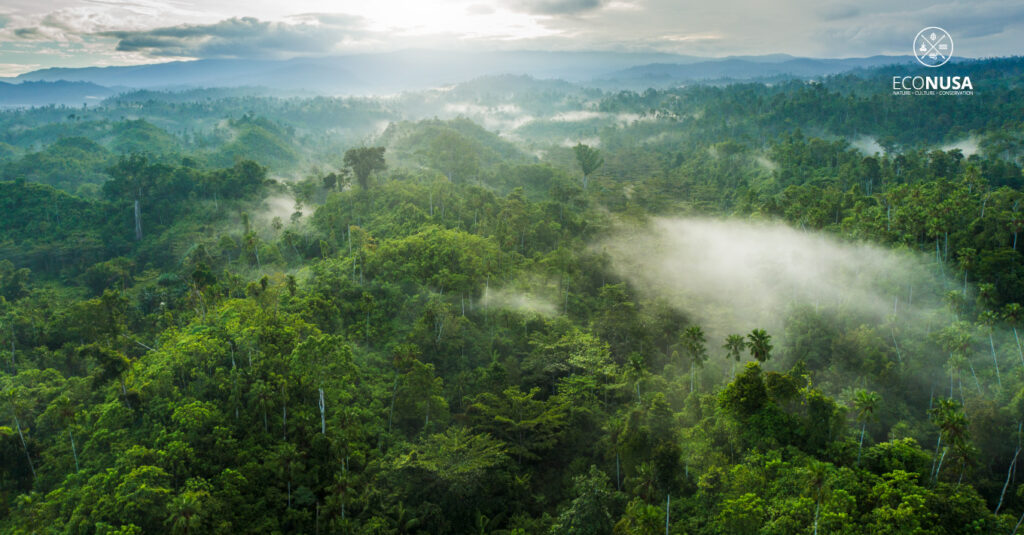 Halmahera, located in North Maluku Province has a width of 3,891.62 kilometer square with a total population of 197,638 people in 2020. Halmahera Island has a rich forest ecosystem which is located on the northern edge of the Halmahera Peninsula and is directly adjacent to the Pacific Ocean.
Read also: Travelling while Preserving Cenderawasih Bird
Halmahera Forest is famous for its richness of biodiversity and its location, which is in the Wallacea region. The forest ecosystem on this island is an important habitat for many species, including the endemic species, the Angel of Halmahera (Semioptera wallacii). This species can only be found on Halmahera Island and Bacan Island, North Maluku. Just like birds of paradise in general, the Halmahera nymphs are also famous for their beauty. Two pairs of white feathers protruding from their wings are the hallmark of this species. During the breeding season, the male Halmahera Angels have a habit of dancing in the morning or evening in front of the females, aiming to attract their attention.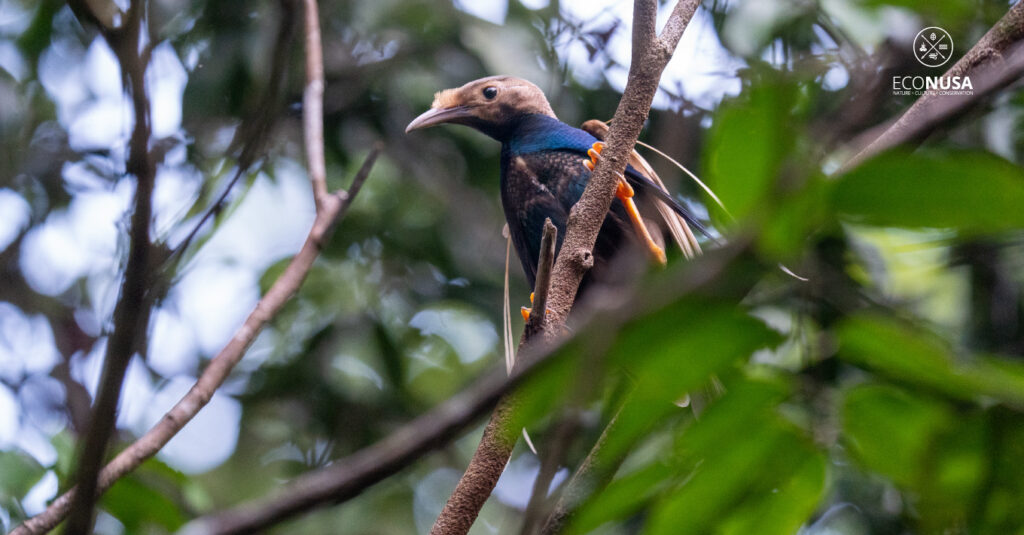 Other endemic species, namely blue-eyed kuskus (Phalanger matabiru) also called the Halmahera forest their home. As the name suggests, this primate has both blue eyes. The blue-eyed kuskus is a nocturnal animal that is active and looks for food at night, while during the day they usually rest in the trees. They live alone and solitary. In the local language, this species is commonly known as "kuso". Sadly, the blue-eyed kuskus population is continuing to decrease due to wild animal illegal hunting practices and habitat destruction. Thus, the blue-eyed kuskus is a protected animal under Indonesian law.
The richness of biodiversity in Halmahera's forests also provides many benefits that can prosper the people's economy, one of which is the extraordinary abundance of non-timber forest product commodities. One of the leading commodities from Halmahera land is canary nuts. Canary nuts from Makian Island, South Halmahera are very famous and have penetrated international markets such as Finland and Italy. Other natural products, such as coconut, cloves, and nutmeg can also be found here.
Read also: Pili Nut, Shade Tree as the Source of Livelihood
The existence of forests that provide many benefits for humans and other living things is unfortunately prone to the threat of forest conversion. Extractive companies have converted forests into mining lands and oil palm plantations and have become major threats to the lives of local communities and the balance of the ecosystem.
Indonesia's rich biodiversity has made it known as a mega-biodiversity country. The Indonesia Potential Biodiversity Institute said that in 2020 there were 773 species in Indonesia, which are 191 species of mammals, 33 species of birds, 33 species of amphibians, 30 species of reptiles, 231 species of fish, 63 species of mollusks, 26 species of butterflies that are endangered. Moreover, 7 species of the world's honey bees are found in Indonesia, two of which are endemic and are currently on the verge of extinction.
Read also: Sago, Vegetation with Loads of Benefit Threatened by Development
The nature of Halmahera is located in the Wallacea region, which has species with a high level of endemicity. This means that many species in Halmahera only exist here, and cannot be found elsewhere. Therefore, protecting Halmahera's forests not only safeguards the community's source of livelihood but also protects biodiversity as part of the nation's identity. Halmahera's forests also have an important role in absorbing carbon emissions and contributing to reducing the climate crisis.
Editor: Nur Arinta and Swinny Adestika