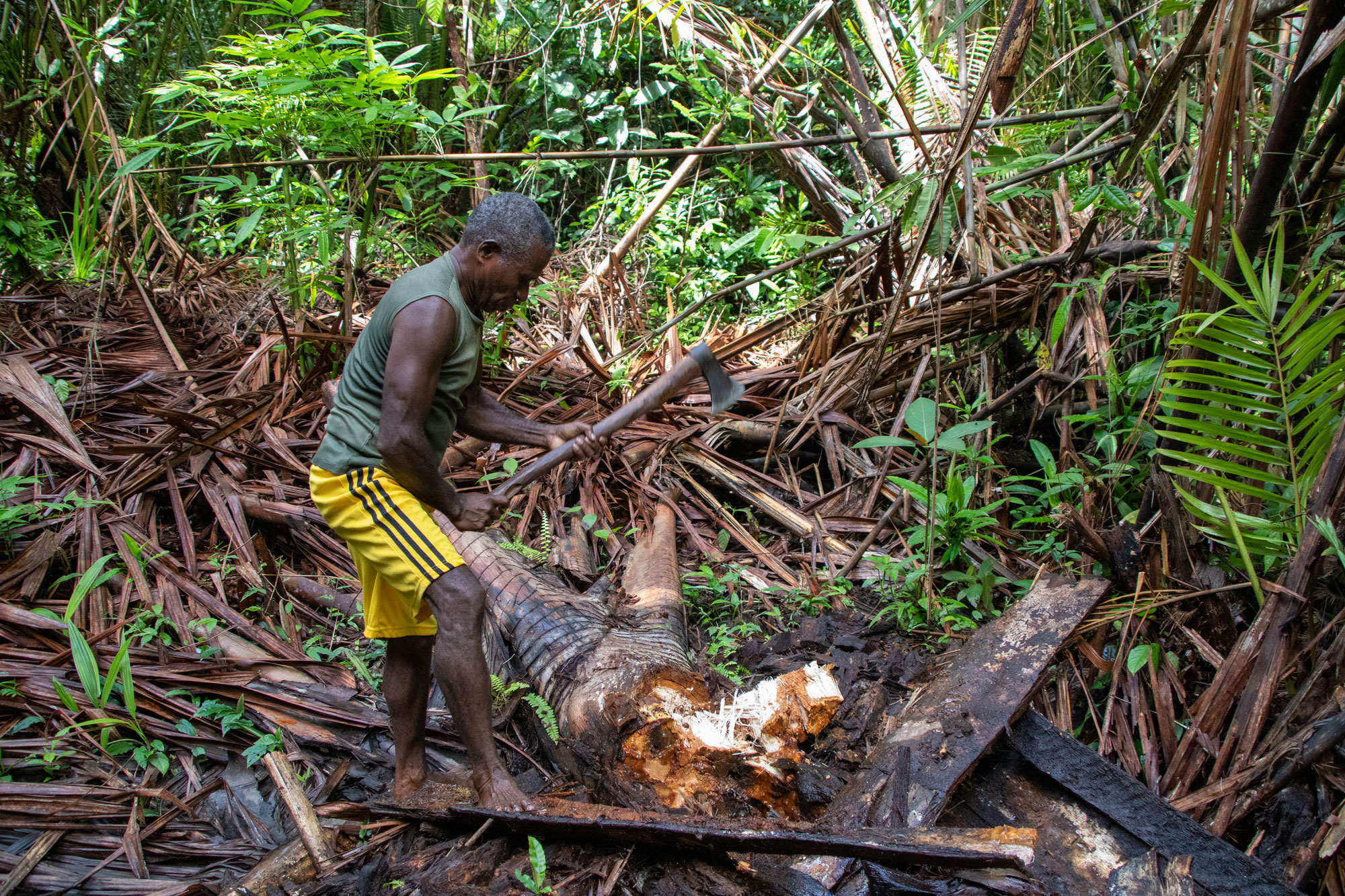 To people in Tanah Papua, sago does not merely serve as the food resource. Sago tree has four vital benefits in life as it serves as the source of food, clothing, housing, and ecosystem. "Sago is our identity," said Charles Toto, Chef and Papuan Food Activist, in a webinar on Sago with Loads of Benefit held by Teras Mitra in collaboration with EcoNusa on Saturday, 20 August 2022.
As food resource, Toto said that the sago starch is the source of low sugar carbohydrate. Sago caterpillar living in the tree is also source of protein for the locals consumption. In terms of clothing aspect, sage leaves are used as outfits during the traditional festivities such as sago caterpillar fiesta among Asmat, Korowai, and Kombai communities. Sago leaves could be knitted into a beautiful noken (traditional shoulder bag). 
As the source of housing, the locals make use of sago leaves as the roof, sago midrib as the wall, and its skin as the floor. "As an ecosystem, sago root serves as the source of water that is needed by human and its surrounding ecosystem," said Toto.
Read Also: Sanggase, Vying to be Rice Producer in Okaba District
Toto said that sago actually does not only serve as the staple food for the eastern Indonesia communities. Stone carving of Borobudur Temple tells sago as the major source of carbohydrate to most people in the Archipelago. However, the new agriculture method coming to Indonesia has shifted sago in such a way that it remains only in eastern Indonesia, expanding from Sulawesi, Maluku, up to Papua with the largest sago forest in Papua.
Kristian Sauyai from the Raja Ampat Local Business and Livelihood Association (PERJAMPAT) said that sago is not only for meal in the form of papeda (sticky traditional sago-made porridge) but also for snacks such as sinole and other kinds of cake. The community that runs homestay at Raja Ampat usually serves the menu for guest and domestic consumption.
The owners of homestay also make use of sago leaves for their homestay rooftops to sustain the tradition of Raja Ampat. He said that currently there are many houses using zinc as their roofs. But, the local homestay owners agree to use roofs made from sago leaves for the sake of local wisdom.
Read Also: Nurturing Sago Bank in Manelek Village
He added that the community also use sago midrib as the wall and skin of sago tree as the floor. "None of sago tree parts is useless, as all parts are beneficial to human life," he said.
However, for materials of homestay construction, many locals sell sago leaves to make money. They forget to re-plant sago to substitute the cut ones. Kristian worries that sago tree will vanish due to the construction of homestay for tourists. 
For the reason, in 2018 PERJAMPAT re-planted sago in 1-hectare plot of land. They also called the locals to manage the remaining sago forests. In addition, PERJAMPAT also requested the local government to restrict the resort licensing in Raja Ampat due to the massive exploitation of sago leaves and trees. "Thanks God, in 2020 we had talked to the local government on how to apply the restriction and government sides more with local people," he added.
Read Also: Tale of Nutmeg Part 2: Customary Sasi and Money Tree in Kaimana
As to Toto, the threat of sago forest also comes from the logging for housing development, palm oil plantation, or another plantation. Many disasters happened due to the logging of sago logging. For instance, flood in Sentani Jayapura occurred after the change of sago forests for housing and asphalt road. Consequently, rainwater from Cyclop Mountain flowed through to the lake and ignited inundation. 
To protect sago, Charles Toto garnered public petition in Change.org in 2018. He called West Papua and Papua Governors to issue governor regulation to protect sago forests in Tanah Papua. The petition has been signed by 298 thousand petitioners. 
Toto also urged the government to treat sago as it does with rice. For instance, by promoting the State Logistics Agency (BULOG) to distribute sago to civil servants every month. Thus, sago will become a new source of food security. 
He will keep on campaigning the importance of sago to the Papuan peoples including talking to the young people. "Today young people see local food like sago is like old-fashioned. But, see I can go everywhere even up to overseas to cook local food there," he said. 
Editor: Leo Wahyudi