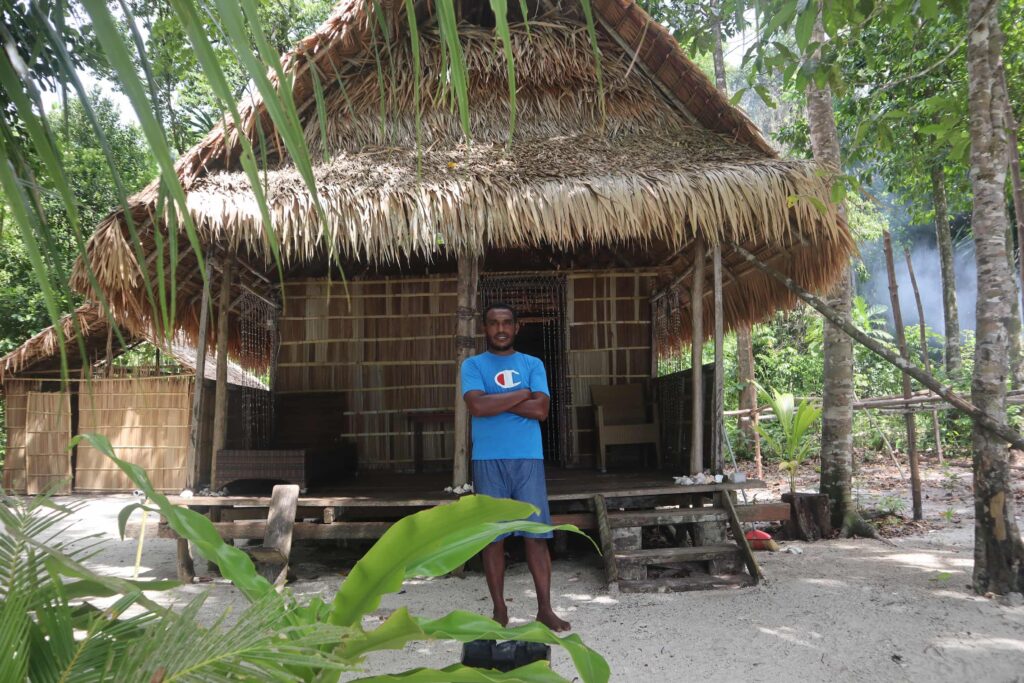 Yoris Warmasen in front of his Black Swees homestay. (EcoNusa Foundation/Nur Alfiyah)
Three homestay buildings stand right in front of the beach in East Arefi Village in North Batanta District, Raja Ampat, Southwest Papua. In front of these three eco-friendly buildings, six tourists from abroad sat resting. The tourists came from Bangladesh and the Netherlands. Two of them had just returned from diving.
"We just went diving nearby," said Riky Rumbewas, owner of the Biryei homestay (12/4). He added, "A guest asked me to accompany him to see snakes tonight. I would take him to the waterfall," he explained. Riky planned to take him to the Warinkabom waterfall which is located in the middle of the South Arefi forest.
Riky is a native of Raja Ampat. Even though he only has an elementary school diploma, Riky understands how to serve guests and is able to speak in English. Everything he learned while working at a resort in North Batanta. "I also learn English from books," he said.
Homestay is a designation for small lodgings and generally owned by indigenous Papuans. It has simple facilities, but sufficient to meet the needs of guests, such as bedrooms, shared bathrooms and toilets, also 3-times a day of meals. Meanwhile, resorts have hotel-standard facilities and are generally owned by foreigners.
Read Also: The Story of Vanilla Village School: From Pessimism to Believing in Change
In North Batanta, homestays have been around since 2013. It was Konstan Thinopel Soor or Novri who started the homestay business in Batanta Island. "One time I saw that there were foreigners in Mansuar (Mansuar Island, South Misool District, Raja Ampat). At that time, I know that foreign guests also want to stay at the homestay," he said.
Inspired by the homestay in Mansuar, Novri built the Yenkarom homestay in East Arefi Village. Apart from learning how to manage accommodation from the association, Novri is also self-taught. For example, he learns to speak English through a dictionary and learns to cook western style, such as steak. If he doesn't understand, Novri will ask his brother for assistance. "Like yesterday, there was a guest who said vegetarian, I didn't know what it was, so I asked my brother," he said.
Even though Novri only has a high school diploma, the guests were satisfied with his service. His homestay has received hundreds of tourists. Some of them even stayed overnight again at Yenkarom when they returned to Raja Ampat. "I took them to the dugong spot, they were happy. One of my guests has stayed here three times," he said.
Read Also: Homestay Rebuilding in East Arefi, An Economic Recovery Effort for Local Communities
From this homestay business since 2013, Novri was able to buy three speedboats, build 2 more homestay rooms, buy 15 packages of diving equipment, and send his nephew to the police academy. However, since the Covid-19 pandemic hitted, his homestays were damaged, so he cannot provide hospitality. Fortunately, Novri is able to renovate his homestays with funding support from PT. KOBUMI.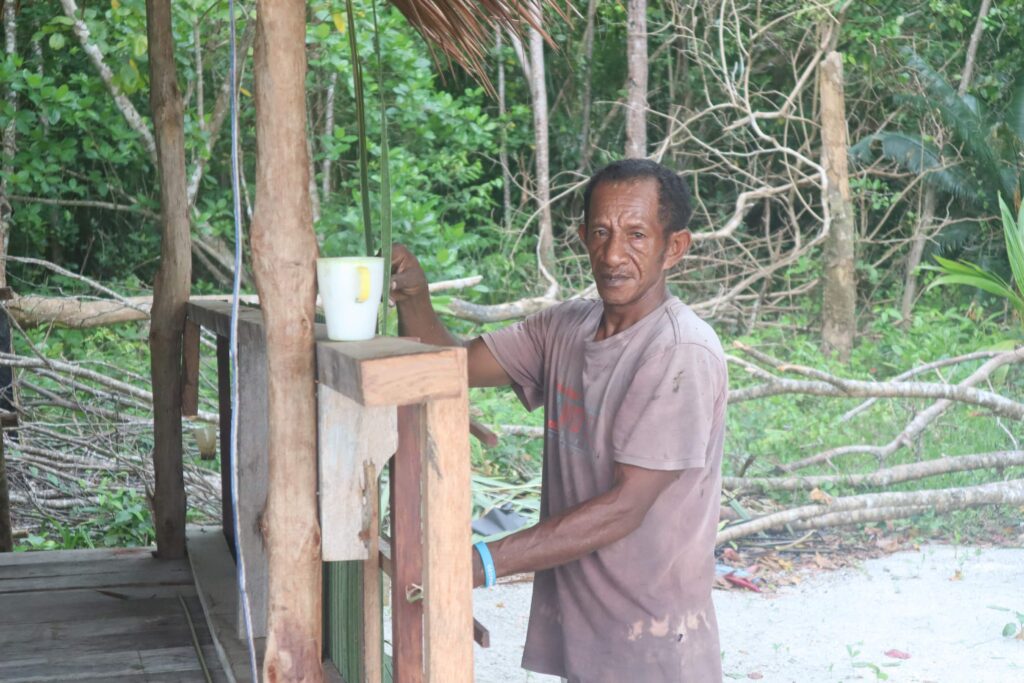 Hermanus Rumbewas is tidying up his Iboryomkum homestay. (EcoNusa Foundation/Nur Alfiyah)
To assist community economic development, PT. KOBUMI with the support of EcoNusa Foundation provides loans with unrestricted conditions. Both Novri and Riky applied for loans from PT. KOBUMI. "The loan was very helpful. I can rebuild the damaged homestay. The terms and conditions from KOBUMI were not complicated and easy for us to fulfill," said Novri.
Besides Novri and Riky, Hermanus Rumbewas and Yoris Warmasen also have received fundings support from PT KOBUMI. Herman also used the loan to renovate his disrepair homestays after receiving funding assistance. "My homestay is now ready to serve guests. Hopefully many guests will come," said Herman, who is also an elementary school graduate.
Read Also: Fostering New Hope from Vanilla from Village School in Molof and Warlef, Keerom
Just like Herman, Yoris Warmasen has just restarted his homestay business after receiving funding from PT. KOBUMI. But fortunately, his Black Swees homestay was already serving guests from last year's Christmas holidays. From December 2022 to March 2023, the one room he rented out was almost always full. "I didn't even go back to my village during the holiday season," he said with a wide smile.
Chairman of the Perkumpulan Penggerak Usaha dan Penghidupan Masyarakat Asli Raja Ampat (PERJAMPAT) Kristian Sauyai agrees with the loan system to support the economic recovery of the Raja Ampat people. Of the approximately 120 members of the association, only about 70 members whose homestays can serve guests. As many as 50 others are not active due to the damaged homestays building during the pandemic. "Loans are possible because they don't make people dependent," he said.
According to Kris, the homestay market is different from the resort. However, he hopes the government can limit the number of resorts in Raja Ampat and be more in favor of economic development efforts made by local residents. He also hopes that homestay owners will develop their skills so they can compete with the resorts.