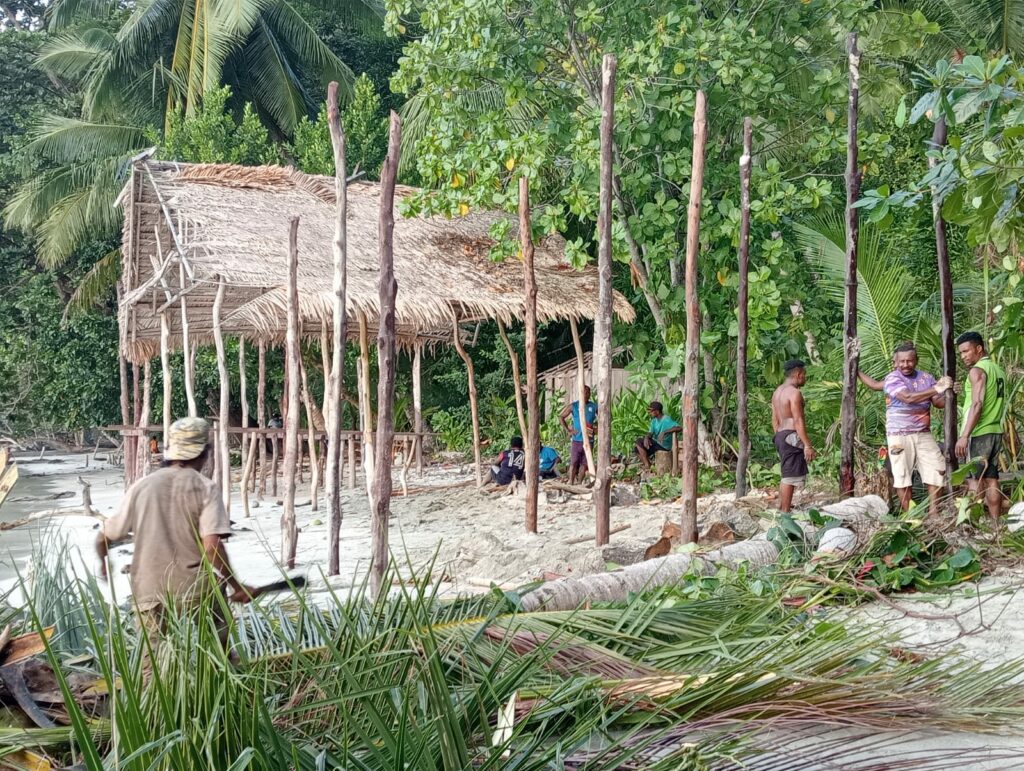 Touristic areas in Indonesia are welcoming more visitors after the Indonesian government stopped large-scale social restrictions and reopened access to and from Indonesia. Data from Central Statistics Agency (BPS) stated that in January-October 2022, the number of foreign tourist visits to Indonesia reached 3.92 million, an increase of 215.16 percent compared to the number of foreign tourist arrivals in JanAfuary-October 2021.
However, not all service providers in the tourism sector have enjoyed the sweetness of this awakening. Some of their businesses are still not operating, including several homestays in East Arefi Village on Batanta Island, Raja Ampat, Southwest Papua. Their homestays were mostly damaged since the beginning of the pandemic and they could not be repaired due to the lack of capital. Most of the homestays are made of wood, the walls are made of nipa leaves or also known as bobo leaves, and the roofs are made of sago leaves, which require periodic repairs.
"Many tourists have started to visit Raja Ampat but our homestays have not been able to serve them," said Wihelmus Mayor, owner of the Kriss-Iba Homestay in Kampung Arefi Timur, North Batanta.
Read also: Waimon and Kasimle Village Schools: Training for Village Development
Kriss-Iba Homestay is a Wihelmus family small business that was established in 2015. There are four rooms and one restaurant in the area, but all of them are in bad condition. "Our hope is that the government or other institutions will help us with liquid funding to repair the homestays, as well as capacity building programs in service and hospitality to run the accommodations," said Wihelmus.
With our natural resources programs, EcoNusa Foundation supports the economic recovery for homestay business in East Arefi, North Batanta, Raja Ampat. Started in November-December 2022, EcoNusa provided assistance in repairing accommodations for Kriss-Iba Homestay, Iboryomkun Homestay and Biryei Homestay at East Arefi.
Biryei Homestay, owned by Richarson Rumbewas family since 2016, has five rooms and a restaurant. Meanwhile, Iboryomkun Homestay, owned by Herman Rumbewas since 2018 has facilities of three rooms and a restaurant. Almost all structures need renovation.
Read also: Fostering New Hope from Vanilla from Village School in Molof and Warlef, Keerom
The renovation process of the three homestays has been carried out since December 2022. The owners bought wood for the structures, nipa leaves for the walls, and sago leaves to make the roof. The renovation process is expected to be finalized at the end of January 2023. "After all renovations, the owners hopefully can immediately start their homestay services to support the village economy development," said EcoNusa Foundation Community Development Staff, Semuel Wospakrik.
These homestays not only support local villages but also help youth from other areas to make income. Homestay Kriis-Iba, for example, employs four village youths. "I think there are a lot of benefits from this business for me personally and the others," said Wihelmus.