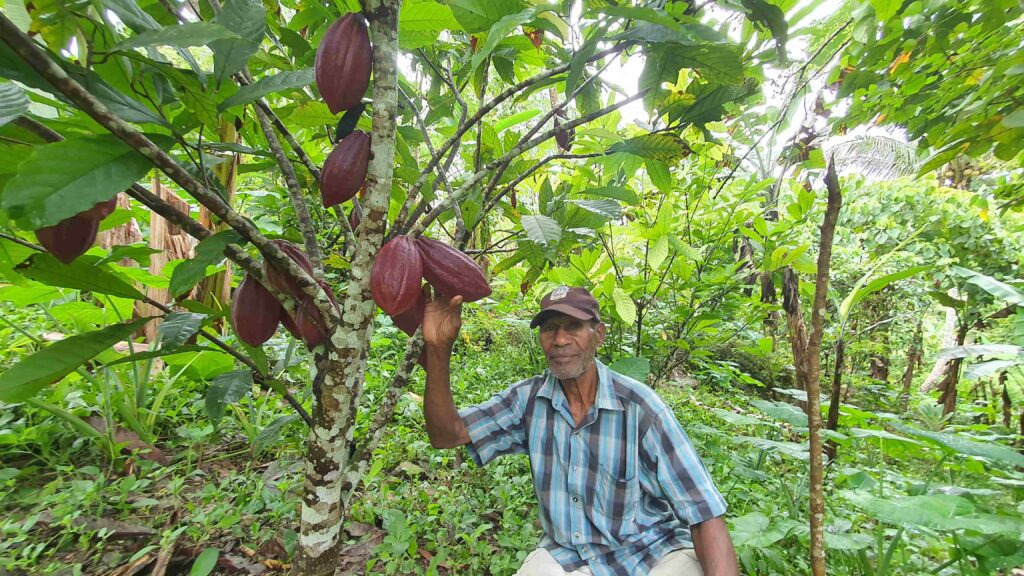 The land of Papua is a blessing for its indigenous communities. Various types of plants can grow thickly and become a source of livelihood for the community, such as sago, coffee, nutmeg, tubers and cocoa.
In Jayapura and Keerom Regencies, Papua, cocoa has become one of main sources of livelihood. Some cocoa farmers admit that they can meet their daily needs and pay for their children's education up to university, from cocoa.
Kosmos Boryam from Wembi Village, Mannem District, Keerom, was one of those who benefitted from cocoa farming. His first child was able to go to school until he finished college on the island of Java from the sales of cocoa. "My oldest son's name is Simon. My son got his education and my house was built, all from the profit from selling cocoa. It's not just me, most farmers in this village, who grow cacao, relatively have a great life," said the 57-year-old farmer.
Read Also: The Story of Vanilla Village School: From Pessimism to Believing in Change
Lewi Irab from Sarmai Atas Village and Salmon Kwano from Klaisu Village, Jayapura also built their houses, purchased motorbikes, and sent their children to school from the profit of selling cocoa.
Ronald Udam from Pupehabu Yansu Village, Jayapura, said that in the past, people used to harvest tons of cocoa. To the extent that the trucks in their village are not enough to load all the crops. "There were even several sacks of cocoa that could not be transported because the trucks were already full," said Ronald.
Sadly, this success did not last long. Since 2013, their cocoa plants have been attacked by fruit borer pests. Their yields dropped drastically that leads to decreasing income. Various training and efforts have been made by the government to restore the people's economy, but not much help. The community has repeatedly asked for cocoa rejuvenation, but until now they have received no response.
"The only way is rejuvenation. Chop down all the existing cocoa plants, then plant them with superior cocoa plants. That's what I asked the (government) agency for, but there's been no answer until now," said Kosmos Boryam.
Read Also: A Travel Note: Attended the Miere Tribe Traditional Council in Kaimana
Many farmers then changed direction. They glanced at the vanilla plant. By word of mouth, the vanilla plant has become a trending topic as a substitute for cocoa because of its fantastic price.
Lewi Irab and Salmon Kwano cacao trees are also attacked by pests. Their income decreased significantly. However, they keep growing cocoa. Lewi not only takes care of his 3 hectares of cocoa land, but also builds a cocoa nursery in collaboration with the Plantation Office of Jayapura Regency.
Lewi, who is also the Head of the Cocoa Group in Kampung Sarmai Atas, is able to collect up to 30 kilograms of dry cocoa beans per month from his garden and the farmers in his group. The profits of cocoa beans sales are then divided among the farmers according to the weight of the cocoa beans given.
Read Also: Mitigating Climate, Youth Must Not be Tired of Undertaking Process
Meanwhile, Salmon Kwano, who owns 3 hectares of cocoa land, is collaborating with PT. Kakao Kita Papua. The company bought the dried cocoa beans from his garden and other farmers' gardens in Klaisu Village. In February 2023, Salmon and his friends managed to sell 100 kilograms of dry cocoa beans to PT. Kakao Kita.
"We keep planting our cocoa and try to get rid of these pests. We keep cleaning the area, nursing these plants, even when the yield has decreased. If we don't do that, how can we fulfill our daily needs?" said Salmon.
Salmon keeps advising other farmers in his village to continue working on their cocoa farms by diligently doing cleaning, fumigation in the garden and continue to try other methods to get rid of pests, including by replacing the old cocoa trees with the superior cocoa seedlings provided by the local government.
Editor: Nur Alfiyah & Swiny Adestika