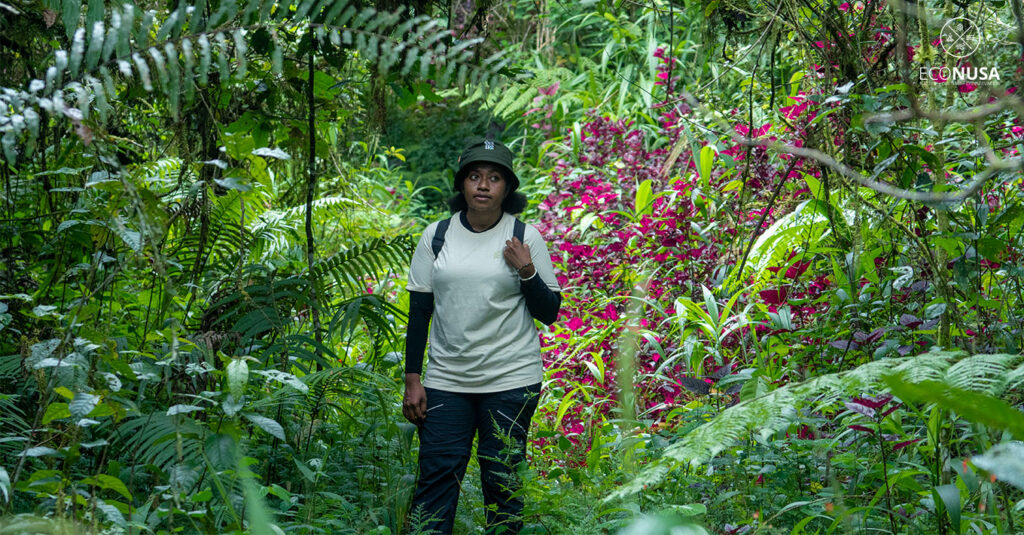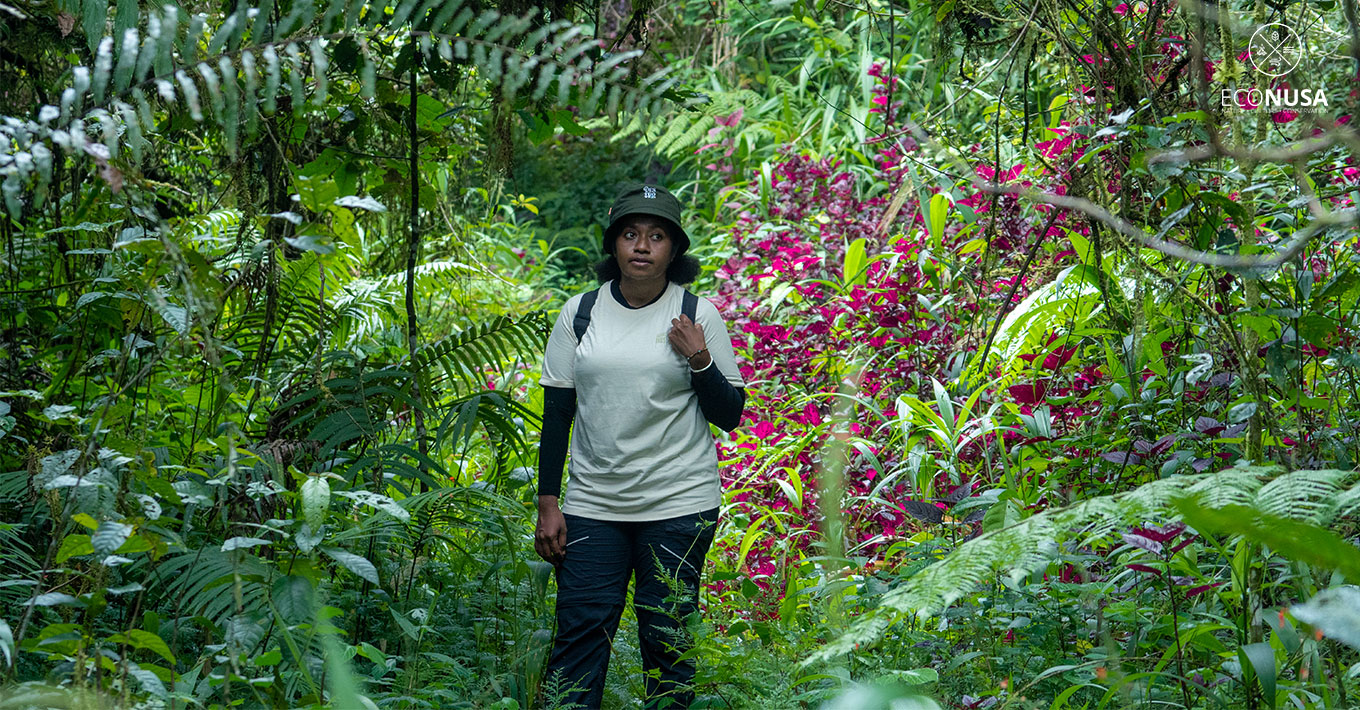 Hi, guys! I am Alfa Ahoren (24), a youngster from Arfak Mountain and one of the School of Eco Diplomacy 2018 alumni. I have the best opportunity to be part of the Defending Paradise campaign by introducing ecosystem of Arfak Mountain in West Papua, jointly with Ridho Hafiedz, the Slank guitarist. I would like to show to Ridho and all peoples that Arfak Mountain areas are the home to birds of paradise. Here we can see cenderawasih dancing openly in the nature. 
We headed off at around 6 in the morning from Manokwari to Kwaw Village. It took 2 hours to get the location. If compared to few years ago condition, road infrastructure to Arfak Mountain has been better. Asphalt covered nearly all roads heading to Kwaw Village.
When we arrived, we got warm welcome from the community through local dance, Tumbuk Tanah. The dancers performed their dance by jumping and embracing each other as if pounding the ground. They sang merrily to welcome the arriving guests.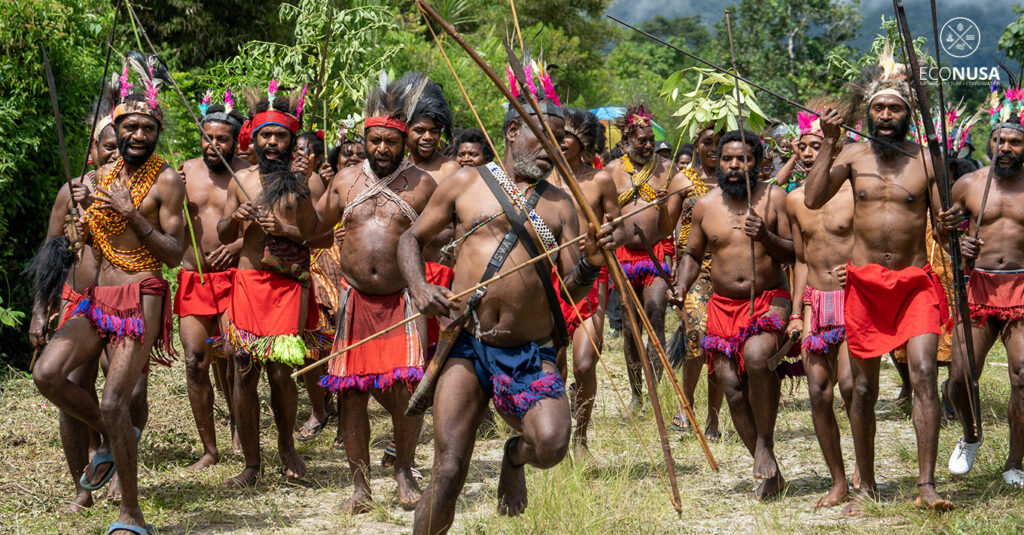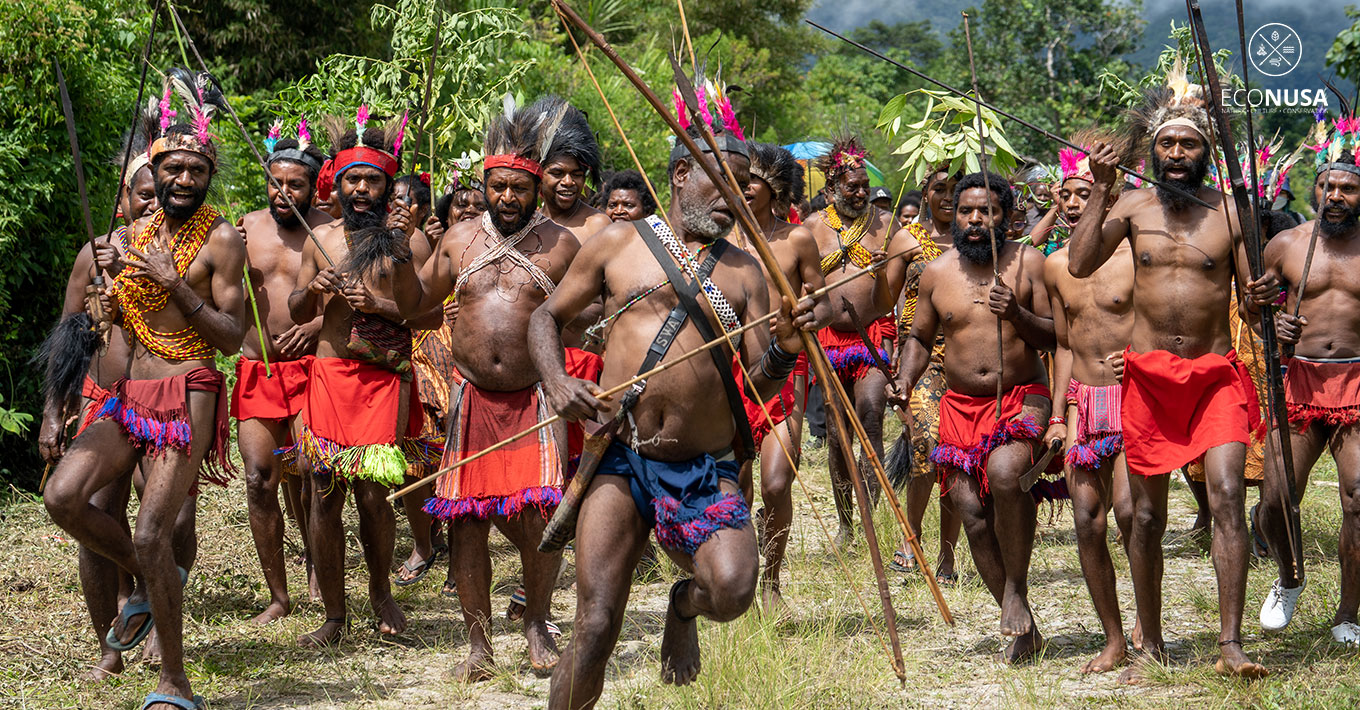 Ridho told that he was once astounded for few moments when the dancers came up all of sudden from bushes and grasses alongside the road by bringing machetes and bows. But it did not last long as he realized that the bows, machetes, and other attributes were only dancing attributes showing respect to new guests who just arrived. After dancing, the indigenous community gave noken as symbol of honor to Ridho.
Read also: Getting to Know Four Endemic Cenderawasih in Arfak, West Papua
We set off to Papua Lorikeet inn owned by Hans Mandacan. He is one of the communities who successfully safeguards forests and acts as the master of his own land. He told this story on ecotourism business, coffee agrotourism and the most special, birdwatching object.
Before Sunday afternoon on 20 June 2021, we left for birdwatching spot of smart bird (Amblyornis inornatus) guided by Hans. Arfak people call the smart bird as Mberecew. The nests of this smart bird are not far from our homestay. We only need to pass in few hundred meters away into the forest. It symbolizes that forest in Kwaw Village is well conserved. Otherwise, it would take longer time to find fauna in the forest.
We went into the hut for birdwatching so as not to disturb the smart bird. Do you know why Mberecew is called a smart bird? The smartness is seen when the bird arranges its beautiful nests. The smart bird categorizes many kinds of goods into the same color and arranged into a certain pattern.
Read also: Cenderawasih's Spectacular Dance to Lure Mate
According to Hans, sometimes the smart bird flies surrounding the community housing to get goods with their intended color for their nests. Local community sometimes take back their belongings from the smart bird's nest. When the smart bird came to realize that something has been missing, it will chirp continuously as if cursing.
After watching smart bird attraction, we went back to Papua Lorikeet. Hans took us to his coffee garden. Hans planted arabica coffee. The seeds were from Wamena, Papua. Ridho shared his experiences on the best way to pick up coffee. I came along and listened to him. As to Ridho, in addition to the bean, the coffee skin could be processed into kaskara, a drink from brewing coffee skin. Hans and I got new knowledge on coffee.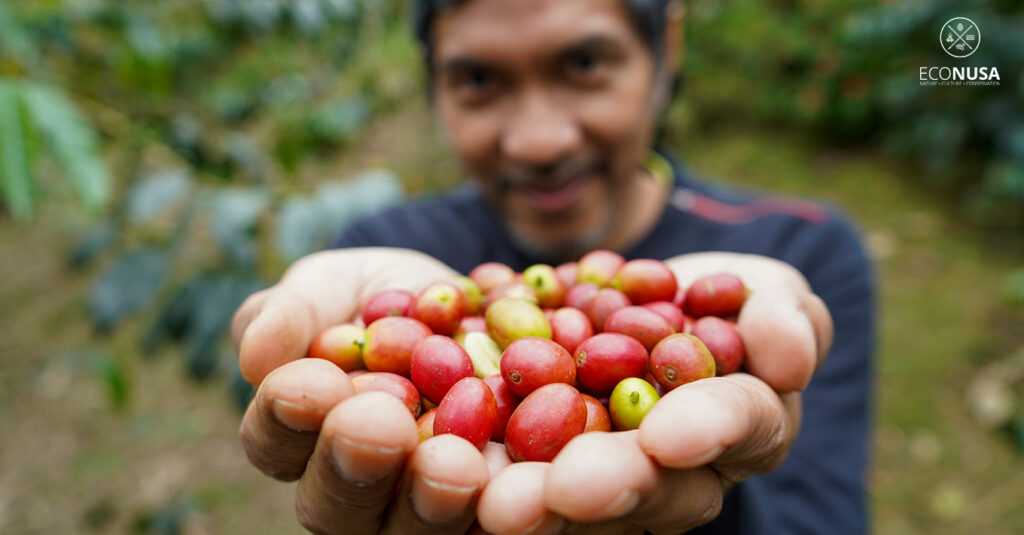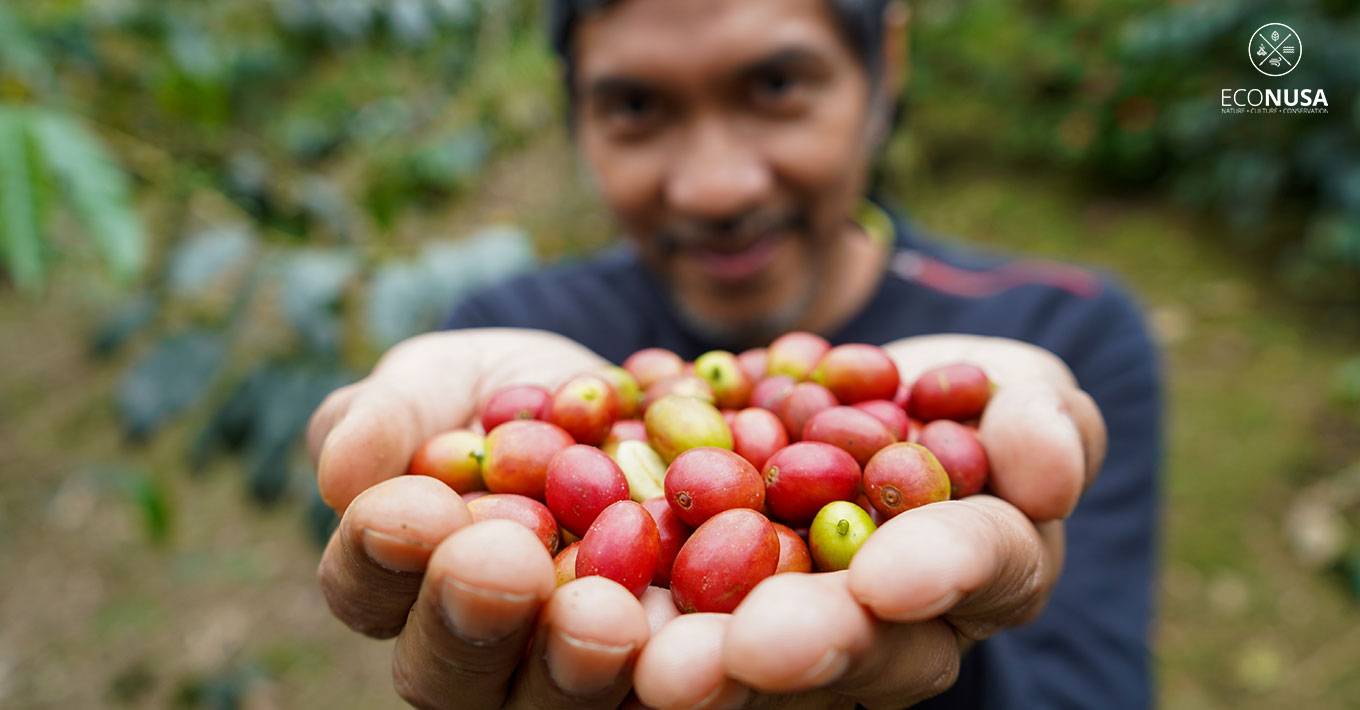 The next morning, we started our adventure early in the morning in Arfak forests to watch birds of paradise. Here I learned that to perceive the rich biodiversity at Arfak Mountain needed struggles. We should trek at Syoti Mountain at around 1,700 meters above sea level.
Arfak mountain forest is the very good spot because there are many plants with unique species of flora. There was a giant banana we found on our trail and some rhododendron type of flower and orchids. 
Read also: Indonesia Independence, Indigenous People's Independence?
The uphill trekking gave us spectacular experiences that might not be found at another place. We witnessed the God's magnificent work such as bird of paradise. There are four endemic cenderawasih at Arfak Mountain, namely Parotia Arfak (Parotia sefilata), Vogelkop Superb-bird-of-paradise (Lophorina niedda), Long Tailed Paradigalla (Paradigalla carunculata), and Astrapia Arfak (Astrapia nigra). Unfortunately, we could only see three of them. We could not see Long Tailed Paradigalla when the sun started to shine brightly.
After watching bird of paradise in that morning, we went back to guest house to have breakfast before leaving for Manokwari. We took different route from the departure. Despite the fact that the trip took longer time along the bumpy road, we could trace the magnificence of Arfak Mountain and Anggi Lake.
When we safeguard the nature and culture, the story today will not only become a memory. Our next generation could enjoy watching the splendor there. We would lose our dignity as the nation to which God has bestowed richness of culture and remarkable biodiversity.
I am proudly to tell the stories to my generation that if we safeguard our forest, land, and culture today, the beauty and distinction here will last longer to the next generation. Forest is the "mother" who gives life. Let us defend it for good!
Editor: Lutfy, Nur Alfiyah, Leo