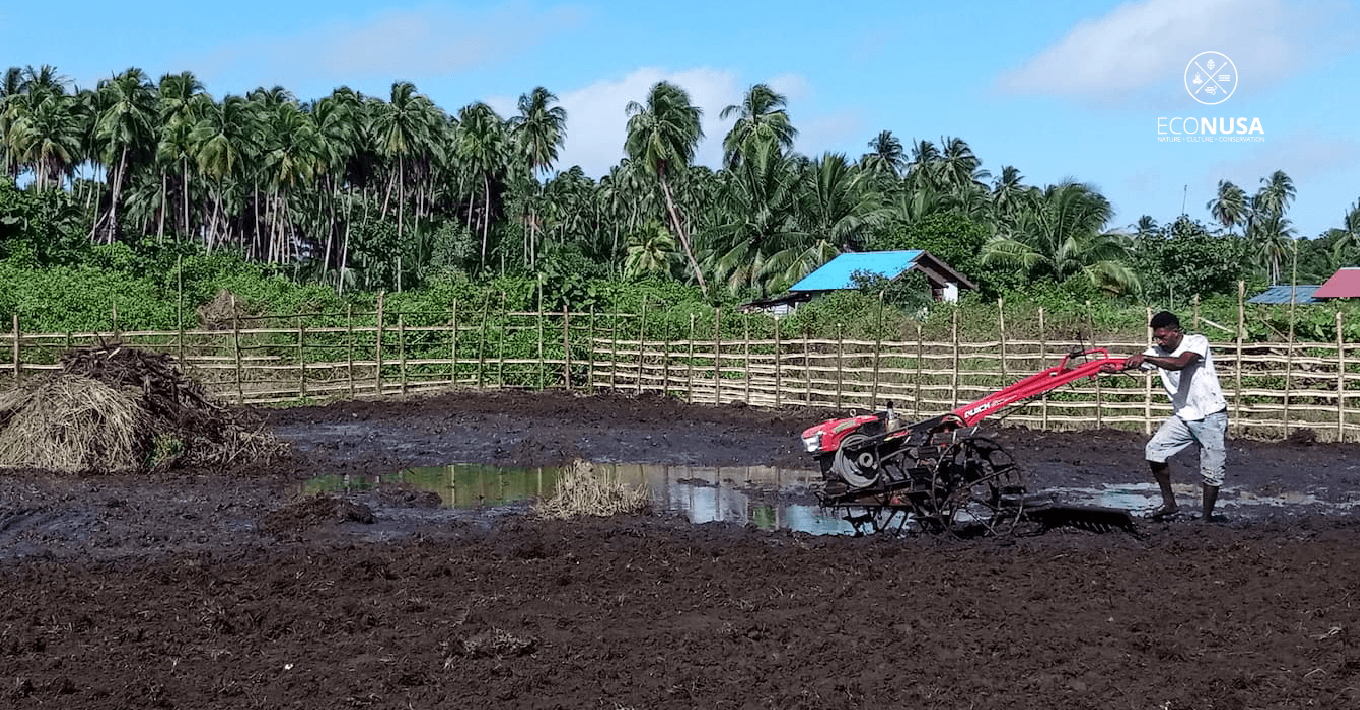 Sanggase Village, Okaba District, in Merauke Regency, shares the border with Buepe Village, industrial timber estate (HTI) managed by PT. Plasma Nuftah Marind Papua. Sanggase people mostly dominated by Marind Tribe wants to be self-reliant economically to suffice their need for food.
Okaba District is quite far away from Merauke Regency. Access to Sanggase is hardly reachable. After taking along southwest coast of Merauke by boat, one should go through muddy road on the rain.
On the rainy season, the 6-kilometer road connecting villages and districts or even among regencies is not easy to go through. On the east, west, and southeast windy season, the local community is isolated from outside access due to the wave and strong wind that risk ship. Cargo carrying staple food fails to operate. The condition affect the life of local people given the fact that 90 percent of staple food is delivered from Merauke City.
Read Also: Tale of Nutmeg Part 2: Customary Sasi and Money Tree in Kaimana
Considering the fact, Hendrik Roroh, the reverend of Okaba Indonesian Protestant Church (GPI) had initiative by establishing a so-called Nangge-Unah group comprising of young Papuan generations. The group focuses on sustainable agriculture in Sanggase Village. Nangge-Unah actively attempts to cover the need for local food and protect their villages from land use change into palm oil plantation.
Hendrik who has become a reverend at Alatep, a Sanggase neighboring village, since 2017 saw the big local potential, but there is no community empowerment program yet. The community has a lot of cultivating areas but there is no good cultivation. The Government of Merauke Regency gradually provides assistances for agriculture program, but again it has not maximized the management of farming areas yet.
The village government has facilitated farming program by providing storehouses to keep their crops and two paddy mills. The village government has also supported marketing through the Village-owned Enterprise (BUMKam) since 2021 by providing Rp200 million capital from the village fund to buy the local crops. The training for paddy farming has got full supports from the head of Sanggase Village.
Read Also: Forest as a Source of Medicine for Dani Tribe
Through the "Bekal Pemimpin" activity in 2021 in Bali, Hendrik intended to build Sanggase as an self-reliant village that suffices their food from paddy and organic farming production. Sanggase is projected to be a prototype of organic farming at Okaba District compound. The best practice here is expectedly to inspire other villages in agriculture management so the locals would not sell their land to corporation.
"We want to create a local leader among the vegetable and paddy farmer groups to prove that Tanah Papua could suffice their own food when it is well managed," said Hendrik. He hoped the tribal leaders involve in the community empowerment.
EcoNusa in collaboration with Merauke Regency's Agriculture Office supported the dream here by providing training on paddy and organic vegetable farming on 7-8 July 2022. The training was attended by 54 participants from Sanggase and Alatep Villages in Okaba District.
Read Also: Elementary School Graduate Initiating Village Independence
Paddy is deemed a novel commodity to Papuan people. They have local food as cultural heritage from farming and planting tubers, sago, and coconut. However, when paddy commodity gains its popularity and makes Papuan people rely on paddy, it requires proper management. The 100 hectare-plots of land prepared by the government will serve as the spots or vacancies to the locals to meet their daily needs.
Despite the abundant supply of sago, rice has better economic values. Rice from Sanggase costs around Rp12-17 thousand per kilogram. Sanggase rice is sought by other villages. Currently there are six farmer groups actively cultivate the paddy field during the planting season which is funded by Rp400 million from village farming program. It is no wonder if Sanggase will soon become the rice producer in Okaba District. "We do not leave sago, but paddy will provide more welfare to us in Sanggase," said Siprianus Heri Gebze, a training participant from Sanggase.
The organic farming training gave a hope that Sanggase Village will have food security through organic rice and Alatep Village with organic vegetables. As to Heri, farmers in Sanggase planned to invite nine village heads in Okaba District during the harvest season in the upcoming three months. They want to declare that Sanggase has been able to build self-supporting food village from organic paddy farming.

Editor: Leo Wahyudi & Nur Alfiyah