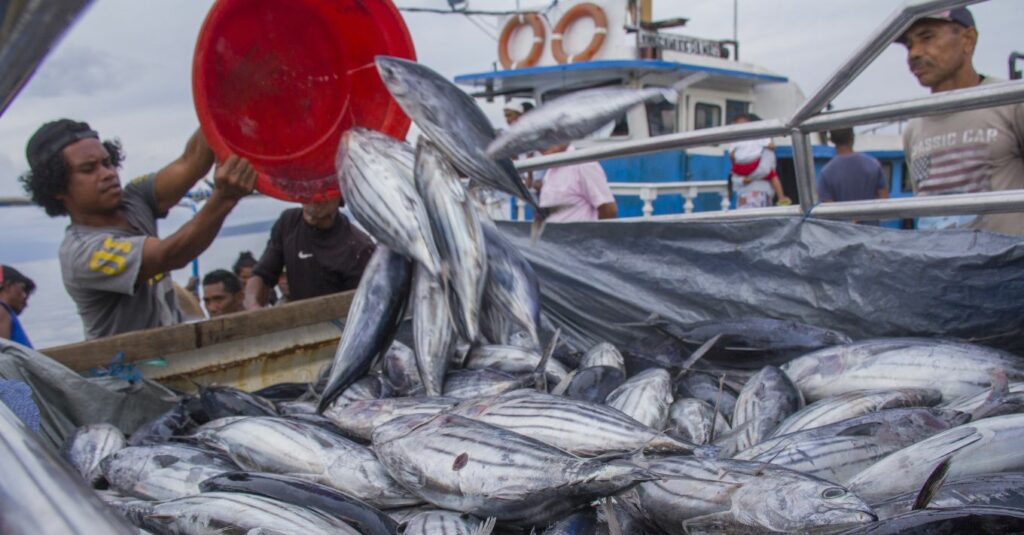 As a maritime country with abundant sea potency, Indonesia is deemed the largest producer of tuna with big opportunity to lead the global market of tuna. Ministry of Maritime Affairs and Fisheries, data Food and Agriculture Organization (FAO) in 2020 show that Indonesia has 20 percent contribution to the global need for tuna, skipjack, and mackerel tuna. Indonesia has become one of the Indian Ocean Tuna Commission (IOTC) members since 2007.
Along the process, the amount of tuna, skipjack, and mackerel tuna production has continued to increase and even higher than the average global production. Marketing Director of the Ministry of Maritime Affairs and Fisheries (MoMAF)'s Maritime and Fisheries Product Competitiveness Directorate General said that the production of Indonesia has increased by 3.66 percent at average and 70 percent of tuna catches came from traditional fishers who use meager and eco-friendly fishing tools.
The traditional fishers in Maluku have so far utilized traditional fishing tool they commonly called "huhate" to catch tuna, skipjack, and mackerel tuna in the sea. Huhate is made of bamboo rod, nylon string, and hook. The bamboo could be six meters long with five meters string. In other word, huhate is traditional pole and line fishing tool as the cultural legacy among fishermen in Maluku. Huhate is deemed the selective, eco-friendly fishing tools that uphold sustainable fisheries.
Read Also: EcoNusa Supports Maritime and Fisheries Research in Maluku Island
In the process, after preparing some needs for fishing, including the live bait, the fishers search for the location of tuna herd. A fisher is commonly assigned to monitor the tuna spot using binoculars. Having got the identification, the ship will approach and fishers with huhate are ready on their positions on the
right and left of the ship's bow. Then, bait is put and they throw the huhate. When tuna picks the bait, huhate is then quickly pulled up and the fish is flung on the ship deck.
Deputy Secretary General of Archipelagic Fisheries Community, Amrullah Usemahu, said that huhate fishers have thus far declined in number due to some obstacles. Those, among others, are the high ship operation cost, the faraway fishing ground, and the rare availability of lemuru fish (Sardinella sp) as the live bait.
Tuna, skipjack, and mackerel tuna are deemed the high value fisheries products that becomes a promising potential to boost the country economy. Considering the fact, the government through Catch Fisheries Directorate General commits to manage fisheries resources sustainably by promoting the implementation of measured fishing. It is done by regulating the quota of fishing and dividing the fishing ground into three zones, namely industrial zone, local fisher zone, and spawning or nursery ground zone.
Read Also: Exigency of Youth Mobilization to Save Our Ocean
The policy will be enacted to all catch fisheries actors ranging from industrial scale to traditional fishers. This is done to create a sustainable catch fisheries and to prevent over exploitation of fisheries resources, such as tuna. The policy trial is planned to be enacted from 17 August 2022 at Cirebon Port, Tual Fishing Port in Maluku, and Fishing Port in Ternate.
The policy on measured fishing has sparked controversy as it is feared that it does not side with traditional fishers because the fishing quota is prioritized for industrial fisheries and capital owner. However, Catch Fisheries Director General, Muhammad Zaini Hanafi, said that the MoMAF has commitment to prioritize the local fisher interest from the policy implementation. "The quota for fisherman is provided without limit and payment for PNBP (Non-tax State Income)," said Zaini.
In addition to quota enactment, the government also regulates the fishing tool in relation to the policy framework. The eligible fishing tool should be eco-friendly and not destroy sea ecosystem. Therefore, it is expected that the regulation on measured fishing could create healthy, productive, and sustainable ocean for comprehensive welfare to all stakeholders in catch fisheries sector. It does not simply favor the major industry but also local fishers.
Read Also: Maritime and Fisheries Injustice Needs Standpoint
Tuna, skipjack, and mackerel tuna are parts of oceanic big pelagic fish. They always move from one water area to another location with suitable condition for their habitat. This type of fish is commonly deemed the highly migratory fish. In Indonesia, there are five types of tuna, namely big-eyed tuna (Thunnus obesus), madidihang (Thunnus albacares), albakora (Thunnus alalunga), skipjack (Katsuwonus pelamis), and south blue fin tuna (Thunnus maccoyii).
Tuna fishing ground in Indonesian water spreads along Banda Sea, Maluku Sea, Flores Sea, Sulawesi Sea, Indian Sea, Halmahera Sea, northern water of Aceh, western water of Sumatera, and Arafura Sea. Eastern Indonesia has so far become the producer of high valued pelagic fish. This condition leads the eastern water of Indonesia, particularly Maluku, to become the National Fish Barn (LIN).
Editor: Nur Alfiyah dan Leo Wahyudi