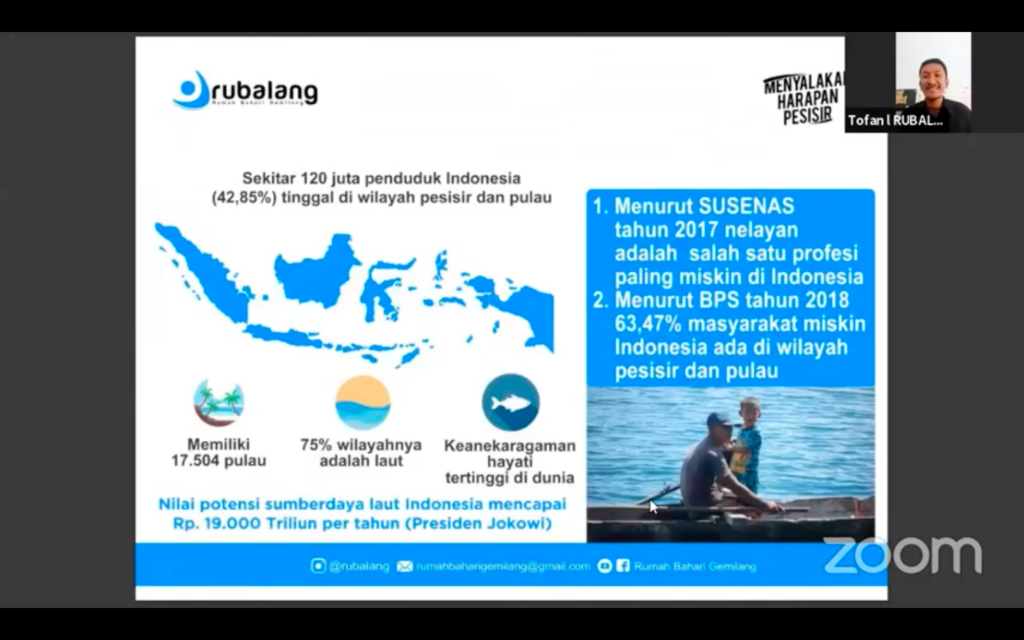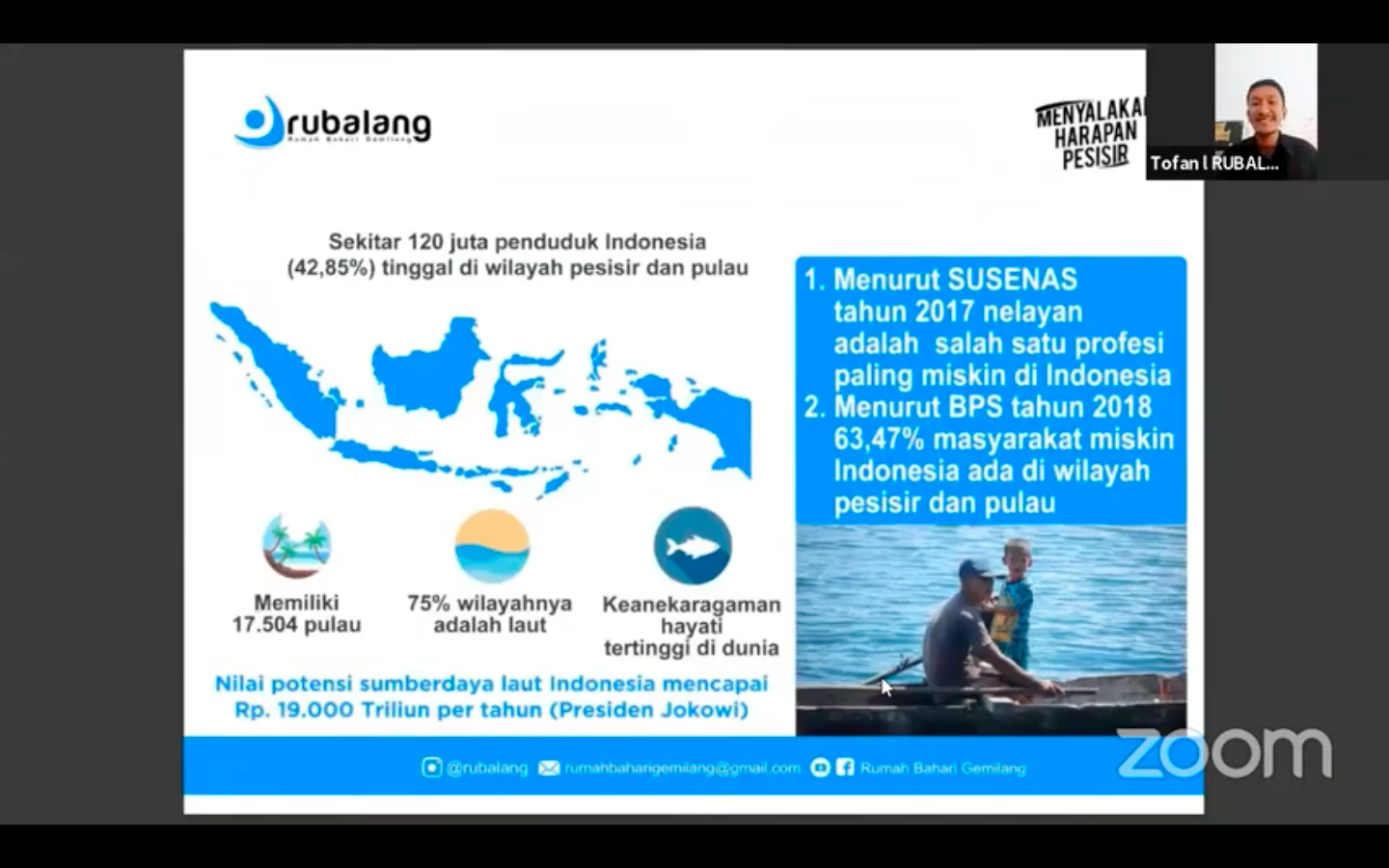 Young generation is labelled as critical, creative, and technology-savvy generation. With these strongpoints, young generation is expected to become a future excellent leader who could solve the existing ecological complication and create a better life on Earth.
"Today, there are many more young people showing their existence to articulate their concerns with environmental issues including land and ocean," said Bryan Auriol, the National Coordinator of Penjaga Laut, as the moderator of TM Share webinar on Rasa Timur, volume 218. TM Share on Rasa Timur is the collaboration of Teras Mitra and EcoNusa.
Entitling "Youth and Action for Sea Defending", the event held on Saturday 25 June 2022, presented two young inspirers with their real action to defend ocean, Muhammad Tofan Saputra, the founder of Rumah Bahari Gemilang (Rubalang), and Cyecillia Pical, Moluccas Coastal Care (MCC) Program Manager. 
Read also: Yosua, A Teamster of Wet Saifi Reading Club Community
Tofan presented his views on the urgency of young people to get complete comprehension to take part in problem solving. Such thought is implemented by Rubalang through a program so-called Sekolah Pemuda Penggerak (Young Teamster School). The program recruited and trained young people before deploying them to coastal and small islands areas to live with the local communities. There they have direct engagement by taking part and giving contribution to the existing problem solving.
Since its establishment in 2014, the program here has been done seven times. In that period, Rubalang has created 181 young inspirers from 10 universities across Indonesia with 4 professional groups. The implementation was held in 13 villages in 5 regencies with dozens of local actors which provided benefits to 2000 children of coastal and small island communities.
Initially, Rubalang focused on education, health, and other social issues. The past two years, they gave environment as an additional issue. "If the ocean is destroyed, it will eventually affect the coastal children. Fishers found it hard to fish. With their income drop, the support for education, health, and other stuffs also declined," said Tofan.
Read also: With Momotoa, SMA Muhammadiyah 14 Jakarta Getting Picture of Papuan Forests
Upon realizing the importance of doing concrete action for environment, Rubalang committed various environmental actions including its participation in the Climate Mitigation Youth Action (AMJI) initiated by EcoNusa, conducting research on marine debris, and no plastic waste campaign.
"It evidently shows that we still have very big hope to improve Indonesia in the future," added Tofan.
Another inspiration came from Maluku Island. Cyecilia jointly with her peers in MCC participated in sea defending activities such as School of Eco Diplomacy (SED) of Kewang Muda Maluku (Maluku Youth Environment Champion) with EcoNusa. They also established Sekolah Katong Lestarikan Kampong (Kalesang/Our School to Preserve Village) in Gunung Api Island, Banda Besar or Lonthoir Island, Rhun Island, and Ambon. They also cleaned up waste through Siar Kebersihan untuk Darat dan Laut (Si Kuda Laut) program. They joined the tree planting in the Tree of Hope program, coral transplantation. They were the supporter of Lewetaka Culture Festival to Defend Banda. Lewetaka is a festival initiated by MCC and EcoNusa which upheld the traditional ritual of "kasi makan darat, kasi makan laut (give meal to mainland and sea)" as the defended cultural value to protect environment.
Cyecilia shared her stories on Kewang Muda Maluku SED program initiated by MCC and EcoNusa. Kewang is a customary norm in Maluku which means a forest defender. Above all, in general kewang is the environment defender. With its spirit, the SED here is expected to create young generation that can defend forests and ocean wherever they are. SED Kewang Muda has so far had 39 alumni all over regencies and mayoralties in Maluku Province. They performed ocean protection actions in each region.
Read also: Story of #RasaTimur, Glancing at Biodiversity Potentials in Eastern Indonesia 
"We see young colleague having many potentials. But some have no guts to move or think that they do not have any organization. Hopefully, Kewang Muda could be a way to mobilize young people to commit a concrete action for environment," Cyecilia said.
#BetaMuda #BetaBisa is the spirit brought by MCC in each action. Cyecilia also said the exigence of movement to save environment collaboratively.
The Statistics Indonesia said that Indonesian population is dominated by young people comprising from 25.87 percent of millennial generation born in 1981-1996, 27.94 percent of Z generation born in 1997-2012, and 10.88 percent of post Gen-Z born after 2013.
Young generation is the one which determines the future of earth including nature of Indonesia. Creating young generation with sensitiveness and concern to nature is one of the keys to the future of our environment.
"If it is not us, then who? If it is not now, so when?" said Cyecilia.
Editor: Nur Alfiyah