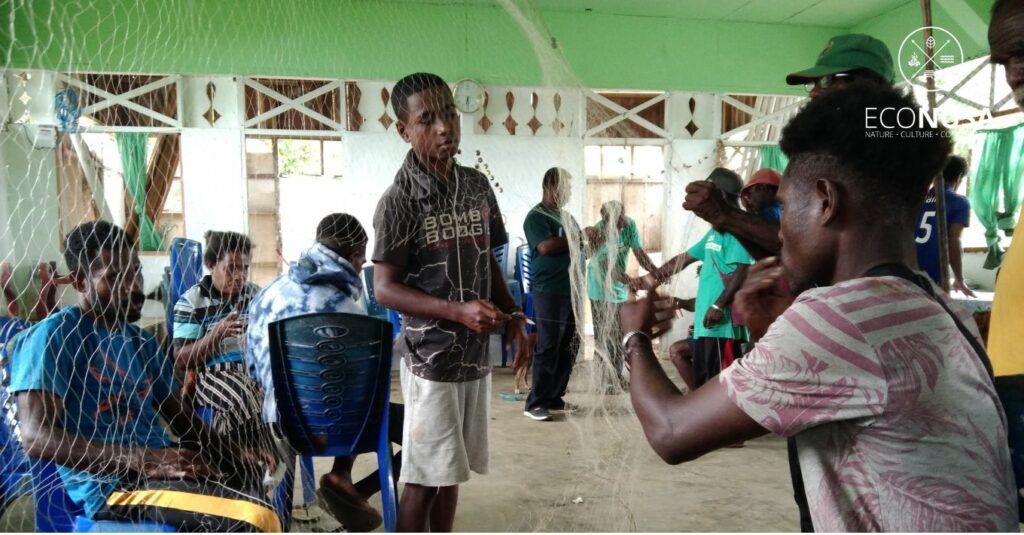 The Land of Papua is known for its richness in terrestrial biodiversity and fishery resource potential. This is the main support and source of livelihood for the community, especially those living in coastal areas, such as the local communities in Gisim Village and Klajaring Village, Segun District, Sorong Regency, Southwest Papua.
Most of the people in these two villages work as fishermen. They set sail daily to catch marine products such as fish, shrimp, and crabs. "We are mostly fishermen here in the lao (sea). Every day I take my Honda (boat) and bring a net, go out and look for fish and shrimp, then sell them. The price for the small fish is IDR 50,000, and the big one is IDR 65,000," said Erik, a fisherman from Klajaring Village (9/2).
Read also: Wersar and Tapiri Communities Learned Semi Modern Farming in Village School
Nets are the main tools to fulfill the people's needs in Gisim and Klajaring Villages. Understanding the community dependency on marine products, the Gisim Village Government has budgeted village funds to procure nets. In 2022, the Village Government provided 70 nets with each head of family receiving three nets.
However, the local fishermen still struggled to get a high volume of marine products due to the frequent needs of new nets. When they go out fishing, the nets they use often get damaged, then they frequently throw away those damaged nets and buy new ones. That has caused higher cost for equipment and lost in catch volume.
Understanding the situation, EcoNusa initiated net sewing training in the Village School program which was attended by the community from Gisim and Klajaring villages. The participants were taught how to mend nets and cut out damaged nets to be repaired. The training, which was held on 8-9 February 2023, aims to improve the ability of the village community to weave nets so that they can maximize catches by increasing the efficiency of using nets. And so, the local economy will also grow.
Read also: Waimon and Kasimle Village Schools: Training for Village Development
"We usually purchase new nets. But when the nets are damaged, we immediately throw them away. Then we have to repurchase the nets. It happens because we don't have the skill on nets weaving for the maintenance," said Imanuel Klafiyu, Head of Gisim Village. After receiving this training, Imanuel hopes the village funds can be utilized for other more urgent needs for local communities, apart from buying nets.
This two-day Village School activity was attended by 16 male and 8 female fishermen from the two villages. "My hands are still stiff because so far we have never woven a net. After two days of net weaving training, slowly I'm able to weave nets. Village School has allowed me to experience great change," said Erik.
Positive responses also came from other participants, namely Jhony Sede. He is very grateful to be able to take part in the net sewing training because it has opened up new business opportunities for him. After this training, he plans to open a netting business for other fishermen at rates that are adjusted to the conditions of the damage.
Read also: Fostering New Hope from Vanilla from Village School in Molof and Warlef, Keerom
"The challenge we are facing here is the lack of access to the city. We have to commute with several vehicles, first by long boat, and then by car. And it costs a lot of money," said Stefanus Klawom, Head of Klajaring Village.
Gisim and Klajaring villages have a high potential for fishery resources. During good weather and season, in a week fishermen can get 400 kilograms of shrimp which are sold to the middlemen, and brought to the city of Sorong. To this date, the community uses their catch for daily household consumption and sells some to small middlemen and traders in the village.
On the other hand, fishermen are still facing high costs of operation. Edison, the Secretary of Klajaring Village and a fisherman, complains of the low selling price of their catch. In fact, the costs they need to pay for fuel are very high, which causes them a small profit. He hopes that the community will continue to be assisted and given further training to increase their knowledge and abilities, to improve their standard of living, and grow the local economy in Gisim and Klajaring.
Editor: Nur Alfiyah and Swiny Adestika