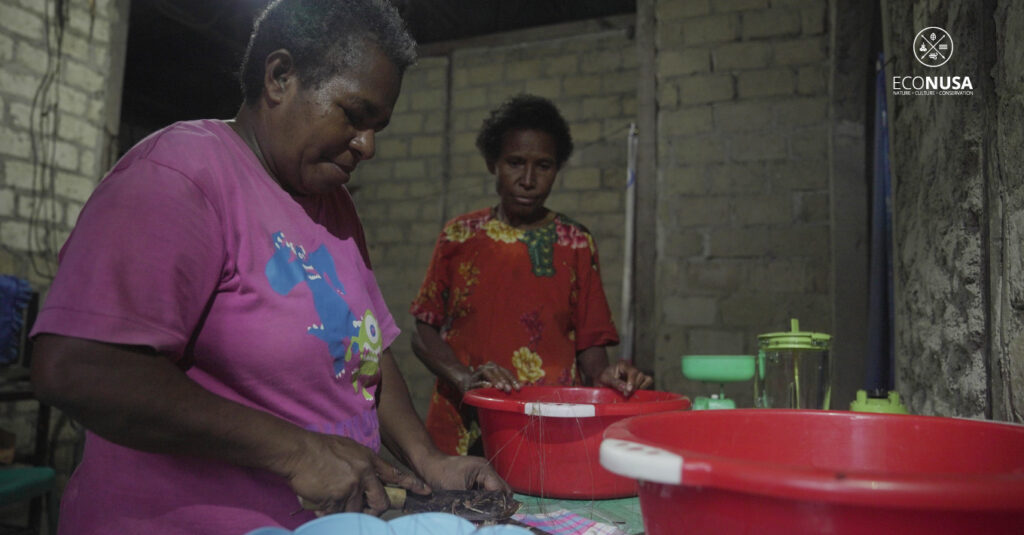 Most of the people in Konda and Wamargege Village, Konda District, South Sorong Regency, Southwest Papua have a profession as shrimp fishermen. In one day, during good weather and the sea water level is not too high and not too low (meti konda), fishermen can catch more than 20 kilograms of shrimp. On the contrary, during bad weather, they can only catch a maximum of 10 kilograms of shrimps.
Before they sell the shrimp, the local fishermen will remove the shrimp heads and throw them away. Locals consider these shrimp heads to have no economic value. Then these headless shrimps will be weighed and sold to the middleman who comes to these villages. From two villages, collectors can get up to 600 kilograms of shrimp daily and the shrimp heads waste can reach a third of that amount.
Read also: Not from the Sea, Native Papua Salt Comes from the Forests
Yulita Sawor, a resident of Wamargege Village sees the economic potentials from those shrimp heads waste, thus she tries to process these waste into a product. "Actually, we can reprocess these shrimp heads into spices to enhance flavor," said Mama Yulita (14/6).
Mama Yulita usually got the shrimp heads from the local fishermen in her village. She cut the heads of the shrimps in half, then washed them. While cutting the heads, the skillet has been prepared over a lit stove, as well as the other spices needed. For one kilogram of shrimp heads, seven cloves of garlic, two bay leaves, two crushed lemongrass, and one tablespoon of salt are needed.
Read also: A Travel Note: Attending Molo, A Traditional Fishing Method of Moi Kelim Tribe
When everything is ready, the clean shrimp heads are then roasted on a hot griddle along with the prepared spices. The roasting process aims to remove the water content in the shrimp heads. While continuously stirring the shrimp heads to make them evenly cooked and dry, Mama Yulita shared her inspiration to make shrimp-based spices. "There are a lot of shrimp heads, I initially thought it's impossible to process these waste of shrimp heads. Then I watched a video on Youtube and found out that the shrimp heads can be used as a flavor enhancer. So I tried to make it, and it succeeded. I continue to make it ever since," said Mama Yulita.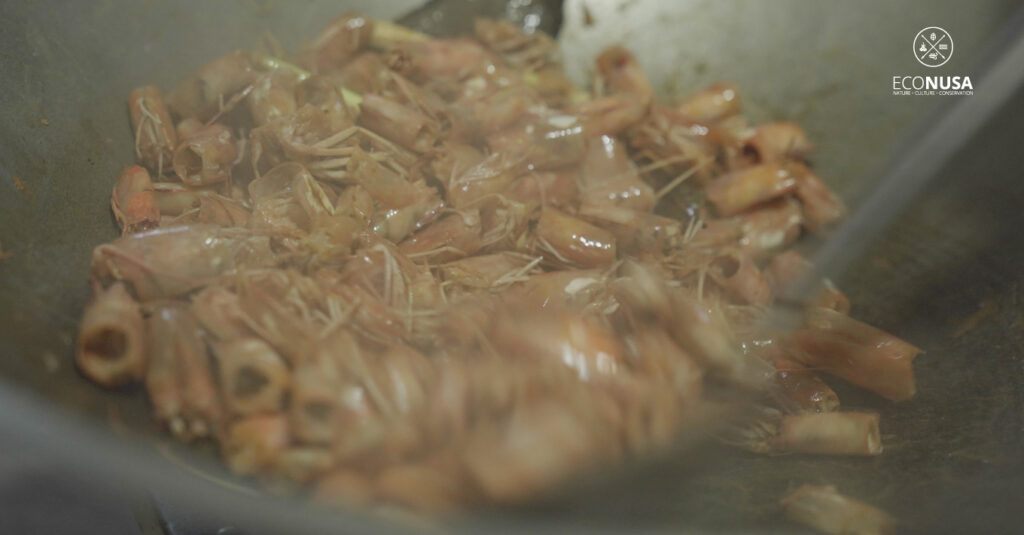 After stirring continuously for 15 minutes and the shrimp heads are dry enough, the shrimps are removed and left to slightly cool. She then removes the bay leaves and lemongrass to blend the cooked shrimp heads, garlic, and salt with a blender.
Read also: Protecting the Richness of the Nature with Preserving the Sense
The shrimp-heads powders are not completely dry, therefore after the refining process, the spices still need to be dried again under the sunlight to keep the durability. "We still need to put it under the sunlight until it completely dried. If not, it won't last long, because we don't use any preservatives," Mama Yulita explained. In one production cycle, Mama Yulita can produce two to three packs of shrimp-heads powders. Usually, she sells it for IDR 25,000 per pack. She also uses these powders for her own stock to cook. "We just cook with this, it's enough, we don't need to add more MSG," said Mama Yulita.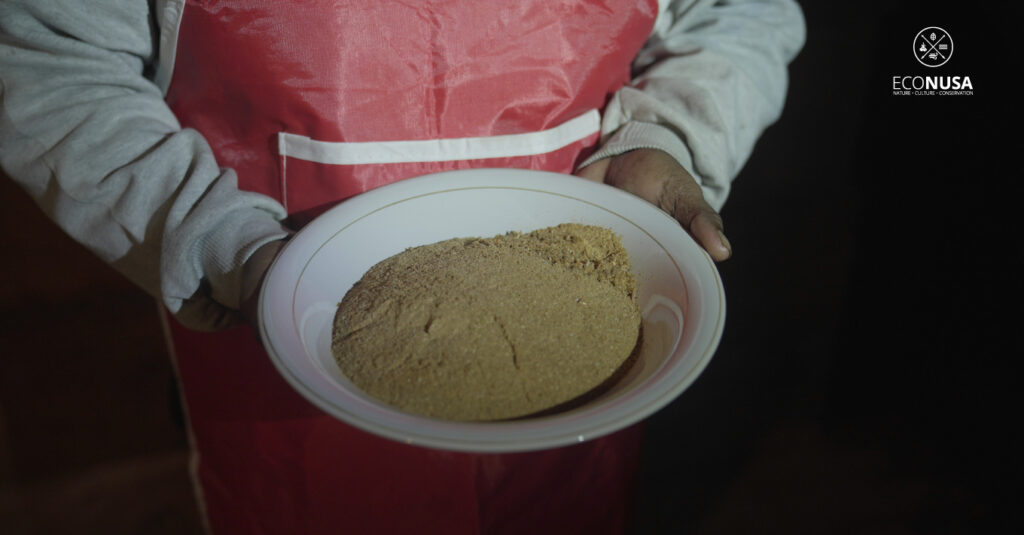 Mama Yulita sells the shrimp-heads powder spices through social media and only does the production once the orders come. This is to preserve the quality of the powder spices. As no preservatives were added to her products, she limits the production depending on existing orders.
The processing of shrimp heads by Mama Yulita received a good response from the Fgan Fen Sisi Cooperative, who assists the shrimp fishing communities in Konda and Wamargege Villages. "This is a very good product. We, as a cooperative, can support them by purchasing the product and finding the market," said Onesimus Ebar, Secretary of the Fgan Fen Sisi Cooperative.
Read also: Sasi on Lemon Island, An Initiative from Local Youth to Protect Marine Biodiversity
Onesimus added if the product will be marketed through the Cooperative, supporting things need to be prepared, such as durability, and packaging, to ensure that the product remains of good quality and can be well received in the market. "When everything is ready, we can market it to Sorong, even outside the city," said Ones.
The production of shrimp-heads based spices as a utilization of shrimp waste in Konda Village and Wamargege Village has only been carried out by Mama Yulita. Onesimus added that the Fgan Fen Sisi Cooperative in the future hopefully can provide support by facilitating training in making shrimp-heads based spices, in order to empower women in the two villages. That aims to increase the local economy and local people's welfare," he concluded.
Editor: Swinny Adestika