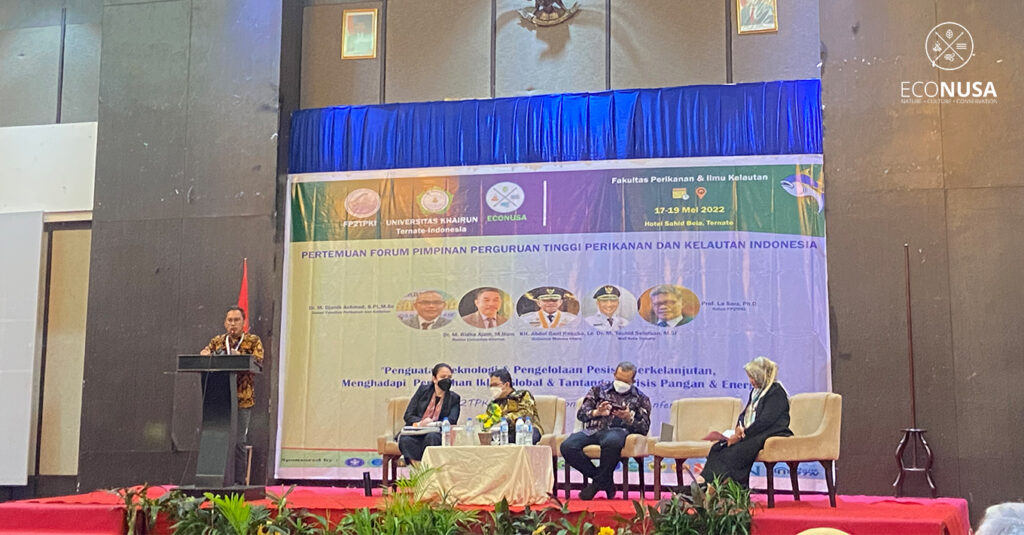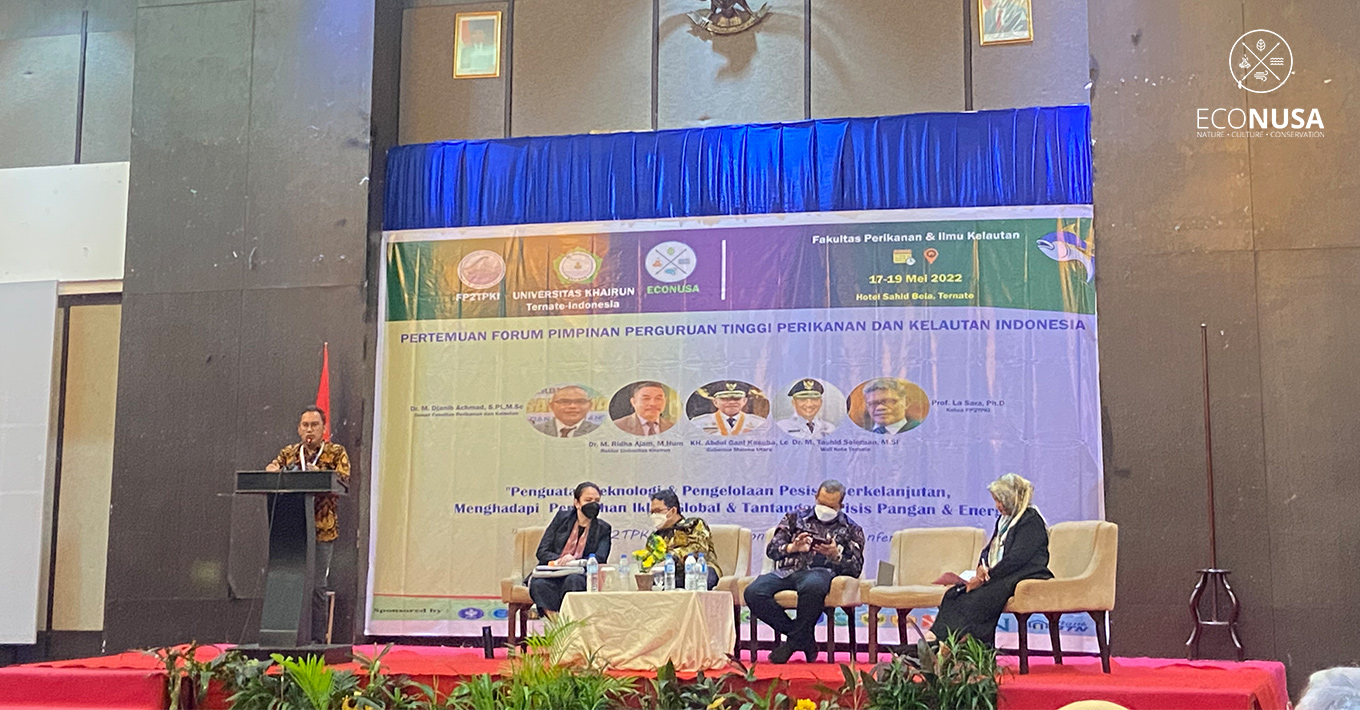 North Maluku community is on top of the happiest province in Indonesia based on the happiness index study conducted by the Statistic Indonesia (BPS) 2021. "Mostly can be seen from their smiles and thus they are deemed the happiest society. I do not deny the fact," said Abdul Gani Kasuba, North Maluku Governor, on the opening speech of the Leaders Forum of Indonesian Maritime Affairs and Fisheries University (FP2TKI) in Ternate on 16-18 May 2022. The event was attended by 135 dean across Indonesia, lecturers, and students of Khairun University of Ternate.
The Governor said that his region has abundant maritime resources with some local prominences with tuna, skipjack, cob, and seagrass cultivation. "So, it must draw our joint concern that maritime and fisheries in North Maluku should have been more competitive for the people's welfare, particularly in the industrial era today," Abdul said.
Read also: Maritime and Fisheries Injustice Needs Standpoint
In response, Wiro Wirandi, the EcoNusa Ocean Manager, conceded the Governor's statement as saying that Ternate or North Maluku is the happiest region. "It implies that in the near future we should make our fisheries happy too. The indicator can be seen when all coastal communities go for hajj pilgrimage, it means the sea and fish are healthy and abundant," said Wiro.
However, fact tells another chronicle. The BPS report showed that people is not on the ideal level of prosperity, including the coastal communities that have not gained their welfare. North Maluku still has high potential of fisheries, but mining construction on the coastal areas have impacted the environment. Let alone, palm oil expansion has forced the community to the coastal areas. In this condition, they are surrounded by natural resources exploitation that leads to the decreasing access to resources of livelihood.
Maritime Affairs and Fisheries Minister Decree No. 19/2022 issued by the Ministry on the estimated potential of Indonesian fisheries resources said that the whole water in Indonesia has been facing overfishing. The FP2TKI forum jointly with EcoNusa has concern that civil society and universities could assist the policy on maritime affairs and fisheries at local and national levels to as to provide more benefit and betterment of people's welfare.
Read also: Blue Ecomic Implementation Not Optimum
As to Wiro, the forum has an unprecedented notion that could be shared through studies, community service, and thought on the maritime affairs and fisheries policies in Indonesia. "We share each other in the future for improvement of maritime and fisheries," he said.
As from 2021 to 2024, Indonesia under the Ministry of Maritime Affairs and Fisheries (MoMAF) has three programs. First, tax rise from catch fisheries as the measured fishing based on city nationwide and ecology. Second, improvement program for cultivation catch based on export community such as shrimp, seagrass, grouper, crabs, and lobster. Third, cultivation community based on local wisdom. "These three priorities should be based on ecology so as to ensure the success of provinces existing in Indonesia," said I Nyoman Radiarta, the MoMAF's Head for Maritime Affairs and Fisheries Human Resources and Research Agency.
Therefore, FP2TKI could serve as the strategic study forum to provide recommendation to maritime and fisheries policy by end of President Joko Widodo's tenure. 
Read also: Climate Crsis Threatens Indonesian Fishermen's Welfare
Some recommendations, among others, are evaluating world maritime axis policy in President Jokowi's era which requires science-based policy making. The other recommendation deals with the improvement of FP2TKI and civil society participation in policy making. The other important recommendation is the resolution of justice and welfare issues triggered by degraded natural resources in eastern Indonesia.
"Considering the condition needs synergy among stakeholders, government, industry, academicians, and communities to create a better condition and situation related to forestry and maritime affairs both in North Maluku and national," said Governor Abdul.
The FP2TKI is strategic institution but it is not optimally yet to play its roles related to maritime affairs and fisheries. There are many studies done and produced  but have not been deemed as the references for policy making. The studies remain partial.
Read also: Measured Fishing Policy Overlooking Ecosystem and Fishers Welfare
"There are a number of doctors, professors, and experts, but the government has not positioned as if it is a think tank," said Wiro.
As to Wiro, EcoNusa now has promoted studies to identify responses from coastal communities and fisheries resource condition in the Fisheries Management Area (WPP) 714 (Tolo Bay and Banda Sea), WPP 715 (Tomini Bay, Maluku Sea to Berau Bay), and WPP 178 (Aru Sea, Arafuru Sea, and eastern Timor Sea). The ongoing research serves as the reference basis of the policy maker to identify the latest condition. The research was conducted by Pattimura University, Muhammadiyah University of Ambon, and Ambon Fisheries Polytechnique jointly with EcoNusa from April 2022 which is projected to complete by July 2022.
"The result of the study will be brought to the stakeholders both at regional and national levels," said Wiro highlighting the importance of FP2TKI position.
Editor: Leo Wahyudi