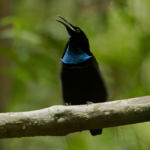 Hello,
I am an Indonesian working and living in Singapore.
I thank you for all the wonderful conservation and raising awareness work that you have done ! We have to do this more and more, to preserve Indonesia's great wildlife, biodiversity and of course the birds of paradise.
We are the keeper of this treasure and it is our responsibility to guard it for our children and future generation.
As an Indonesian, I also would like to voice my message / request to the government to take conservation and wildlife protection seriously, to balance economic growth with nature and not solely focusing on economic growth at all cost. To build responsible policy & regulation towards nature preservation and diversity, establish law and policing to stop all the illegal deforestation and mining, to prevent rampant & irresponsible deforestation in the name of economic growth, to be inclusive, taking into consideration the wish and voice of the indigenous population, and to maximise effort to tackle the threat of climate change.