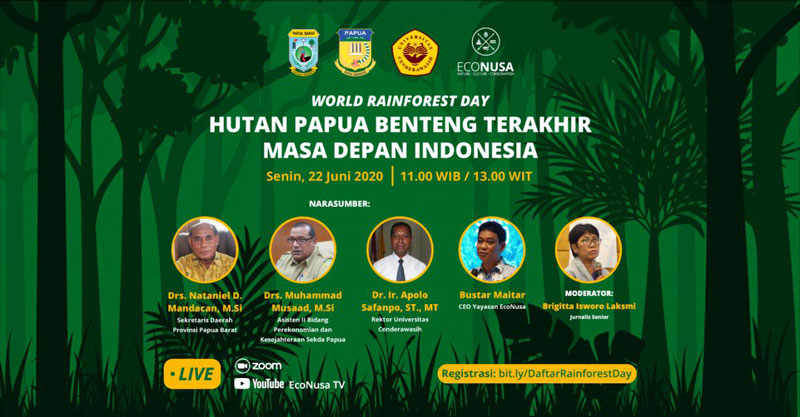 The provinces of Papua and West Papua contribute more than 38% of the total forest cover owned by Indonesia. Tropical rain forests play a role as a home for a variety of endemic flora and fauna, climate offsets because they can store carbon, as well as a source of livelihood for indigenous peoples who live in the vicinity. Unfortunately, over time, tropical rain forests in Papua have experienced serious threats, including deforestation, forest degradation, land conversion, species introduction, peatland destruction, and infrastructure development.
Coinciding with World Rainforest Day, last June 22, the EcoNusa Foundation held a webinar entitled "Papua's Last Fortress of the Future of Indonesia". Presenting four speakers, namely Dr. Nataniel D. Mandacan, M.Sc, (Regional Secretary of West Papua Province), Drs Muhammad Musaad, M.Sc, (Assistant II for the Economy and Welfare of the Regional Secretary of Papua), Dr. Ir Apolo Safanpo, ST., MT, (Chancellor of Cenderawasih University) and Bustar Maitar, (CEO of the EcoNusa Foundation), webinars addressing issues surrounding Papua's forests as the last bastion, this issue is an issue that has never been timeless from the issue of forests, biodiversity and climate change, as if the preservation of biodiversity, climate balance, and the lives of indigenous peoples sheltering in the rainforest are on the shoulders of Papua, after the forests in Papua. Sumatra and Kalimantan are now almost gone.
To better understand, the issues discussed in the Webinar, material from each speaker can be downloaded at the link below! Hopefully the exposure presented in the webinar brings benefits to building the Land of Papua and protecting the tropical rain forest as the last stronghold in a massive and structured manner.