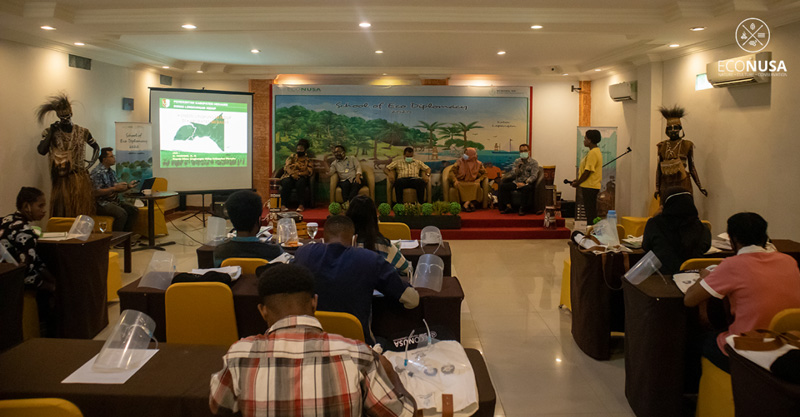 Young people are expected to be the pioneers as well as the drivers of environmental change that are just and sustainable. They can contribute various creative ideas to stakeholders. They can be a companion to share knowledge with the community to maintain natural resource management.
This was conveyed by the Head of the Environment Office of Merauke Regency, Harmini in the Expert Talk School of Eco Diplomacy (SED) Basic Class in Merauke Regency on Monday (16/11/2020). On that occasion, also attended by the Director of the Association of Women Care Advocacy (eL_AdPPer) Beatrix Gebze, Head of the Merauke Justice and Peace Secretariat (SKP) Pastor Anselmus Amo, and the Dean of Fisheries and Marine Sciences at Musamus University, Edy HP. Melmambessy.
"We have to involve young people because they have an important role in relation to the environmental conditions of Merauke in the future. Young people are the pioneers of environmental change. They must think critically, be optimistic, and be able to move the community to create environmental change, "said Harmini.
The message was delivered to 19 Elementary Class SED participants in Merauke Regency on November 16-19 2020. They came from high schools, universities, organizations and local communities. The 4-day learning process was intended to arouse youth interest and concern for environmental issues. After conducting field observations in Wasur National Park and Wendu Beach, they are expected to carry out a change action plan with the assistance of the facilitators.
According to Harmini, economic development in Merauke Regency must be based on careful planning between the economy and the environment. Without both, development will only sacrifice the future of future generations.
He gave an example that development actually accelerated the rate of abrasion. Arem Beach, Wendu Hamlet, Waninggap Nanggo Village, Semangga District, has been eroded 5 meters every year. Arem Beach sand is transported to meet development demand. Without complete control, Dusun Wendu will disappear and become history.
Meanwhile, Beatrix Gebze said that young people can also be involved in understanding and maintaining the culture of indigenous peoples who live in contact with forests. According to him, in a festival, the use of traditional attributes is mixed between tribes. Moreover, it is possible that customary attributes will disappear if the existence of customary forests is not protected.
"Losing customary forests means losing information across generations. We don't know culture very well, "said Beatrix.
Pastor Anselmus Amo invited various stakeholders to participate in preserving the nature of the Land of Papua, especially Merauke Regency. According to him, the natural damage that occurred on the islands of Sumatra and Kalimantan could be a valuable lesson so that it is not repeated in the Land of Papua.
"It needs ecological conversion so that environmental and social problems can be resolved. All must join hands. This is not just the job of governments or religious leaders. We cannot walk alone. Young people can play a significant role with society, "said Anselmus.
Editor: Leo Wahyudi