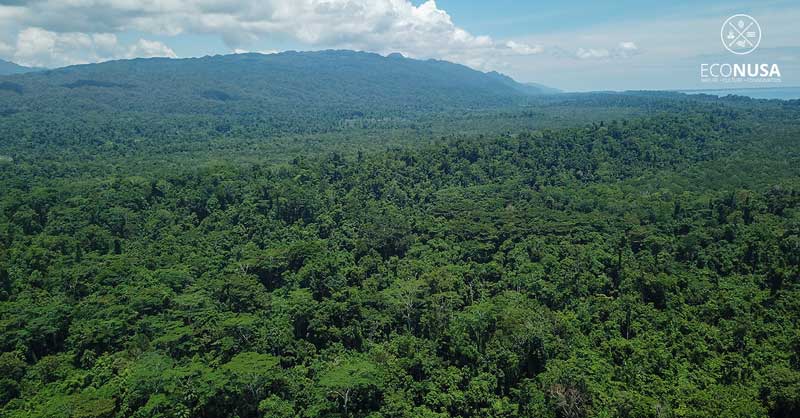 Indonesia's Minister for Environment and Forestry (MoEF), Siti Nurbaya Bakar, and Norway's Minister for Climate and Environment, Espen Barth Eide, signed a new bilateral partnership on Climate and Environment, on Monday, 12 September 2022. The bilateral agreement here has become an important momentum for Indonesia and Norway to work together for tackling climate crisis through Indonesia's efforts to reduce greenhouse gas emissions from Forestry and Other Land Use (FOLU).
As home to the world's third largest span of tropical rainforest, Indonesia plays an essential role to be the "climate superpower". Indonesia has been reducing emission and deforestation significantly. However, it still needs international support and contributions. The Indonesian government has set a target of Forestry and Other Land Uses (FOLU) Net Sink by 2030, to create a condition in which greenhouse gas emission level form forestry and other land uses sectors by 2030 will be in balance condition or even higher than the emission level. Forestry sector has contributed 60 percent in achieving the net-zero emission target.
CEO of EcoNusa Foundation, Bustar Maitar, is optimistic that the new deal will strengthen efforts to obtain the FOLU Net Sink target by 2030. Bustar has closely followed the Indonesia-Norway bilateral deal since it was signed in 2010. "In the last 7 years, the Indonesian government under the leadership of President Joko Widodo and Minister of Environment and Forestry, Siti Nurbaya, has shown corrective and progressive measures," said Bustar on Monday, 12 September 2022.
Read Also: Blue Economy Financing, An Inevitability
As to Bustar, the Indonesian deforestation rate fell to the lowest level in Indonesia's history in 2019/2020 of 115,500 hectares or nearly 90 percent drop as from 1.09 million hectares in 2014/2015. The Indonesian government's progress is also seen from the reduction and control of forest fires, protection of more peatland, permanent forest moratorium, revocation and evaluation of licenses for more than 3 million hectares of land, restoration of important mangrove areas, ongoing social forestry efforts, and the continued supports for the indigenous peoples.
Bustar also appreciates the government's joint effort through the MoEF to protect nearly more than 50 percent of the Indonesia's remaining tropical forests in eastern Indonesia. EcoNusa Foundation continues its commitment to back up the Indonesian government to meet the FOLU Net Sink 2030 target by building the capacity of indigenous peoples particularly in Papua and Maluku Island in forests governance and protection, while promoting the indigenous peoples' best practices as the reference sources to the government in strengthening forests governance and sustainable development policies. Welfare and recognition of the indigenous peoples' territories to support forests protection are the keys to save the last frontier of intact forests in Indonesia.
To boost up the Indonesia's endeavor in protection and environmental governance in sustainable manner, the Indonesian and Norway Governments signed a Memorandum of Understanding (MoU) on the Partnership in Support of Indonesian's Effort to Reduce Greenhouse Gas Emission from Forestry and Other Land Uses Sectors. The MoU gives emphasis on the crucial benefit that could be given in real directly to the community. The statement was addressed by the Minister of Environment and Forestry in a press statement.
Read Also: Plastic Free Rally Calling Producer to Stop Sachet
The scopes of bilateral partnership includes the emission reduction from deforestation and forest degradation by protecting and governing forests with public participation, including the indigenous people. Capacity building is also required for natural forest carbon sink through sustainable forest management, rehabilitation, and social forestry, including mangrove. Conservation of biodiversity, law enforcement, communication, consultation, and knowledge exchange on the policies and agenda of climate, forestry, and land utilization governance are also parts of the MoU here.
Editor: Leo Wahyudi