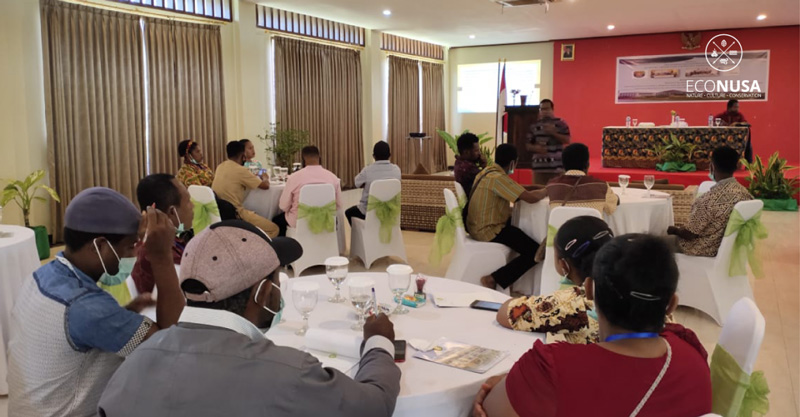 Arguni Bay in Kaimana has abundant natural resources. Shrimp, fish and mangrove crab are among the prominent resources to the surrounding community. It sourced not only from ocean, Arguni Bay has also prominent commodity from agriculture such as tubers, nuts, banana, coffee, spices like nutmeg and clove.
The loads of natural commodities are part of the existing mangrove covering this region. Mangrove forests in Arguni Bay become the havens for shrimps and mangrove crabs. Besides, the 300,000 hectare of primary forests are holding up the abundance of living commodities in Arguni Bay.
The acting head of Kaimana's Industry and Cooperative Office, Agustitus Janoma, said that Arguni Bay region actually has large capacity of natural resources. However, the natural richness here has yet to assure the local community welfare without proper management. He addressed this issue in the training on Cooperative Management organized by EcoNusa in collaboration with Kaimana Regency's Industry, Trade, Cooperative and SMEs Office last August.
Read also: Bintuni Mangrove, Haven for Fish, Shrimp and Crab Breeding
Natural resources management in Arguni Bay has been currently undertaken by the community to a cooperative. Unfortunately, the cooperative management has not performed optimally yet due to community knowledge and capacity constraints. In fact, the cooperative has the most suitable basis which is in line with Kaimana's local culture, communal works.
The depiction has become the conditions for EcoNusa to initiate the training on Cooperative Management for administrators of cooperative in Kaimana. There were 18 administrators of 5 cooperatives in Arguni Bay and 6 administrators from 1 cooperative in Bicari Kaimana Bay participating in the two-day training. The participants studied on cooperative principles, management, capital management and profit sharing, and annual members meeting.
From the training, it is expected that they will have knowledge and understanding on cooperative management and thus the administrators could run the business properly and accountably.
The training was opened by Assistant I of Kaimana Regent, Luther Rumpombo. Luther in his opening remark said, "A good cooperative management is the key for both land and ocean resources management." But, the challenge lies in the fact that most of villagers have not had proper knowledge on cooperative management. They commonly lack knowledge on a proper financial management when deals with credit, debit and savings.
"It is expected that after the training, the cooperative administrators will be more competent in financial management for the members and can run the business of commodities in sustainable way. In doing so, it will optimize the management of forest and ocean commodities. Thus, the community will be more aware of the importance of conserving their surrounding ecosystem. The spirits should be upheld," said Luther.
EcoNusa's Program Director Muhammad Farid said that EcoNusa Foundation has undergone preliminary assessment on prominent commodity of Arguni Bay. It has identified 11 non-timber commodities and 12 ocean commodities for local management. If it is seriously managed through a cooperative, those commodities could bolster peoples welfare and conserve land and sea ecosystems.
"The community will surely safeguard their forest and ocean to produce those commodities as they will generate income from trading activities," he said.
Farid added that the combination of local and management knowledge delivered during the training will serve as the capital to strengthen cooperative management for the development of community-based commodity in each village.
Editor: Leo Wahyudi