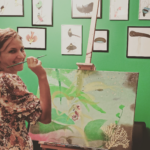 The birds of paradise helped me deal with the first lockdown in my town. During that time I saw Vogelcop Bird on TV and I couldn't believe my eyes!
Those transformations and that dance!
So unique and beautiful!
Then I looked up Vogelcop bird on the Internet and I fell in love with all 39 species of the birds of paradise.
Then I drew nine of them (three in two different positions) while my family and I were in hard lockdown time.
While I was drawing, I wasn't in lockdown – I was in Papua New Guinea with magnificent birds of paradise.
I look at them every day (at their pictures on the wall) and I say "Thank you!"
Thank you Ed Scholes and Tim Laman and all the people who take care of these birds and nature in general.