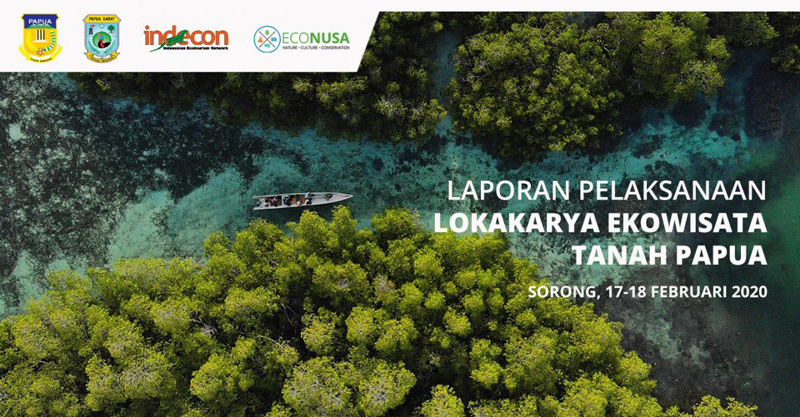 We hope this training is a stepping stone for the advancement of ecotourism in Papua. Through ecotourism, forests and the sea can support the future of local communities. By ensuring forests and seas remain "healthy" unwittingly also supports the government in supporting changes in Papua's forests estimating 5.5 Gigatons of Carbon that is still stored in Papua's wilderness.
The Tanah Papua Community Based Ecotourism Workshop was held on February 16-17, 2020 followed by 17 original Papua ecotourism actors with 12 assisted locations from 10 districts. The activity began with sharing information on challenges and "shared learning" from examples of ecotourism in Indonesia, followed by presentation and discussion of learning from 12 locations of eco-tourism initiatives by the participants. The Participants agreed to continue to maintain coordination and communication in the future by sharing knowledge with one another and Together promoting ecotourism based on indigenous Papuans.

This program aims to strengthen the role of indigenous Papuans in managing ecotourism by encouraging communication, coordination and collaboration in the future. We believe that ecotourism, besides being able to prosper the indigenous people of Papua, can also preserve forests and the sea as a supporter of this nature tourism program. Ecotourism can survive if the community can still maintain the "Intact Forest" and "Healthy Ocean" in the future.

Hopefully this workshop will provide benefits for indigenous Papuans, local government and the future of East Indonesia's natural resources. Thank you to all that support this program.