Monday, 21 September 2020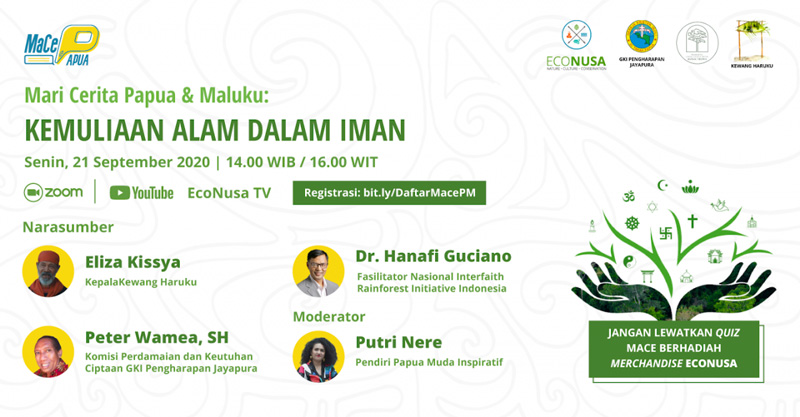 Eastern Indonesia is one of the regions with the largest forest cover in Indonesia, namely 33 million ha in Papua and 6 million ha in the Maluku Islands. But unfortunately, currently Papua's forests cannot be separated from the shadow of land conversion.
In fact, the forest is a form of invaluable gift from the Creator that needs to be protected. With tremendous potential, forests become a habitat for various types of flora and fauna, and also support the livelihoods of millions of people, especially the indigenous communities around them.
In addition, forests in Eastern Indonesia also have a central role in reducing the rate of climate change in the world.
To conserve the forest, there are various local wisdoms and religious efforts that have been made. So, curious about the role of religious and traditional leaders in protecting forests in Papua Land and the Maluku Islands?
Don't miss the fun discussion. Let's Story Papua & Maluku: The Glory of Nature in Faith, an interfaith perspective on forest protection efforts.
Monday, September 21, 2020
14:00 WIB / 15: 00 WITA / 16: 00 WIT
Fill in your personal data at bit.ly/DaftarMacePM
Save the play date on your smartphone! See you later