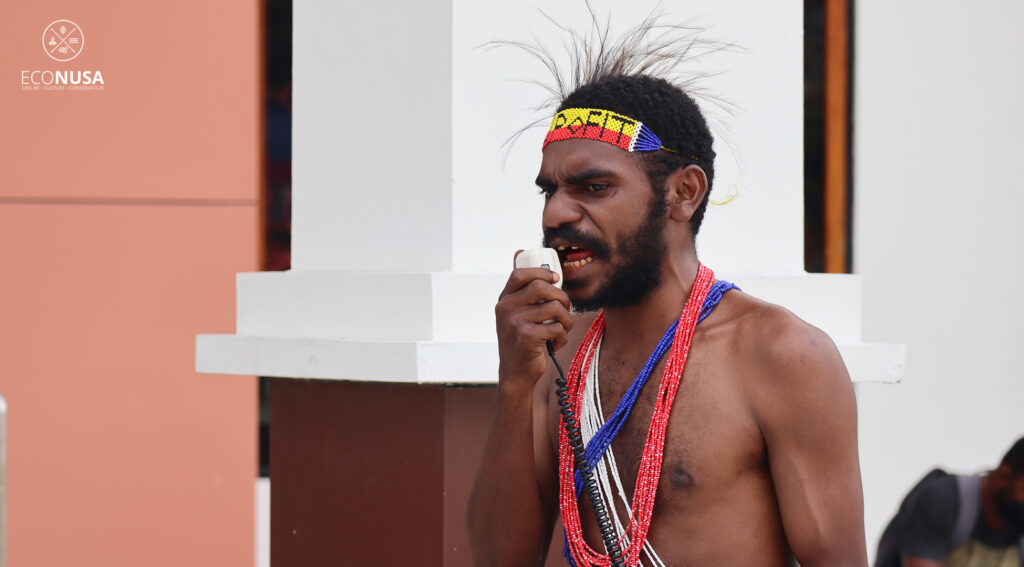 By end of 2021, there were many records to reflect for us with the spirit of being there among the communities in the eastern of Indonesia.
In the 20th National Games (PON) in Papua in October 2021, President Joko Widodo mentioned that Tanah Papua is a little paradise descended to earth. The national games and President Jokowi's expression on Tanah Papua are very substantial to us in EcoNusa.
Despite the pandemic, we want to keep moving. Our steps should be accordingly agile to stay relevant. Perhaps we are like a runner who is competing for victory. We compete with our rivals who also hurry for cutting the remaining forests and grabbing ocean resources in the eastern of Indonesia. We want the fragment of little paradise to be existent and useful to the indigenous people as the owner.
When the government of West Papua successfully give sanction and even revoke around 346,000 hectares of palm oil concession, frankly speaking, it gives us relief. This is deemed a team work involving West Papua government, particularly in Sorong, South Sorong, Teluk Bintuni, Fakfak, Teluk Wondama, and Manokwari Regencies, that evaluated the licenses of 24 plantation companies with a total of 682,074 hectares concessions.
We ended up 2021 with good news when Sorong Regent dared to side with the indigenous people with his firm decision to revoke palm oil plantation and won over the lawsuits filed by the companies whose licenses were revoked at the Jayapura Administrative Court. At least, we observe that there are thousands hectares of land that will be returned to the indigenous peoples as the owners who will manage them based on their culture and local wisdom. This is our dream.
To start the ball rolling in 2022, we got another good news. The hearsay came from Bogor Presidential Palace on 6 January 2022 when President Joko Widodo firmly instructed to revoke 2,078 licenses of mineral and coal mining companies, 192 licenses of forestry sector expanding on around 3.1 million hectares, and the stranded 34,448 hectares of plantation cultivation rights (HGU). These licenses have suspended the utilization of natural resources that could have improved the people's welfare.
Having this good news, I texted the Minister of Environment and Forestry, Siti Nurbaya, to congratulate the government's grim measures. As to me, it appears to be the beginning of the indigenous people's victory since they would get back their rights to manage their land and natural resources.
EcoNusa gave a positive welcome to President Jokowi's measure. This is deemed the right step for the government given the fact that those problematic licenses have harmed the state interests, threatened forests, and ignored the indigenous peoples rights. The government should undergo a more comprehensive license review to any violation resorted by the forests concession rights (HPH), industrial forests (HTI), and mining.
Apart from those hearsays, we are aware that there is still long way to go to our struggle. We cannot sit still with self-confident smile. There are still a lot of homework to do together. However, the commitment and real action from both central and regional governments to save the land have served as our spirit booster to keep us moving and awakening to secure land and her peoples.
The momentum of license revocation by President Jokowi should be followed by a recognition of indigenous people's rights while maximizing the indigenous people's potentials and roles for their economic empowerment. Hopefully it will not be allotted for another license issuance.
I hope the yearend and new year news here will inspire the other regional leaders to take their own stance and side with the people and ecology, let alone amidst the climate crisis has really happened today.
I wish the universe leads our way to righteousness.
Bustar Maitar