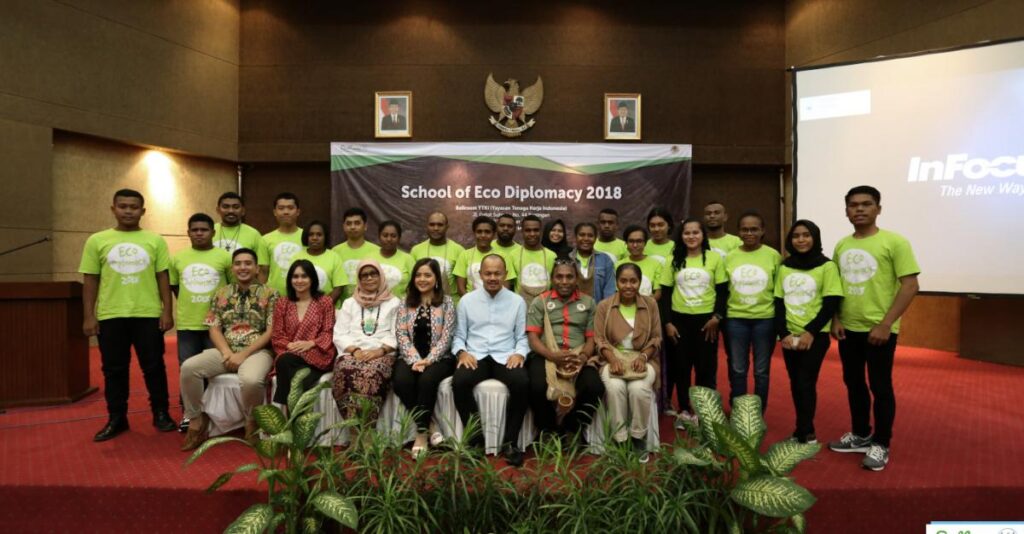 Indonesia has the last frontier of the tropical forest and marine ecosystems that lies in Papua and Maluku regions with the remaining the pristine forest and rich marine biodiversity. However, they are under the looming threat of deforestation, exploitative behaviours, and poverty due to limited accesses to local resources, education, health, and infrastructure. Despite the pledge of Papua and West Papua Governments' to conserve its forest and coastal ecosystem through sustainable development practices, those agenda are not popular among local youth yet. Young generation needs knowledge and mindset of sustainable development so as to have sovereignty in natural resources management.
Based on those needs and gaps, the EcoNusa Foundation has initiated the School of Eco-Diplomacy (SED) program to increase youth and young professionals' capacities and participation in promoting ecological diversity, cultural values, and sustainability issues in Indonesia, particularly in Papua, West Papua and Maluku islands.
SED missions are to:
Safeguard critical and important ecosystems in Indonesia, particularly in the eastern part of the country, through capacity building for youth development, leadership, and ecology diplomacy.
Promote the new narratives about the welfare, community-based natural resources management, nature-based development, and livelihoods from the eastern part of Indonesia to the strategic actors at the national and international levels.
Empower local youth initiatives and participation as a driving force for social and ecological change in Indonesia, particularly in Papua and Maluku regions.
SED program is divided into three levels:
Basic training for urban youth in Papua and Maluku regions. It aims to raise awareness on environmental issues at targeted cities for participants of 16 – 25 years of age.
Intermediate training for urban youth in Indonesia. It aims to build environmental leadership and diplomacy skills for participants of 21 – 30 years of age.
Advance training for young professionals in Indonesia. It aims to leverage professional skills in public policy intervention, community empowerment, and digital communications.
The learning framework of SED is based on two approaches:
Eco-Diplomacy as a perspective to influence other people in promoting nature protection and ecology conservation through multiple actions. SED focuses on public diplomacy (values on public policies), people diplomacy (community empowerment and livelihoods), and digital diplomacy (digital campaign).
Positive Youth Development as a perspective to nurture youth to upheave their potential which leads to successful adulthood. It uses an asset-based thinking approach as a mindset to look at opportunities and create possibilities to reach the goals. The learning process focuses on the 21st century essential skills which require critical thinking, creative thinking, collaboration actions, communication skills and contribution to the communities.